Sicilian Wine Tourism's Dramatic Shift (and Why Now's the Time to Go)
As if you even needed an excuse.
Shutterstock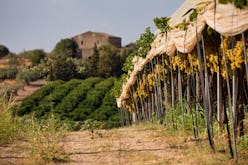 For thousands of years nearly everyone has tried to conquer Sicily, and nearly everyone has left something in their wake. The Phoenicians left vineyards. The Greeks left temples. The Arabs left agriculture. It's an island that is by technical terms Italian but ask anyone who lives here how they identify this mosaic of cultures and the answer you'll get is that it is distinctly Sicilian — end stop. Likewise, all of these populations have touched viticulture in their own way, resulting in a rich winemaking ethos entirely unique to this ancient island in the Mediterranean.
In contrast to 15 years ago, wine tourism in Sicily has completely shifted, with opportunities for foreigners to come to experience the terroir increasing each year. "Curiosity and organization have grown hand in hand in the hospitality sector over the past two decades," Planeta co-owner Francesca Planeta says. "Initial enthusiasm led to spontaneous and occasional happenings in the beginning, and this has grown today to a full spectrum of focused, colorful, and varied offerings for visitors to Sicily."
This evolution is the result of several factors. Sure, a viral HBO series taking place on the island didn't hurt publicity, but wine tourism picked up speed long before the guests at The White Lotus ever stepped foot on Sicily's shores. Ahead, a look at why Sicilian wine tourism is flourishing right now, plus a helpful guide to planning a trip here in 2023.
Sicily, Land of Plenty
Long before tourism boards and wine marketing was a thing, Sicily had its own publicist: Frederick II, the Holy Roman Emperor and King of Sicily during the 13th century who once wrote "I do not envy God's paradise because I am so satisfied to live in Sicily." He had a point. The island is 25,460 ethereal square kilometers that include an active volcano, windswept cliffs, turquoise beaches, sprawling vineyards, soaring mountains, and even pine forests. It's unlike anywhere else in the world and, naturally, it's an attractive destination for tourism. This backdrop is an obvious draw for visitors interested in understanding how wine is made here.
Beyond this baseline, Antonio Rallo, the president of Consorzio di Tutela Vini DOC Sicilia adds that the size of the vineyards and the quality of the indigenous grapes are further reasons why wine tourism is flourishing right now. "With more than 97 thousand hectares, the Sicilian vineyard is among the largest in Italy, three times larger than the vineyard of New Zealand and as large as that of South Africa and Germany," he says. There are over 70 native grape varieties grown here (opposed to 'international' varieties you're more familiar with such as cabernet sauvignon or pinot noir) and Sicily is the largest organic wine area in Italy. It's also incredibly diverse — grapes are grown from mountain to sea in an expanse of varying microclimates. These factors led to the founding of Sicily's DOC in 2012 (or, Consorzio di Tutela Vini Doc Sicilia), which has ultimately resulted in more awareness of the wine region of Sicily.
Investment & Growth
So there is momentum. And thankfully, wineries are on board with this upward trajectory. "Visitors' natural curiosity and desire to get to know the wine territory better have led to wineries offering experiences and above all the knowledge of the producer and its history," Planeta says. "Local wineries are all investing in hospitality because they see how crucial it is for the awareness of the wine and region." And it's not just the larger wineries with big budgets, it's happening across the board. "Both small and large companies put effort into improving this important aspect. There is willingness and potential for hospitality," Rallo says. He also shares that a survey conducted by Assovini Sicilia, carried out through interviews with its 90 members, shows that 40% of wineries on the island have the possibility to offer hospitality and catering, while as many as 94% of wineries have spaces to welcome visitors.
An Island Of Varied Terroir
With hundreds of wineries and a climate that makes visiting year-round a reality, there's never been a better time to plan a wine-fueled trip to Sicily. But where to begin? "We recommend visiting the island by car in order to discover our vineyards close to the sea but also those over a thousand meters in altitude," Rallo says. "On this route, you will surely encounter all the beauty that more than 3,000 years of history can offer." If you are visiting for the first time and want to focus your trip on one area, Planeta points to either the west of Sicily (Marsala, Menfi, Trapani, Palermo) or the east (Etna, Noto, Vittoria, Milazzo). It's also useful to keep in mind that you'll be encountering several grape varieties that may be unfamiliar, so keep an open mind and be curious to taste beyond nero d'avola and grillo. In fact, in the last 15 years, an emphasis among winemakers has returned to Sicilian grapes and it's estimated that 80% of grapes grown are indigenous to the island, while 20% are international varieties. In a world of chardonnays and cabernet sauvignons, a visit to Sicily will feel like an entirely new world of wine.
Where To Taste
Sicily is one of those transportative places where, when you leave, there's the sense you've only just skimmed the surface. Because of this, it's nearly impossible to narrow down a list of the 'best' wineries to check out in just one visit, but let the five below spark inspiration for building out your wine-fueled itinerary to Sicily.
Contrada Dispensa, 92013 Menfi AG, Italy
This family-owned winery is among the best known on the island and they have vineyards across Sicily, with different soil types, grapes, and subsequently wines that reflect these various terroirs. Head for the tasting room in Menfi where the original vines were planted surrounding a 16th-century farmhouse that the family has always owned. Here, visitors can taste Planeta's portfolio of Menfi wines such as grillo, grecanico, viognier, and chardonnay (among others). While you're at it, stay the night at their nearby wine resort, La Foresteria. This picturesque property is perched atop a hill and overlooks sprawling vineyards and olive groves.
Contrada Khamma fuori, 6, 91017 Pantelleria TP, Italy
Founded in 1983 by fourth generation winemaker Giacomo Rallo and his wife Gabriella, Donnafugata has vineyards across the island in Marsala, Pantelleria, Etna, and Vittoria. If you're here in the summer months, pay a visit to their Pantelleria location; it's on an island off the coast between Sicily and Africa and the winery is in a natural amphitheater with vineyards cultivated on small terraces encompassed by a border built from lava stones. Taste the Ben Ryé Passito di Pantelleria while taking in this century-old vineyard.
Strada Provinciale, 89 - Contrada Iannazzo, 95030 Castiglione di Sicilia CT, Italy
Since 1960, Cottanera has been known for its Etna vineyards that are tended to by hand and largely by women. For their reds, they cultivate both native and international grapes such as nerello mascalese and syrah, and their whites are fresh, mineral, and with floral and citrus aromas coming from the indigenous carricante and catarratto varieties. Journey to the volcano to enjoy a tasting here, where you can book experiences that will have you walking through the vineyards and down into the cellars (many paired with fresh local produce like olives, baked bread, and dried tomatoes from the garden).
Contrada Regaleali SNC, 90020, Sclafani bagni (PA)
With a history dating back to 1830 when 1200 hectares were purchased in the Regaleali contrada, Tasca d'Almerita is a winery rooted in history. The company takes advantage of Sicily's varied soils and terroirs and has vineyards planted across the island on five different plots. Begin at their Regaleali property where you can enjoy everything from grillo and nero d'avola to gewürztraminer and moscato. This hilly inland landscape of Sicily has been referred to as a 'viticultural oasis' and the wines coming out of here aren't to be missed. Enjoy a tasting and lunch here followed by a stay in their wine estate.
SP68 Km 3, 3, 97019 Vittoria RG, Italy
Vittoria is the only Sicilian wine region with DOCG status (opposed to DOC) and is an area that should be on any wine-themed itinerary. Begin your tour of the destination with winemaker Arianna Occhipinti who is behind the natural wines at Azienda Agricola Arianna Occhipinti. Taste varieties like frappato and nero d'avola here (two grapes special to Vittoria) in and outside of the cellar and enjoy a walk through the vineyard. You'll also have the opportunity to enjoy extra virgin olive oil accompanied by olives and local cheese.