Unique Wine-Tasting Experiences You Won't Want To Put A Cork In
Take your favorite hobby to the next level.
@quinta_da_pacheca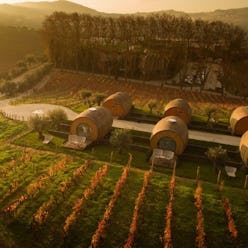 The mention of wine tasting likely conjures images of an indoor tasting room, a perfect row of glasses, and maybe a scene from the 2004 film Sideways. Wine is always an adventure, but for oenophiles or those who are accustomed to rosé-ing all day, the typical tasting experience can grow to feel a bit lackluster. In 2020, the enotourism — aka wine tourism — market worldwide was estimated to be worth about 8.7 billion U.S. dollars. It took a great hit due to the pandemic, but is back on track for a fast recovery ... and then some. By 2030, it's projected wine tourism will reach approximately 30 billion U.S. dollars.
With numbers exponentially increasing, there's a need for a variety of hospitality experiences that incorporate tourists' interest in wine with other activities. Wineries are answering the call and offering guests once-in-a-lifetime experiences to make the occasion memorable. From culinary delights to adventures that will get your heart rate up, there's a unique experience for all wine drinkers to try.
Phil Hansell, the Director of Hospitality at Robert Mondavi Winery in Napa Valley, CA is the perfect guide to help navigate the world of wine-tasting. Hansell and the entire team at Robert Mondavi are constantly innovating to make sure every intricacy is considered when creating a unique guest experience. "[Robert Mondavi] was the master of hosting," he explains. "He and Margaret Mondavi were hosts and they're no longer around. We want to provide something that's kind of in-depth, immersive, and gives you a real sense of place and an experience."
A perfect example of this is the popular Legacy Dinner. The idea is to immerse people in the soul of Napa Valley by giving them a wine and culinary experience they couldn't have anywhere else. "​​This one-of-a-kind dinner will taste a number of wines that no one outside the winemaking team can access as well as offerings of the current vintage to showcase and contrast the longevity and structures of the fabled vineyard," Hansell says. They take it a step further, trying to keep the dinner sourced in-house as much as possible. "Each wine is perfectly paired with innovative culinary creations of which many ingredients are sourced from the garden at Robert Mondavi Winery."
Other types of experiences you might find in as you research wineries around the world include underwater tastings, overnight stays in wine barrels, and yoga-infused events. And while partaking in a unique tasting might seem intimidating to a novice or casual wine drinker, they can help ease fledgling oenophiles into the tasting world in a fun and stress-free way. "[It's] an opportunity to bring someone into the fold and maybe they take that next step," says Hansell. "We start with wine and then we build around that, and what better way to build?"
Ahead, some of the most unique wine-tasting experiences all over the world that you'll never forget, no matter how much you drink.
Phil Hansell has nothing but praise for Executive Chef Jeff Mosher and his Legacy Dinner. "He's making food where he's making the wine the star of the show," he says. "Good wine, good food, and then the surroundings, the trifecta of the experience. It's a triangle of enjoyment." The three-hour immersive dinner pairs rare selections of Robert Mondavi wine from the last five decades that celebrate, "how storied and rich the Kalon Vineyard is."
The rare wines and garden-to-table meal, like a recent pairing of the 2019 Red Blend and mushroom arancini with miso, make this a can't-miss event. "[That wine] goes beautifully with the subtle umami flavor from the miso and the earthiness of the mushrooms," says Hansell. "The crunchy exterior of the arancini is a counterpoint to its rich center which is perked up by the rice vinegar in the aioli creating a balanced but decadent flavor profile befitting this delicious and deeply complex wine." This dinner is by appointment only.
Spend the night in a vineyard in the famous Douro Wine Region ... in a wine barrel. Quinta Da Pacheca's vineyard is home to ten 270-square-foot barrels that are transformed into suites to provide the comfort, luxury, and amenities of a traditional hotel. Open your barrel's door and you'll find yourself in the vines. Experiencing a night sleeping in the vines allows guests to connect to the land and enhances their wine tastings.
Bodegas Monje is giving a whole new meaning to, "under the sea." Embark on a wine-tasting adventure in a submarine where you'll taste the red volcanic wine that has spent months aging under the sea. After the submerged tasting, return to Bodegas Monje for lunch on the terrace and a comparative tasting between the underwater wine and wine from the land. This exclusive tour is limited to a maximum of four people.
If you're the type who likes to work up a sweat before you imbibe, the E-Bike Tour & Tasting experience at Justin Vineyards & Winery is right up your alley. A guide will lead you on an electronic bike tour through the vineyards, sharing stories and the history of the property. When the E-Bike portion concludes, guests are treated to a tour of the Barrel Chai and an al fresco tasting on the chateau's patio.
Wine and wellness are an unusual combo, but Château de la Croix thinks there's no better way to enjoy a reprieve from the difficulty of the last few years. The yoga session takes place in the vineyard to disconnect and relax in nature. After the yoga session, participants are treated to a unique wine tasting with a focus on the palate and awakened senses from the class. In 2023, Yoga & Wine Sessions will take place every Wednesday from June to September.