This New IKEA Collab Will Make You Reconsider Your Approach To Lighting
Thanks to designer Sabine Marcelis.
Courtesy of IKEA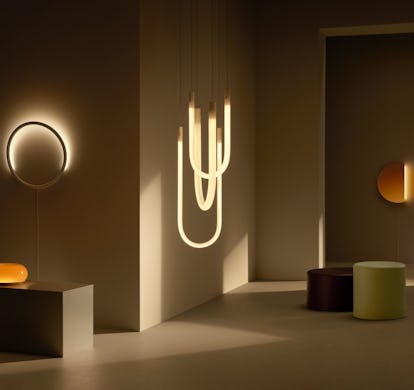 Lighting is one of those areas of the home that tends to get overlooked. It often serves as a purely functional detail, and little else — a table lamp here, a pendant there, and you're done. While there's nothing wrong with that, per se, for Rotterdam-based designer Sabine Marcelis, it's a missed opportunity to infuse more emotion into a space and to truly transform the environment. Enter: the VARMBLIXT collection at IKEA, which Marcelis designed for the brand in order to help customers shift their perceptions of this seemingly boring aspect of the home.
The 20-product collection, which will be launched in all IKEA markets in February 2023, includes four lighting items that will be kept long-term in the store's range. Showcasing Marcelis' experimental style, each one blends sculptural form with necessity to bring people a new, more inspiring way to light their rooms. Examples of its lighting designs include the VARMBLIXT LED wall mirror, featuring a semi-transparent glass panel and light strip, as well as the VARMBLIXT LED pendant lamp with curved pipes made from frosted white glass.
"I wanted to take an unexpected approach to exploring the idea of how lighting functions within the home and to inspire people to consider new shapes and elements which blend into and highlight different types of interior spaces in a new, bold, and artistic ways," said Marcelis in a press release.
This collection isn't just about light, though. It's also about warmth in general, and the rest of the pieces set out to bring more of that into the home as well. Among those are two rugs inspired by the rays of a sunset, plus a drinking set that's intentionally clear. "It's been left deliberately void of color so that the color of the beverages can activate them," said Marcelis of the latter inclusion. "It's another invitation to bring color into the home, and to keep switching it up."
That goal of warmth isn't just achieved through materials, however. "The glassware and bowls encourage the ritual of sharing a drink and food together, the vase houses flowers, and the rugs have an inviting tactile warmth," she explained. "It's about bringing warmth into the home not just through lighting, but also in a broader sense. Through material, through color, and through elements that encourage warm interactions." In the depths of winter, it's hard to imagine these items dropping at a better time.