4 Women On The Mother-Daughter Getaways They'll Never Forget
In honor of Mother's Day.
Shutterstock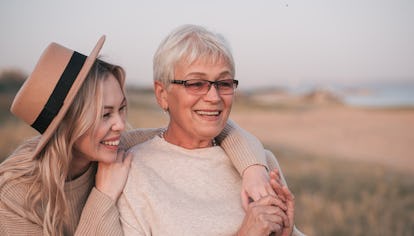 There are a lot of special activities you can do with your mom. Going for a random lunch, visiting the spa, cooking dinner together, and even just sitting on the couch catching up counts as quality time. Yet if you're looking for something truly impactful, we'd argue that traveling with your mom is one of the best. It's an opportunity to not only make memories that the two of you can share, but learn more about each other, bond over fun and difficult experiences alike, and perhaps even see each other in a new light. So, in honor of Mother's Day on May 8, TZR spoke with a few women about the best mother-daughter trips of their own. Their stories (which include one of my own) shed light on how significant, emotional, and just plain fun this particular type of getaway can be.
But beyond that, they also prove the importance of designing a vacation together that means something to both of you (and hopefully, help you dream up one of your own). Whether that's a tour of the location of your mother's favorite books or the recreation of a childhood trip, what's crucial is that you can each feel connected to it in your own way. As the examples ahead demonstrate, the result can be more transformative for your relationship than you could probably have ever imagined.
A Road Trip Through The North Island of New Zealand
Photos courtesy of Maggie Lanham
The Trip: Maggie Lanham had just finished up a 13-month-long contract job in Antarctica and was missing her family and friends when she decided to take a trip with her mom, Janet. The inspiration came to her through, of all places, the movie Hunt for the Wilderpeople. "I don't know why but in the midst of watching it I was like, 'My mom has to see New Zealand. I can make this happen,'" she tells TZR, explaining that the location had always been number one on her mother's travel list.
So, that's what she did. With one free week and the knowledge of Janet's favorite books, The Hobbit and The Lord of the Rings trilogy, in hand, Lanham chose to meet her mom on New Zealand's North Island, where they would start in Auckland and wind their way down to Wellington (while Rotorua served as their main launching pad for big activities). They rented a car (Lanham says she drove to preserve her mother's sanity), and used Airbnb for all their stays. "Outside of Hobbiton and the Waitomo Glowworm Caves, we did a river tour to Huka Falls, a lantern-lit treetop walk of Giant Redwoods, a day trip to geothermal park, and a very relaxing spa day at hot springs. Absolute bliss!" she recalls.
The Highlights: According to Lanham, Hobbiton was the "highest high" of the trip. "The weather was perfection and the tour wasn't crowded, so it really felt like we had The Shire all to ourselves!" she says. "And having a beer at The Green Dragon? I think we were near tears the entire time, it was so beautiful and perfect and fantastical." Now, says Lanham, that's the part she and her mom reminisce about most. "But honestly, driving around and singing Stevie Wonder and just reveling in feeling like we were getting away with something — like, 'How could we have made this happen? Look at us! Just driving through gorgeous farms in New Zealand on a Thursday afternoon!' is something we still talk about."
Why It Was Special: Lanham says that the trip was undoubtedly a special one for both herself and her mom. However, she also notes that her mom is a "kind, selfless person that gives so much of herself to other people." For Lanham, the opportunity to take her on the trip was just a "modicum of repayment" to her and all she does. "Also, to help make my mom's childhood dream come true of ambling around The Shire is something we're still pinching ourselves about. I love you, mom!"
A Christmas Trip to New York City
The Trip: Dominique Fluker says that her favorite trip with her mother, Adrienne, was her first adult mother-daughter Christmas trip to New York City in 2021. Fluker recalls that she was about to move to Los Angeles at the time, and planned the getaway so that she'd have some quality time with her mom and the opportunity to create fun new memories. "I intentionally designed the trip to be a replica of our annual childhood tourist trip to New York," she explains.
The Highlights: After making the "swanky" Gansevoort Hotel in Manhattan's Meatpacking District the base of their stay, Fluker and her mom hit the town running. They hit many of the classics — walking The High Line, exploring the Whitney Museum, taking in the Brooklyn Bridge, eating at Pastis — and of course experienced Christmas traditions like the Rockefeller tree and the extravagant window displays. But one of their favorites from the city tour? "We both loved our Madame Tussauds trip!" says Fluker, who says they had a blast taking pictures with "celebrities and the royals."
Why It Was Special: Fluker explains that the places she and Adrienne visited on their getaway were significant because they did the exact same trip throughout her childhood. This time, she says, it was nice to make memories with her mom as an adult. According to Fluker, it meant the world to her that she was able to treat her mother to the same Christmas vacation she planned for Fluker years ago.
A High-School Reunion in Andover, Massachusetts
Photos courtesy of Toby Douthat
The Trip: In the summer of 2018, Toby Douthat's mother, Miranda Sparks, asked Douthat and her sisters to join her for her 30-year high-school reunion in Andover, MA. So, they all flew into Boston and drove to Andover for the reunion and a tour of where Sparks spent her coming-of-age years. There, Douthat and her sisters visited their mother's childhood home and former classrooms, slept in her old dorms, and drank wine. "We cheered our mom on as she walked in the parade behind bagpipers and her 'Class of 1988' banner, and laughed with her high-school friends as they shared stories about what our mom was like as a teenager," shares Douthat. Afterward, the family took a day trip to Boston to relive more memories: They picked up bagels and lox, walked to the home where Douthat lived after she was born, and listened to more of Sparks' stories of the past.
The Highlights: One of Douthat's favorite parts of the trip was having breakfast where her mother used to spend mornings with her rowing team. "Growing up, my mom would tell me about running to and from practice, rain or shine, to the beautiful dock on the river, and we watched the alumni take a lovely morning row together before breakfast."
That said, Douthat also cherished the experience of returning to the home where she spent the first year of her life — "the most precious yellow duplex." She says her mom told them about living there with Douthat's dad and what it was like all those years ago. "Seeing the house that so closely resembles the sweet rental my husband and I live in now, and hearing my mom's stories about [taking me to] to her favorite stores and painting my nursery, gave me so much encouragement about what it looks like to become a mom one day," says Douthat.
Why It Was Special: For Douthat, seeing Sparks light up about the places where she came into motherhood made her proud of her mom. As Douthat describes it, her mother has always told her and her sisters that, more than anything, she wanted to be a mom; thus, she continues, Sparks has spent much of her life putting her daughters' needs before her own. "But she is far more than that," says Douthat. "Taking a mother-daughter trip as adults to such a sentimental place gave me the chance to see my mom in a more authentic way than I ever had — the beginning of the story of the young, athletic, beautiful teenager who became the confident, strong, stunning mother, friend, wife, and creative."
A Long Weekend in Savannah, Georgia
Photos courtesy of Anna Buckman
The Trip: After many, many months of not traveling due to Covid, my mother Terri and I were feeling the itch to get away together. We've had a soft spot in our hearts for Savannah, GA since I went to college there, and had always made a point to return regularly to our favorite spots. So, once we were both vaccinated and felt safe enough to travel, we packed our bags for a few days in the historic city in June 2021. We based our stay in a cute Airbnb right off Forsyth Park, and spent about 72 hours weaving in and out of antique stores, exploring museums, taking pictures of historic houses, sipping cocktails, and eating all the Southern food we could.
The Highlights: It's always hard to pick a highlight from my trips to Savannah with my mom; every time we go, every moment of each other's company and the beauty we're surrounded by feels so special. That said, eating at The Olde Pink House is always a standout — the food is consistently phenomenal, and the experience is unique. We also branched out and ate at The Grey on this trip, which is in an old Greyhound Bus Terminal and was as delicious as it was fun. I'd be remiss not to mention The Paris Market, as well; it's a beautiful store on Broughton that, if I'm being honest, is probably the main reason my mom and I return to the city again and again. And, of course, our morning runs in Forsyth Park are magical; we make it a point to wake up early every day, run a few laps before the world wakes up, and grab coffee at Foxy Loxy Cafe (aka the best coffee shop in the world, IMHO).
Why It Was Special: My mom is my best friend, so traveling with her is always special to me. There's no one I have more in common with, or more fun with. And, I always learn new things about her when we get away, which I think is incredible considering we've known each other for 28 years now. But visiting Savannah always means a little more to us, I think because it's where I first went to college. It was hard for us both when I left home, and, at least for me, it feels like going back there is sort of a reminder that we got through that challenging period. Now, we can just enjoy reliving the good parts together.