MacKenzie-Childs' New Wildflowers Collection Delivers All The Garden Party Vibes
Courtesy of MacKenzie-Childs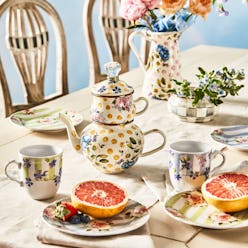 We may receive a portion of sales if you purchase a product through a link in this article.
Just in time for spring, American heritage home decor brand MacKenzie-Childs has launched its delightfully floral Wildflowers collection. Joining the brand's signature lines — including the iconic Courtly Check — this latest addition adds a softer, sweeter touch to the artisan-driven brand.
"Wildflowers is inspired by and embodies a field of fresh flowers," reads the official press release. "The brand's new muse is leaning into the aesthetic that millennial customers have been seeking, and this collection blooms with hand-painted pastel florals, stripes and dots, making it the perfect palette for any home this spring and beyond."
Indeed, the millennial-loved aesthetic being referred to is likely somewhere between Old English country and cottagecore trends running rampant at the moment. Eclectic, mismatched floral motifs are surely hotter than ever, with celebrities like Sienna Miller, Reese Witherspoon, and Lily Allen leading the charge. So, it comes as no surprise that MacKenzie-Childs jumped on the bandwagon with its latest 47-piece offering, which spans teapots and serving trays to dish towels and flower buckets, that stars the whimsical floral print that can be mixed and matched with the brand's other fun patterns.
"Wildflowers is perfect for the current attitude of feminine elements returning to interiors," says Rebecca Proctor, creative director, and chief brand officer of MacKenzie-Childs in the official press release. "It's reminiscent of fresh flowers pressed between the pages of an old book; it's sentimental, playful and evocative of English cottages, intimate spaces, vintage wallpapers, and your granny's china patterns — all the things we love wrapped up into a whole new collection that dresses up everything from dinnerware, to décor, to wall art. We know you're going to love it, either layered with our check patterns or uncluttered as sweet touches on their own."
Although the weather still reads winter, you can certainly get your home spring-ready with a few pieces from this lighthearted collection. Brighten up your table with the mug or plate sets, or create a stunning centerpiece with the aforementioned flower buckets and/or butterfly-shaped candlestick holders. You can also give your kitchen that English country touch with the candy-colored dish towels and sweet bird salt and pepper shakers.
Whichever avenue you choose to take aesthetically, your home will be in full bloom this season with this fanciful new collection. Shop TZR's favorite pieces from the beautiful launch below.