Fall Is The Perfect Time To Dig Into The Japandi Home Decor Trend
Make your space a serene oasis.
@our_japandi_home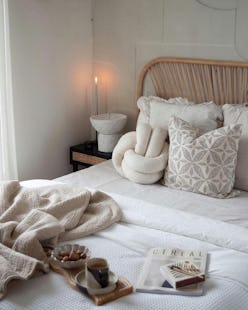 We may receive a portion of sales if you purchase a product through a link in this article.
Lending itself to both Scandinavian and Japanese-inspired home styles, the Japandi aesthetic caters to simple and minimalistic aesthetics. Whether it's incorporating a rattan bed frame or a sleek modern lantern into a space, this hybrid look is all about creating a peaceful ambiance that's centered in sustainability, simplicity, and serenity.
"The design principles behind [Japandi style] are all about supporting a very healthy, meaningful, and mindful lifestyle," says David Samuel Ko, founder and designer of multidisciplinary creative firm MAISON KO. "Take two concepts, wabi-sabi and hygge, and combine [them]. Japandi aesthetics are typically very neutral, grounded, earthy, use raw materials, uncluttered, and drenched in natural light. This is the most ideal option for modern and minimalist home lovers as it takes minimalism to the next level and far surpasses just where you live, but how you live."
The best way to view Japandi aesthetics is to envision simplistic, neutral design with intentional layering of home decor, patterns, textures, and shapes. Think beige and white hues paired with earthy elements such as wood and stone. "Japandi aesthetics shouldn't transcend just your home and the design, but should be integrated into the way you live and interact with your space. Your base should be very fresh white walls with a neutral oak flooring," says Ko. " It's an abundant use of tonal furniture but layering warm textures and materials on top to give it life. Everything should have a purpose and not one thing should be drawing too much attention. Everything should blend in perfect harmony."
Ahead, three expert tips for achieving the Japandi look in your home.
Less Is Always More
Tapping into simple, grounding elements is crucial here. "​​When you're designing a home from the Japandi point of view, the very key word is intention," says Nadja Coquillard, the co-founder of Pepper, a multidisciplinary creative design agency based in Los Angeles. "It's quite the opposite of maximalism where you work a bit more in the realm of contrasts and layers — mixing prints, color blocking, and multi-sensory experiences. Japandi still has the opportunity for playful juxtapositions in the way you can pair or offset materials, shades, and shapes, but the master theory is that less is more." The more you strip away and open up a space, the more you give the existing objects purpose and interest, she says, noting to envision your home as a carefully curated gallery. "You want guests to enter your space and do two things, immediately understand where things are and what their function is, and also quickly discover special objects that stand out and spark conversation."
Sustainability Is Key
The Japandi aesthetic prioritizes sustainable practices and employs more natural elements such as raw materials, wood, and stone. The aesthetic also highlights imperfection and pre-loved items with character, so don't think you have to only buy newer pieces to achieve it. "Sustainability is big," says Coquillard. "Scandi furniture design favors the use of organic and even reclaimed materials crafted in shapes that are simplistic and considered 'trendless' so that they can live a longer life. On the Japanese side, there's of course wabi-sabi — the concept of beauty in imperfection and value gained from the passage of time."
Coquillard adds that the best pieces she's sourced for home projects or Pepper have been either handmade or vintage. Think chairs with aged, cracked leather or metals with some patina markings, slightly distressed rugs, etc. "The signs of age create character that could never be replicated in a newly fabricated piece, and that's what makes them so special," she says.
When In Doubt, Declutter
Coming home after a long day and seeing a cluttered room can invoke immediate feelings of stress and anxiety, leading to more daily tasks and internal pressure. The Japandi style makes home organization and cleaning that much easier due to its minimal roots. "One easy way to start practicing the Japandi way is with surfaces — coffee tables, nightstands, even your kitchen counters. I think there's a natural impulse to want to cover everything with things that you either think you need handy or a variety of decorations that you think should be on a surface," Coquillard explains. "But again, less is more. Start by stripping everything away and then adding an item that creates a visual point of interest, and then add one more object that adds some symmetry or balance."
Ready to start your Japandi journey? Shop some of the items below to get the look going for your living space this fall.