Genius Tips To Improve Your Productivity, Straight From An Expert
Dustin Walker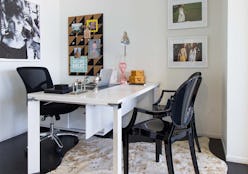 If you've found yourself feeling less inspired and generally unproductive at work, take a look at your surroundings. Is your desk covered in clutter? Is your office a boring cage that sucks away any motivation? Turns out, your workspace can have a direct impact on your productivity and creativity. To help keep ours in check, we called on Laurel & Wolf designer James Tabb, who popped by RZHQ in Los Angeles to overhaul our desk spaces. Here are the key tips we picked up.
Also, to help give your own productivity a kickstart, we've got a discount code exclusive to TZR readers. Get up to 40% off Laurel & Wolf interior design packages. Use code THEZOEREPORT at checkout.
Boost Creativity
Tip: Make a boring space feel creative with a few thoughtful accessories and an inspiration board.
Deirdre Kennedy-Villanueva, the SVP of marketing for Rachel Zoe Inc., felt her space wasn't inspiring. Laurel & Wolf's James Tabb says, "As a designer, I find that it's helpful when I can visualize the things I'm thinking of. I think that goes for most people, no matter what kind of creative field they're in. The corkboard functions as a vision board for Deirdre, and the art surrounding it can help provoke ideas." He also added a fiddle-leaf fig. "A little bit of nature is inspiring, especially when you're stuck behind a desk all day," he says.
Find Your Zen
Tip: Make a busy workspace feel calmer with Zen-like extras like candles and succulents.
As TZR's editorial director, Nicky Deam feels her desk, often piled with documents, Post-its and beauty products, can be an added point of stress in her already demanding role. "I started redecorating by introducing some organizational elements, like a catchall tray, a pen holder and closed storage boxes to eliminate some of the visual tension," says James. "Her workspace was also lacking pieces that promote mindfulness, so I added an aromatherapy candle, a full-spectrum daylight lamp that mimics natural sunlight and a little bit of plant life. Items like these will hopefully remind Nicky to take a break and breathe sometimes while working."
Reduce Clutter
Tip: Make a cluttered space feel organized with neatly labeled areas for things you use frequently and bold splashes of color to distract.
Liana Falcetti, who does brand marketing and is TZR's office manager, feels overwhelmed by the amount of packages and papers that come through the reception area throughout the day. "Since Liana's space needs to be very streamlined for her to be able to work functionally, I provided neon lucite paper trays, closed storage and cord managers to keep charging devices neat," says James. "Her desk needs to be clear for incoming papers and packages, so I turned the original console into a display area for art and decor."