When Did Wine Become A Part Of American Culture?
A brief look at how the beverage became ingrained in U.S. society.
TZR, Getty, Stocksy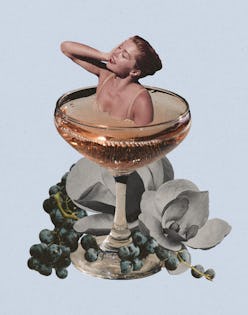 Wine has been produced and consumed for thousands of years, but its journey in the United States is comparatively a blip in time — and from a commercial standpoint, even shorter. But despite its status as a New World wine region, the country is now regarded as the global leader in terms of revenue and consumption and is the fourth largest wine-producing country in the world (after Italy, France, and Spain). But how did we get here?
Several centuries ago when Europeans arrived on North American shores, there were numerous experiments to adapt their traditional winemaking techniques to the New World, including the common grape vine, called Vitis vinifera. But with these attempts came challenges and failures, perhaps the most notorious of the time being phylloxera, an insect that was native to North America that killed these European plantings (and that was inadvertently spread to Europe, effectively plummeting the global wine industry into crisis and requiring vines to be replanted with grafted vines onto phylloxera-resistant rootstocks).
Despite these obstacles, by the middle of the 19th century, nearly every American state was producing wine (albeit in small volume). And over in California, where vines had existed since the 1700s when Spanish missionaries planted vineyards, a commercial industry cropped up in 1834 when vigneron Jean-Louis Vignes established vineyards close to what is now Los Angeles. Fast forward to 1919 and California was a burgeoning wine region with more than 1,000 wineries. Who knows what would have happened if Prohibition hadn't been passed that very same year?
Until Prohibition's end in 1933, wine was legally consumed at home, where men were permitted to make up to 200 gallons of wine per year for their personal use. But because distillation was illegal during this period, fortified wines weren't allowed to be made anymore. "The earliest attempts of winemaking on both coasts involved making sweet and fortified wines, often labeled with what are now protected European geographic names such as port and sherry and mosel (moselle)," Master of Wine (MW) and International Wine Center President Mary Ewing-Mulligan says. Once Prohibition was repealed, fortified wines were no longer restricted and would go on to constitute around two-thirds of California's wine production until the 1960s.
The '60s and '70s marked a transformative period for wine in America, kicking off a boom of sorts. New vineyard areas in California were being planted, there was innovation in winemaking techniques, wine tourism was on the rise, and labeling practices shifted, all coming together to cultivate a new era for the country's wine industry. "The concept of varietal wine from California, championed by Robert Mondavi, redefined how wine drinkers look at wine. Varietal naming became a key impetus for California wine," Ewing-Mulligan says.
Of course, 1976 would forever change the trajectory of wine in America. British wine expert and merchant Steven Spurrier organized a blind tasting competition that would later go on to be referred to as "The Judgment of Paris." French and Californian wines went head to head, and to just about everyone's surprise, California outperformed the French wines in both categories: chardonnay and cabernet sauvignon (Chateau Montelena and Stag's Leap Wine Cellars, respectively). The event garnered global attention for California's wine industry and shook loose the perception that Old World wines are innately superior.
Throughout the '80s and '90s, wine in America continued to evolve, unfolding new layers that would lay the groundwork for its current-day ubiquity. Among these growths was the rise of the U.S. wine critic, with Robert Parker's historic influence taking off in the mid-1980s. The French Paradox also seized the nation's attention. (If you're not familiar, CBS TV's 60 Minutes reported on how the French — despite eating as much fat as Americans — have lower rates of cardiovascular disease and that some epidemiologists believed this was due to their red wine consumption.)
Among the more lasting influences on wine in the United States has been its positioning within the zeitgeist. "Americans... we're sheep in a lot of ways — we're so media-driven, and we look to our favorite people in media and culture for guidance to know what's cool and what's vetted," says Matthew Kaner, who has worked across diverse pockets of the wine industry, including his Somm TV History of Wine podcast. One example he points to? A 1998 song by The Beastie Boys. "Châteauneuf-du-Pape! When they rhymed Châteauneuf-du-Pape in 'Body Movin,' it changed everything for people because when you hear your favorite rapper or hip-hop artist say something like that, you look into it. That callout got people drinking wine in a way they weren't prior, and wine just continued to proliferate." And it's not just musical artists — sports figures like Lebron James and Dwyane Wade have also played a hand in bolstering Americans' perception of wine. "These amazing players with big collections and a big desire for wine have so much influence, it's been really special to watch. Those guys will post a wine on their Instagrams, and then suddenly you can't get that wine and the price goes up; it's crazy," Kaner says.
All of that said, one truth remains — wine sales are going down. A New York Times article from earlier 2023 spread panic in the industry when it declared that the only area of growth for American wine was among consumers older than 60. But despite this, one can't ignore the boom in wine bars and even the category of natural wine. "It's a very interesting time. I do believe American culture has gotten a little more European in the sense of how they consume wine, which is good," Kaner says, pointing to increased interest in food pairings to enhance the overall culinary experience. "The younger generation is also more ethos-based in their consumption," he adds, which one could argue has something to do with natural wine's shift to the spotlight.
"Since 2015, the domestic interest in wine has been incredible. This is by and large is attributable to the natural wine movement," The Waves Chief Wine Officer Billy Smith says. "The movement shed pretenses, broke rules, wrestled control from the traditional gatekeepers, and encouraged an entirely new generation of drinkers to take part. And given how staunchly indoctrinated traditional wine drinkers were in the Parker mindset of taste, it's not a wonder that the movement found its most eager fans in the younger generations that had fewer 100-point biases."
Although natural wine has been favored in countries like France for decades, it took a while to find its place in American culture. "I think the timing was perfect for the natural wine movement to blossom. It paralleled a surging interest in environmentalism, the local and slow food movements, and complemented everyone's obsession with celebrity chef and restaurant culture," Smith says, pointing to restaurants and bars like Noma, Bar Brutal, Ahiru Store, Le Verre Volé, Joe Beef, and the Ten Bells and natural wine shops like Le Cave des Papilles, Chambers Street, Can Cisa, and Vineyard Gate as examples of successful purveyors of the category. "These days in NYC, you can't swing a cat without hitting a new natural wine bar or restaurant with a natural wine 'focus' — and the lion's share of customers are made up of 20- to 30-somethings," he adds.
So what does all of this suggest for the future of wine in America? Only time will tell, frankly. "Younger generations do not drink wine exclusively, but wine maintains its cultural standing at the top of the ladder," Ewing-Mulligan says. If trends continue toward transparency and environmentalism, the industry could experience a dramatic shift in the coming decades, one that catapults wine into a new, more sustainable era of consumption. Here's (and cheers) to hoping.