The Best Sicilian Wines To Buy & Drink Right Now
It's not just Nero d'Avola, friends.
@donnafugatawine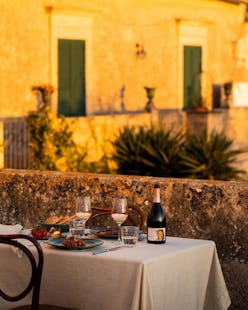 We may receive a portion of sales if you purchase a product through a link in this article.
Unlike anywhere else in Italy, or rather, anywhere else in the world, Sicily is a landscape that's long been a symbol of bounty and biodiversity. It flaunts everything from windswept cliffs and turquoise beaches to craggy mountains and an active volcano. One such abundance Sicily is revered for is the wine grape, with approximately 70 varieties considered native to the island. "Being in the real middle of the Mediterranean and having the possibility of working with a true puzzle of terroirs — with soils from the poor black volcanic ash to the super white fine calcareous powders — this is real luxury in winemaking. This is the magic," Planeta winemaker Patricia Toth tells TZR.
Trying to make sense of how grapes can grow in these drastic environments might be puzzling to those not in wine. Emanuele Corsale of Donnafugata points to differences in both climate and soil types when asked why several different types of wines can be made here. "In the western part of the region, the climate is Mediterranean with hot summers and warm winters but in the eastern part, in areas like Mt.Etna, the climate is continental," Corsale explains. There's also Pantelleria off the coast. "It's a wild and volcanic island between Sicily and Africa with a climate that is characterized by mild winters with little rain, and even more so the strong Scirocco winds." Because of these harsh conditions, winemakers have to protect the grapes. "The vines are cultivated on very low alberellos (small terraces), bordered by drystone walls made with lava stones." This area has even been granted Unesco World Heritage status.
While a trip to Sicily is the best way to get a lay of the winemaking land, diving into the region's wines at home is a fine alternative. But where to begin? "Sicily is a wine continent, as we like to call it," Corsale says. As such, there are several varieties you can choose to sip, but here's a primer on the best ones to begin with.
Nero D'Avola
The Nero D'Avola black grape variety is native to western Sicily and is perhaps the most famous of the entire island (certainly the most recognized around the world). "This grape can be used for fresh and light wines as well as full body reds wines like our iconic Mille e Una Notte," Corsale says. You can expect aromas like plums and black cherries from this indigenous grape.
Grillo
Sicily's most popular white grape variety is Grillo. "Historically, it's been principally planted in the province of Trapani but in recent years is spreading into other parts of the island for the production of dry white wines," Corsale says. If you haven't taste it yet, one can expect a medley of aromas. "Grillo offers a fresh bouquet with captivating notes of white-fleshed fruit combined with scents of wildflowers and mint. The fruity notes resurface on the palate with pleasant freshness and smoothness," Corsale adds.
Nerello Mascalese
The principle grape variety of Mount Etna, Nerello Mascalese is an ancient variety also famous in Sicily. "It's a black grape variety that grows in high density but with low yields, the wines produced are elegant and one-of-a-kind," Corsale says. "The volcanic soil brings to life the variety's most prestigious versions under the name Etna DOC." Common tasting notes include lush red fruit flavors and dried herbs.
Carricante
"The whites are way more fresh and bright than people might expect," Toth says of white varieties grown on the island. Carricante is one such grape, and is "characterized by minerality and freshness with some salty notes," Corsale adds. "It [makes] white wines suitable for long aging in the bottle."
Frappato
A red that Toth describes as "playful": Frappato brings a fresh burst of red berries to the table. It tends to produce light bodied wines and can even be served with a slight chill. Toth points to Cerasuolo di Vittoria (a DOCG in Sicily that blends Nero d'Avola and Frappato) as an excellent wine to drink on its own on a warm summer day.
Lesser-Known
If you've got a handle on the main vanities of Sicily, you might be curious what winemakers and experts in the region suggest sipping beyond the staples. "My answer to this could be very long. But definitely you should form a friendship with Grecanico," Toth says, adding that sparkling Carricante is also on the rise. "I really enjoy the growing curiosity and knowledge around this. Great potential, in my opinion."
Fortified styles should also be on your radar. "They are representing an incredible heritage in the history of winemaking, but today only a few people learn them and enjoy them: Some of these fortified wines are really like a story closed in a bottle," Toth says. Of course there's Marsala, perhaps the best known style. But Corsale points to Ben Ryé as another Sicilian fortified to try, which is made using a special technique called Passito. "The name Passito comes from the Italian word appassimento, which translates to 'withering.' The drying process concentrates the sugars in the grapes, leading to wines with higher alcohol content and sweeter flavor," Corsale says.
Food Pairings
The only thing better than Sicilian wine is Sicilian wine paired with food. And with summer in full swing, warm temperatures are at top of mind. "In very hot Sicilian summers we recommend fresh and light wines such as Lighea, which is one of our wines produced in Pantelleria, a 100% Zibibbo perfect with all types of oily fish, baked pasta in white sauce, and fried fish," Corsale says. She also points to rosè, suggesting it with aperitifs, raw fish, vegetarian dishes, and delicate meats.