Melanie Masarin Mastered The Art Of Carry-On Travel
She knows how to fly in style.
Melanie Masarin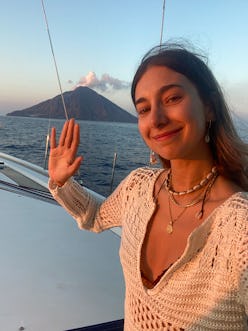 We may receive a portion of sales if you purchase a product through a link in this article.
Carry-on luggage or checked bag? Window or aisle seat? Tropical sandy beaches or majestic mountain ranges? You can learn a lot about a person through their travel preferences and habits. TZR's series Get Out Of Town gleans tips and habits from tastemakers to better understand what makes a first-class getaway.
Melanie Masarin has a deep passion for travel, likely rooted in her childhood where she spent much of her time hopping from France to Italy. In fact, it was her upbringing that inspired her viral non-alcoholic spirits brand Ghia. During her summers near the Mediterranean, a younger Masarin observed her family indulging in aperitifs like limoncello and wanted to recreate these celebratory and carefree vacation moments, sans booze.
In a recent interview with TZR, Masarin is happy to report that her wanderlust has not changed since she's entered adulthood, and she continues to find inspiration and fulfillment in her travels. So, as you can imagine, her passport is constantly being put to work. One scroll through the entrepreneur's Instagram will send you around the world in about 60 seconds: Los Angeles, France, Costa Rica, Italy, Ibiza, New York. And that's all just places she's been within the last year.
When you're a seasoned traveler like Masarin, it's natural to develop some specific patterns and habits. Ahead, we asked the brand founder to spill her jet-setting secrets — her carry-on essentials and hotel non-negotiables, for instance — as well as her getaway plans for the rest of the year. See if she doesn't inspire your next vacation.
Carry on or check-in?
I travel as lightly as possible and try not to check a bag unless I go somewhere for more than two weeks. I have no problem wearing things many times, in life and on vacation.
What are three items we will always find in your luggage?
Ricari Studio Compression Set: I used to take my shoes off on flights and not be able to put them back on. Then I met Anna [Zahn], from Ricari. The lymphatic drainage expert designed this set for flights — or not — and it's helped diminish my post-flight sluggishness so much.
A chunky piece of jewelry and some of my grandmother's silk scarves. They're great for making a mini dress go from day to night — silk scarf in my hair during the day, and tied to my handbag handle at night. Right now I love a cuff from Charlotte Chesnais and necklaces from Eliou.
Comme Si socks in general, but especially the Danielle cashmere style. They're the most comfortable and also the cutest to [accessorize with] walk-all-day loafers or my Adidas gazelle.
What's your in-flight routine?
I tend to get super dry and break out on flights, so right before getting on my flight, I wash my hands and apply Differin, then SKINFOOD around my eyes, and the Rhode lip balm to keep me moisturized all the way to my final destination.
What trip are you planning right now?
Preparing for my favorite time of the year, late Spring and early summer in France. I have eight weddings this year so most of my time off will be spent celebrating my friends' love and seeing family in between.
What place have you visited multiple times? And why?
France, because it's home. Italy, because it's my other home. Mexico City, I just love it so much, I wish I could live there. Also, Costa Rica because I learned to surf during the pandemic and it's become my happy place. Even the LA winters are too cold for me so I try to spend January and February in a hot place with good WiFi and warm water to reset and get a healthy start to the year.
What are non-negotiables when it comes to hotel stays?
A comfortable bed and blackout blinds. Even the little lights from electronics will prevent me from sleeping so I usually bring masking tape with me to cover them up... I know!
Are you an itinerary planner? If so, how detailed do you get and how much will you stick to it?
To a certain extent, yes. I do extensive research before going somewhere, so I can get ahead of booking for the two to three things I want to do, whether it's seeing a ballet or eating somewhere special. I will make Google Maps with all the places to see so I can have them on my phone when I wander the streets. However, I love exploring and stumbling upon things so I never book more than one to two things per day to leave room for spontaneity. I also almost always leave the last one or two days of a trip free, because usually by then there will be a place I discovered on the trip or want to go back to.