This Costa Rican Coastline Is The Perfect Destination For Surf, Yoga, & Total Relaxation
And it's only 5.5 hours from NYC and L.A.
Matteo Colombo/DigitalVision/Getty Images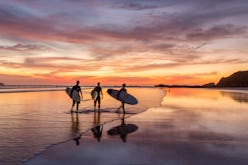 "Pura Vida," are words you'll hear almost immediately once you touch down in this small Central American country of Costa Rica. It's a nod to the simple life, something that may sound trite to a hardened New Yorker like myself, but residents live by this simple mantra. Great food, easily surfable waves, and warm weather are abundant year-round — it's paradise. For those seeking a bit of peace and quiet, the Nicoya Peninsula is still somewhat of a hidden gem. The northern coastal area, in the Guanacaste province, is a locale that attracts tourists and expats alike, but still retains a pristine, relaxing vibe. Though it's just over an hour's drive from the Liberia Airport, head to the coast and you may find you have a beach all to yourself.
"The energy of nature there is so powerful that you can feel it in your body, your mind, and your heart," says Vaimiti Teiefitu, a ROXY surfer who spent the better part of 2021 living in Costa Rica. "It is a good place to reset and get inspired." The Nicoya Peninsula is a popular destination for new surfers and veterans alike. The warm weather and relatively small beach breaks make for low-key surfing, where there's room for all to enjoy a wave. "Conditions are ideal in the morning until 12 and then in the afternoon go for a waterfall adventure or a hike," suggests Teifitu.
"If you're not comfortable with the idea of [swimming or surfing in] deep water, jungle activities are a must," adds Olga Yanul, a fashion director, stylist, and creative consultant, who has visited Santa Teresa, on the peninsula's southern tip. Since the coast is still relatively undeveloped, it's easy to split your time between relaxing at the beach, and partaking in activities like hiking, biking, and horseback riding. That proximity to nature is part of what makes Costa Rica so special. Walking to the beach, it's not unusual to spot monkeys, toucans, coatis, and possibly even a sloth if you're lucky.
But, a visit to the Nicoya Peninsula doesn't have to be all about adventure. Beaches like Playa Avellana and Santa Teresa's Playa Hermosa are popular destinations where you can find a mix of great food, easy surf, and mellow hotels where you can sit poolside and relax. Yoga is a well-known pastime for those seeking the "simple life," and a quick search will reveal many yoga retreats available up and down the coast. So you can choose the version of Pura Vida that best suits your needs.
Know Before You Go
If you're set on planning a trip, consider coming between December and April, the dry season. "They also call it the high season," because of its increased popularity, says Teiefitu. "The waves are smaller and easier for beginners." The sunny weather also makes it easier to enjoy the multitude of outdoor activities. Many restaurants and hotels are also seasonal, opening only for the more popular months of the year.
While you can arrange transportation with hotels, if you're interested in exploring multiple destinations, consider renting a small SUV or 4-wheel-drive vehicle. Driving south from Tamarindo is a beautiful way to see the range of towns the coast has to offer, but be warned that the region's dirt roads can get bumpy, especially after rain.
As for prices throughout the region, "Since the pandemic, lots of people have moved to Costa Rica, so the price level is pretty similar to the U.S.," says Yanul. The Nicoya Peninsula is a popular destination for expats, so prices there reflect the large international community's presence. Still, the wide range of hotels and restaurants means that you can choose to plan the trip to your own budgetary needs. For a more affordable visit, try staying in hostels or Airbnbs (of which there are many) and eating traditional Costa Rican fare at a soda, a local family-run restaurant.
Curious to learn more? Ahead, learn about some of the best hotels, restaurants, and activities to experience down the Nicoya Peninsula.
Tamarindo
As one of the busier tourist destinations on the list, Tamarindo is the place to be if you're looking for nightlife and activities. From here, you can sign up for chartered snorkel and scuba trips, or head inland for jungle adventures. If you're hoping to enjoy drinks on the beach, head to Pangas Beach Club. For a more relaxed vibe, head to Volcano Brewing for lunch and a local beer. If you happen to be in town on a Saturday, stop by the Tama Farmer's Market where you can find local fruits and vegetables in addition to art and music.
If surfing is on the agenda, try Witch's Rock Surf Camp. "Most surf schools are owned by local people and only ticos [Costa Rican natives] can teach surfing there as well," says Teiefitu. "It makes it fun because you're learning a new skill while connecting with the locals." For a less adventurous choice, try Jardin del Eden, which will feel like a quiet escape.
Playa Avellana + Playa Negra
Looking for a getaway that feels a bit more remote? Head to Playa Avellanas and nearby Playa Negra, where you'll wind your way down dusty dirt roads to come upon a collection of cute hotels and Airbnbs, and delicious restaurants. If you're looking for somewhere to stay, try Soul Shine, a hotel with rich, decadent Israeli cuisine for brunch. For a more traditional hotel experience, there's a JW Marriott a short drive away with pools abound, and even a golf course.
Feeling hungry? Just down the road from Soulshine, you can visit Barumi's for some of the best burgers and fries you'll find anywhere. Another option is Il Rustico, where you can enjoy authentic Italian food. Head to the beach at Playa Avellanas, where you can take surf lessons from locals, or simply sit and relax in the sun. There you can also grab lunch and a caipirinha at Lola's, where locals and visitors mingle all afternoon. Cafe Corazón is a must for top-tier lattes and delicious coffee, plus on Sundays, you can sign up for their barbeque, which regularly draws in locals.
Nosara
Nosara is another popular destination for travelers that want something that feels a bit more off the beaten path. The town is quiet, with a secluded feel. If you want a luxury experience, stay at Harmony Hotel, an eco-friendly spot where you can indulge in yoga and fresh juices. You can also visit La Tiendita, the hotel's on-site bookshop. If you're interested in a more formal retreat, look into Bodhi Tree Yoga Resort. For dinner by the beach, visit La Luna, a Mediterranean restaurant where you can grab pizza or fresh ceviche.
Santa Teresa
When visiting Santa Teresa, on the southern end of the Peninsula, Teiefitu recommends El Patio as a go-to spot for coffee and lunch. If you're looking for a more traditional Costa Rican meal, try soda Tiquicia for gallo pinto, a popular beans and rice dish. If you're feeling adventurous, Yanul suggests driving an hour to Playa de Los Artistas. "It's totally worth it," she says. "Incredible food from Italian owners, right on the picturesque beach."
Somos is a surf-centric hotel, with both dorm rooms and private rooms. It also has a cafe that's a fun local destination to stop by for drinks and dancing at night. For another surf-centric stay, head to El Chante Surf House, or if a luxury yoga retreat is more your style, Yanul recommends Pranamar Villas. If you're looking for an activity, try hiking the Montezuma waterfall. "The hike was incredible, some parts will require you to climb the rocks, take the hanging bridges or cross the river with ropes," says Yanul. "But soaking in the waterfall is totally worth it."