This Vase From Target Features One Of The Biggest Trends Of The Year
Plus, many more of-the-moment pieces.
Photographee.eu/Shutterstock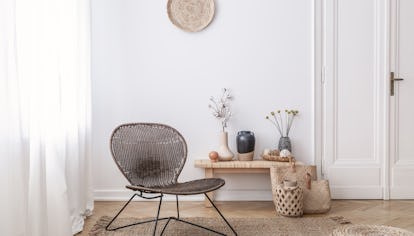 Of all the heroes in the home decor world, it's safe to say vases are often the most overlooked. Amidst the statement chairs, throw pillows, and coffee tables, decorative vases can fly under the radar — but they shouldn't. When paired with a seasonal bouquet or plant, the small-but-mighty piece can brighten up any space in an instant.
The beauty of the vase is that it can be used for multiple purposes. In addition to holding flowers, vases can stand alone just fine, serving as a piece of art for your home. Clear or glass vases can also hold fake or real fruit or other colorful fillers like marbles or stones.
In terms of placement, designating a vase to just a table would not always be in your best interest. True, a vase can be the ideal centerpiece for a coffee, side, or dining table. But it can also do wonders for a window sill, bookshelf, dresser, or kitchen counter — literally anywhere with some empty space that needs a little love. Heck, you can even throw a vase in your bathroom to give your powder room a little personality. These days, there are even hanging vases that can serve as floating art.
It seems home brands are finally understanding the power of the decorative vase, as more and more are offering elaborate and stunning options that play on both classic and trendy aesthetics. Mid-century modern lovers can enjoy sleek, cylindrical styles with metallic and wood detailing. Those with a flair for all things bohemian can enjoy wicker, wooden, or woven vases to hold their floral treasures. Even those with their fingers on the pulse of the latest trends will find of-the-moment options in some of the year's biggest color trends like Pantone's Ultimate Gray and Illuminating, oranges, and pastels.
And if budget is an issue when it comes to your home decor, don't fret. In addition to various shapes and sizes, vases come at a variety of price points as well. Some of your favorite affordable retailers like Target, Zara Home, and Anthropologie offer vases that look way more expensive than they are. If you're looking for more of an investment piece, there's something for you, too. Major designers like Hermès offer vases that serve as decorative art for your home (but be prepared to pay a pretty penny!).
Ready to jump on the vase train? To get you started, ahead you'll find 30 worthy options that range in aesthetic and price. There's literally a little something for everyone.
This article was originally published on