This Dining Table From Amazon Costs Less Than Your Phone Bill
Africa Studio/Shutterstock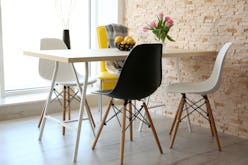 Hosting someone for dinner at home — heck, sometimes just making dinner at home — can often feel like an act that embodies some impressive adulting. And that's especially true for those on a budget. When money for home improvements or decor is scarce, one of the last things on many people's list of priorities is creating a dining area that's chic, sophisticated, and dinner-party ready — as much as you might dream of one day doing just that. But if you've been thinking that having your own beautiful place to dine in seems impossible, you might want to think again. With your eye out for for the best deals and a little creativity, you can actually find some pretty stylish dining tables under $100.
Whether you have a preference for minimalist decor or are more into the rustic-chic vibe (or really anywhere on the spectrum in between), there are some great go-to affordable home decor stores to keep in mind when you're limiting your spending but don't want to sacrifice on style. And while you may already know that retailers like Target or Wayfair always seem to have options for everything from coffee tables to bar carts for less than the price of the shoes you're probably wearing, you may already assume that low of a cost couldn't apply to something like a dining table. Fortunately, depending on your needs (such as how many people you need to seat or the space you're putting it in), you can totally find an option under $100 that will have you psyched to plan you crew's next dinner party at your place.
To save some cash on this kind of piece, you might have to be a bit more flexible. A handful of affordable retailers, like IKEA for example, will have cheaper options for those who don't mind putting in the elbow grease to assemble their new table themselves. And don't discount multi-purpose pieces either, like a utility table with fold-out leaves, if you think it might suit your space. Even a bistro table, or a beautifully designed fold-out style can make sense for a lot of different decor and dining room or kitchen sizes, so opening your mind and being a little creative can also help you score some finds on even the tightest budget.
It's also worth noting that dining tables are basically a blank canvas, so try not to be bummed if your designated price point doesn't allow for exactly the style you were looking for. Dress it up with beautiful textiles, a vase of flowers, and a chic table setting to make it look even more expensive. And if your table doesn't come with chairs, try collecting mismatched pieces to give your table a cool, eclectic feel.
If all these ideas have you ready to start building your own new dining situation, start by checking out these 10 tables that can help get you there regardless of your home's decor — even if you've only got $100 to spend.