10 Celebrity Memoirs To Read Over The Holiday
@parishilton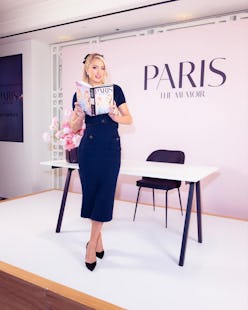 The final weeks of the year often provide a much needed slow-down for many. This is prime time for OOO replies and tucking away laptops as people recharge and reset for the new year. But the sudden shift from a "holiday hustle and bustle" to complete hibernation mode can leave many at a sudden loss for how to fill their quiet time. May I offer a suggestion? How about a nice gripping (and possibly salacious) celebrity memoir? With an unusual onslaught of A-list-penned books released this year, it might be time to play a little catchup.
If you're a millennial who was raised on the gospel according to Britney Spears, your first order of business should be the singer's hot, hot, hot tome The Woman In Me which offers fans an enthralling storytelling of her rise to fame, fall from grace, and triumph over an oppressive 13-year-long conservatorship. Also for the Y2K crowd is Paris Hilton's book, Paris: The Memoir, which delivers a behind-the-scenes view of the socialite's life that was captured by paparazzi cameras or selfie snaps. If you have a taste for the ultra provocative, pick up Julia Fox's latest, Down The Drain, which unpacks her turbulent childhood and early adulthood and her rapid rise to pop culture infamy, thanks in large part to her whirlwind romance with Kanye West.
And that's just the tip of the iceberg. Ahead, a list of all the celebrity memoirs released in 2023 to catch up on while you hibernate on your couch this holiday season.
With 2.4 million copies selling worldwide in its first week alone, it's highly unlikely you don't know about this fall release or haven't heard rumblings of the gripping stories included. Yes, Spears truly tells all here: from her slightly unconventional Southern upbringing and first taste of stardom to her meteoric ride to the top and super public relationship with one Justin Timberlake. Truly no stone is left unturned as the pop singer takes readers on a rollercoaster ride that wraps up in present day and her current state as a free woman living on her own terms. (If you're up for it or need something to listen to while you workout, give the audio version of the book a listen. Voiced by Michelle Williams, it tells Spears' story in a fresh and vulnerable way.)
While Spears' book may have left many other A-List works overshadowed, Streisand is not to be ignored. Despite sneaking in her memoir at the tail-end of the year, this one will have you ending 2023 on a high note. The icon, whose career spans a staggering six decades, truly covers it all: her humble beginnings as a kid growing up in Brooklyn, her first taste of the spotlight in the New York nightclub scene, developing the roles that would define her career, and finding love with her husband of 25 years James Brolin. The famously private legend rarely lets anyone behind the velvet rope, so when you get the opportunity for VIP access, you take it.
The controversial style icon, known for her barely there ensembles that have essentially spearheaded every naked dressing trend of the past two years, gets about as unfiltered as possible in her new memoir. With candid, unapologetic details on her unconventional duel upbringing in New York City and Italy, her rebellious teen years, and her rollercoaster foray into fashion and entertainment infamy will leave you riveted to the very last page. And while some of Fox's famous exes are certainly referenced at length in the book, don't worry, she was the soul of discretion (sort of) in that she changed names "to protect the innocent and the not so innocent." That said, it won't take sophisticated detective work to decode who "The Artist" beau in her book is. Sorry Kanye, no one is spared in this tell-all.
While many millennials know Hilton as the Y2K It-girl and original influencer, her new book, released earlier this year, proves she's so much more. In her first-person account, Hilton describes her experience growing up in the affluent and high-profile Hilton family and the pressure that can come from such notoriety. In a groundbreaking move, Hilton also speaks openly for the first time about her two-year experience in the "troubled teen industry," the popular wave of youth reform wilderness programs for struggling teenagers that were popular in the '90s and early 2000s. This powerful story aims to prove that no one is exempt from life trauma and pain, not even the girl who (seemingly) has it all.
Pageboy By Elliot Page
Considered one of the most prolific trans advocates of our time, actor Elliot Page's story is at once heartbreaking and empowering, teaching readers a vital lesson in the power of stepping into who you truly are, despite the people and the obstacles stacked against you. "The emergence of our true selves is all of our life's work. Pageboy helps chart the course," raved actor Jamie Lee Curtis about the groundbreaking book, which chronicles the actor's journey to stardom and big break with his Oscar-nominated performance in Juno, the pressures of fame that forced him into a binary for too long, and his decision to live authentically and freely once and for all.
Worthy by Jada Pinkett Smith
After years of speculation and rumors surrounding her life and marriage Pinkett Smith is ready to set the record straight — and then some. If you hadn't heard, her new memoir is chock full of bombshells as the actor addresses everything from her romance with late rapper Tupac Shakur and tumultuous teenage years (where she dabbled in drug-dealing) to her longtime marriage to Will Smith (whom she revealed she's been separated from for years) and her publicized "entanglement" with singer August Alsina. If you need a fix of a juicy celebrity memoir, this one is prime for picking.
Dubbed "A timely, urgent portrait of working-class American women," by actor Gabrielle Union, Minka Kelly's memoir tells the lesser-known story of the It-girl actor, who rose to prominence in the early aughts with her role as Lyla Garrity in the hit TV show Friday Night Lights. What happened before her big break has always been a bit of a mystery and held close to the vest. But Kelly finally reveals all in this honest and mesmerizing tale that includes details on her unstable childhood and being raised by a single mother struggling with addiction to her journey to LA where she would find surprising success as an actor on a hit program (and the unspoken drama and pitfalls that can come with overnight fame).
Washington's revealing memoir is perfect proof that one's life can change with a simple text message. Without spoiling the plot, let's just say the actor's new book takes readers on a wild ride of self-discovery when one's very identity and history is called into question. In addition to the main event bombshell, Washington comes clean about both her public and private life and her struggles with self-worth and image over the years (the actor goes on record for the first time to discuss her experience with an eating disorder, which started in college). Her story tells of challenges and triumphs and, most importantly, unconditional love. It's a holiday must.
Spare by Prince Harry The Duke Of Sussex
If you have a weakness for all things royal family, Prince Harry's tell-all is a great one to cozy up to. This unflinching — and controversial — account of his experience as the "spare" heir to the British throne addresses about 99.9% of the questions you might have had about the tragedies and scandals that rocked the monarchy over the past 30 years. Harry's experience and grief through Princess Diana's death, his time served in the British Royal army, and of course his relationship with Meghan Markle and eventual exit from the Royal Family. Rest assured, all is covered at length, and nothing held back.
If you'd like a change of pace from the It-girl chronicles that are ruling bookshelves, pick Stamos' latest. The actor's memoir perfectly demonstrates the true unpredictability of life that can take you from a kid flipping burgers in your dad's fast-food restaurant to one of the biggest sitcom stars of the millennium. Stamos earnestly guides readers through his journey to primetime stardom, including the harsh realities he faced at the top: married and divorced to a top supermodel, his unhealthy relationship with alcohol that eventually led to a stint in rehab, and the devastation of losing friend Bob Saget so suddenly in 2022. This one's a heart-wrencher, so keep the tissues close.