The Quick & Easy Fall Getaways You'll Want To Return To Year After Year
John Wang/Photographer's Choice RF/Getty Images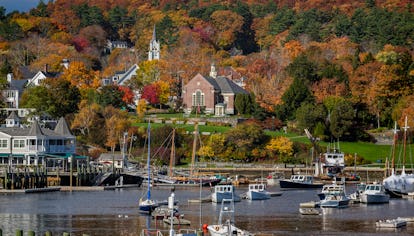 There are certainly arguments for booking a vacation at every point in the year. Spring is pretty; summer means good weather and longer days; winter is less expensive. But let's get real: When it comes to the best time overall, fall wins. Come September, the crowds largely disperse, the temperatures become bearable, and the changing trees add a level of beauty that's unparalleled. That said, while fall is definitely an ideal time for an escape, that doesn't always mean it's the easiest, logistically speaking. School is back in session, work hours get longer, and the holidays are approaching — meaning any fall getaway usually needs to be a quick and simple weekend escape.
Fortunately, the US is not short on choices. In fact, one could argue that there are too many to pick from, meaning planning a quick trip can turn into a long, complicated endeavor. It's already been established here that time is of the essence, so TZR has rounded up some of the best easy fall getaways to take this year (and beyond) to make your planning a breeze.
To find them, we scoured states in every region for unique, somewhat under-the-radar or less popular towns and cities. Out of those, we mostly honed in on the places that were straightforward to access — within proximity of big cities, airports, or both. Out of those spots, we focused on the getaways that weren't overwhelmingly large: They have plenty to do, but don't require a weeklong vacation to experience their essence. With all of that in mind, the final list of the best quick and easy fall weekend getaways is head. Happy travels!
Camden, Maine
If you're looking for the quintessential charming New England town to base your fall trip, Camden is definitely it. Sure, unless you live in the region, it's not the *most* straightforward place to access. It's about a four-hour drive from the Boston airport, and roughly a two-hour drive from Portland, ME's airport. Alternatively, you can book a Cape Air flight from the Boston airport to Knox County Regional Airport in Rockland, a 30-ish-minute drive from Camden. That said, it's worth the visit for a quick getaway.
Located in Midcoast Maine, Camden has the nature every good fall escape calls for. It's set between the mountains and the sea, so there's colorful foliage, sparkling water, and just generally stunning vistas in every direction. In fact, it's a popular place for "leaf peepers" during the fall, who visit Camden Hills State Park for the autumnal views. Foodies can also get their fill here: There's a beloved, nationally recognized locavore restaurant in town called Long Grain serving dishes inspired by different Asian cuisines and cultures, plus plenty of other cool options in Rockport just a few minutes away. For accommodations, you can't beat The Norumbega, a stylish inn newly redesigned by the team at studiocake that's set in the town's High Street Historic District.
McCall, Idaho
McCall may not have been on your radar before now. After all, National Geographic once dubbed it one of the best "secret" ski towns of North America, and it seems to have kept its under-the-radar status since. Don't let that fool you, though: It's definitely a spot worth visiting this fall, especially if you're searching for something out west. Roughly a two-hour drive from Boise, the small town is big on scenery and outdoor activities.
And that's what it's all about here: Spending as much time outside in this beautiful place as you possibly can. In the fall, you can set out on the 5,330-acre Payette Lake for a crisp day on the water. Or, if that sounds a little chilly, you can trek down one of the area's many hiking trails while enjoying the ample fall foliage on display. If you prefer a more relaxed type of "hiking," you can also check out the McCall Ale Trail and try to earn prizes as you explore the local beer scene. As for where to stay? McCall isn't exactly at the forefront when it comes to trendy hotels, but that's not the vibe here anyway. Shore Lodge has all you need: The 77-room resort features luxurious rooms, cozy dining options, a spa, and, of course, plenty of adventures in which to partake.
Lexington, Kentucky
OK, mine might be a slightly biased opinion — I currently live in Lexington, KY. But hear me out: As a transplant of this city, I can personally vouch for just how easy a getaway this city is. For one, it's not difficult to get to: If you're not driving from a nearby state, there's a small airport in town you can fly into. Or, you can add a leg onto your trip and book your flight to Cincinnati, which has a bigger airport about an hour away from Lexington (and, to boot, is another cool and very underrated spot for a visit).
It may be more of a large town than an actual city, but what it lacks in size, Lexington makes up for in character. Its claims to fame are unique: Not only is it home to some of the state's (and world's) most famous bourbon distilleries — many of which have fun and informative tours — it's also where the thoroughbred auction house and historic racetrack Keeneland is located. Honestly, you could spend one day touring the Kentucky Bourbon Trail and another at Keeneland's Fall Meet (which runs from Oct. 6 to the 28th in 2023) watching the horses race, and you'd be set for the weekend. But if you want more, stop in at Kentucky Native Café for a magical afternoon beer and snack under a canopy of trees in the middle of town. At night, check in at the buzzy new Manchester Hotel, and then walk over to Lexington's Distillery District to catch a show at live music venue The Burl. Before you leave, make sure to take a drive outside the city at some point — the horse farms (and fall foliage) surrounding it can't be beat.
Greensboro, Georgia
Though it feels remote, Greensboro is just about an hour away from Atlanta — making it the perfect easy getaway for the upcoming season. The scenic spot is located on Lake Oconee, and features a blend of small-town charm and breathtaking scenery that feels just right for a fall weekend.
There are plenty of places to stay here, but it's hard to beat the main attraction — aka the The Ritz-Carlton Reynolds, Lake Oconee, a rustic-meets-luxe lakeside resort that honestly, you could check into and not leave the whole weekend. That said, exploring the rest of the area is definitely recommended. There's a historic downtown perfect for strolling, especially since there's shopping (try artisan marketplace Genuine Georgia) and eating (don't miss The Yesterday Café) to be had as well. And of course, you can't leave without partaking in some outdoor activities: Given that Lake Oconee covers 19,000 acres, there are endless opportunities for fishing, waters ports, boating, and more.
Sausalito, California
California certainly isn't short of options when it comes to weekend getaways. But if you're looking for something slightly less obvious yet still easy to access, consider Sausalito, CA for this year's fall escape. Yes, you've heard of San Francisco. But just across the Golden Gate Bridge sits this coastal town featuring all the convenience of the big city, but its very own Mediterranean-feeling charm.
Book a stay at Cavallo Point for the weekend, which offers spectacular views of the bridge from its ultra-cozy rooms. Catch a quick rest there before heading out — you'll need it with the endless things to do in Sausalito. First, check out the area's floating homes, an iconic local landmark. The city also has a thriving art scene, and you can easily spend a day perusing its many art galleries. The same could be said for its food scene: Sausalito is home to renowned restaurants such as Sushi Ran and Italian trattoria Poggio, among others. Alternatively (or additionally), you can immerse yourself in the great outdoors here. Explore the Muir Woods National Monument nearby, or opt for something a bit more adventurous and try your hand at stand-up paddle yoga on the water.
Racine, Wisconsin
If you're looking for water, proximity to big cities, interesting art and architecture, and just a generally cool Midwestern place to explore for the weekend, it's hard to beat Racine. Set directly on Lake Michigan and within a short drive of both Milwaukee (about 40 minutes away) and Chicago (roughly an hour and a half's distance), the city is both easy to access and full of the kind of charm you can't often find in more metropolitan areas.
Kick off your stay with a tour of the area's notable buildings: Architect Frank Lloyd Wright designed three that are located there, including the SC Johnson Administration Building, the SC Johnson Research Tower, and Wingspread, a personal estate Wright built for the H.F. Johnson, Jr. family. You can also visit the Wind Point Lighthouse, believed to be one of the oldest and tallest active lighthouses on the Great Lakes. It's also home to the Racine Art Museum, which holds the largest contemporary craft collection in the US. Once it's time to eat, there's only one thing to do — grab some Kringle, Wisconsin's official pastry, from one of the many bakeries (Bendtsen's Bakery, notably, still hand rolls its dough). No trip would be complete without a day at North Beach, which features 2,500 feet of shoreline. And there's no better place to base your stay than the brand-new Hotel Verdant, with trendy accommodations featuring stunning views of the water and set in the heart of the city.
San Antonio, Texas
Late fall is widely considered to be the best time to visit San Antonio, and not just because of the milder temperatures. The city, set in south-central Texas, also boasts a 15-mile urban waterway called the River Walk, which bursts with autumnal hues come the turn of the season. And once you've had your fill of foliage, you can take in the myriad other interesting sights, such as the North Star Mall boots (because you've surely always wanted to see the record-holder for the largest pair of cowboy boots), the many public art pieces around the city, and more.
It's also nearly impossible to visit San Antonio without checking out the city's renowned food scene — in fact, it's a UNESCO Creative City of Gastronomy, and experts told TZR in 2021 that it's one of the best foodie destinations in the country. While you're there, don't miss the historical district called Pearl, which features a wide variety of unique places to eat and drink (in addition to retailers, a hotel, and more). You can eat to your heart's desire, and then rest your head at one of the Texas city's stylish boutique hotels: Thompson San Antonio – Riverwalk and Hotel Emma at Pearl among the coolest.