The Best Batched Cocktails That Will Serve You Well This Summer
marina200707 / 500px/500Px Plus/Getty Images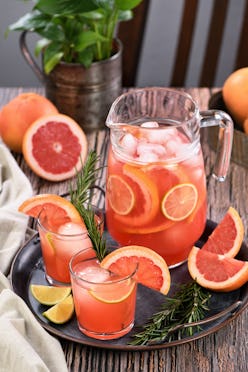 Hosting a party can be as overwhelming as it can be exciting. There are plenty of details to consider. From creating the perfect playlist to curating a delicious selection of food — and, most importantly, making sure every guest has a drink in hand. To alleviate the pressure of having to play bartender all night, and eliminate a long line at the bar, batched cocktails are the perfect solution for entertaining. The pre-mixed drinks made in large quantities are made before guest arrival and stored in a punchbowl, dispenser, or individual bottles until they're ready to be served. Hence, they are non-negotiables for summer hosting.
One of the many benefits of batched cocktails is that these large-quantity drinks don't sacrifice quality or taste, master mixologist and Head of Advocacy for Próximo Spirits Jaime Salas explains. "As long as you are using quality, fresh ingredients, storing properly in a sealed container in the fridge (labeled and dated, of course), and batching in a timely manner in regard to the event, the cocktails can be just as tasty as individually-made cocktails to order. Some would argue that batched cocktails can even be better than individual cocktails due to the opportunity you get to let the flavors develop over time."
Rules Of Thumb
When it comes to creating batched cocktails for festivities, there are a few things to keep in mind to yield the most delicious results. It's no surprise that correct timing is an essential step in preparation. "The amount of time you can make a batch in advance depends on the specific ingredients and recipe," Salas shares. "I recommend making cocktails that contain fresh ingredients just before the event, while cocktails made entirely of spirits and liqueurs can be made a few hours or even days in advance."
His next suggestion is to be mindful of ice, as your batched cocktail will be sitting out for the duration of your party. "Ice, which is a necessary ingredient, of course adds dilution to your cocktail," he says, "but keep that timing in mind when you ice your cocktail and what type of ice you're using."
According to Salas, the post-preparation stage is just as integral to the success of a batched cocktail and deserves the same amount of care. "Always store your pre-mixed cocktails properly and consider taste-testing them before serving to ensure their quality," he advises.
Choosing the right spirit for a batched cocktail can be a daunting task. A-K Hada, the North American Bacardi Rums ambassador, shares some tips to alleviate anxiety. "A cocktail batched or individually made is a sum of all its parts," she explains. "Stick to brands you know and love like BACARDI. Buy fresh when necessary but also don't be afraid of the mixers' aisle." Hada also stresses the importance of simplicity, accuracy, and using shortcuts when appropriate.
"Making a cocktail should be way easier than making cookies," she insists. "For example, juice your limes but definitely buy your mango puree. Also always make sure you measure everything. Accurate measuring is the key to a consistently balanced batch of cocktails."
Salas on the other hand recommends using spirits like tequila, mezcal, vodka, and whiskey for batched cocktails. "It's generally recommended to use spirits that have a strong flavor, as they will hold up better over time," he recommends. "One should also avoid using spirits with too many added sugars or artificial flavors, as these can throw off the balance of the cocktail and make it taste overly sweet or artificial."
One of Salas' favorite cocktails to batch is the margarita, for a number of reasons. "The margarita has a relatively simple recipe, doesn't lose its flavor or texture when made in advance, and can be served either frozen or on the rocks," he says. "For your next gathering, I would recommend making Gran Centenario Plata's Signature Gran Margarita – an absolute fan favorite. It's approachable in the sense that it isn't too complicated to make, flavorful, and aesthetically pleasing due to the eye-catching addition of the chili-salt rim."
For those who like to stay on trend with their boozy beverages, Salas shares another tequila-based batched cocktail option fit for any occasion. "[The Paloma] is the No.1 cocktail in Mexico and is quickly becoming one of the most popular among consumers in the U.S. as well," he says.
If you (somehow) happen to have any of your batched cocktail left over when your last guest departs, you don't have to chug it down immediately or worry about it going to waste. "You can save leftover batched cocktails, but the storage method and duration will depend on the specific cocktail and its ingredients. Overall, it's best to consume batched cocktails within a day or two of making them to ensure the freshest flavor," Salas advises. "I'd recommend storing them in the refrigerator in an airtight container and refreshing or adjusting the flavors as necessary before serving."
Batched Cocktail Ingredients
Finally, not all batched cocktail ingredients are created equal. Both experts have their own opinions on how to utilize tricky ingredients and which ones to stay away from entirely. Salas makes it a point to avoid using dairy products in batched cocktails. "They can spoil quickly and alter the flavor of the cocktail." He also shares a trick for any batched cocktails with bubbles. "It's also best to avoid carbonated ingredients like soda or sparkling wine, as they can go flat over time and lose their effervescence. If you're making a batched bubbly cocktail, I would recommend adding the carbonated element right before serving."
Hada recommends that at-home mixologists should try to be conservative when working with bitters in their batched cocktails. "I usually start with 2/3 of the amount to direct scale and add incrementally," she says. Her next tip is non-negotiable. "Citrus must be juiced fresh the day of. This might sound laborious, but the difference is crucial. Citrus juices — lemon, lime, and grapefruit — turn very bitter after a day and will make your cocktail taste stale and unbalanced." If running low on time the day of you can always pre-batch all other ingredients in advance and add the citrus last minute. "In a Daiquiri, you can premix the rum and simple syrup and keep it in the refrigerator and add the lime juice before the party," says Hada.
Ahead, expert-approved batched cocktail recipes to sip and savor that will make you the toast of any summer party.
Gran Centenario Plata's Signature Gran Margarita
Salas recommends the Gran Centenario Plata, a tequila made from 100% Blue Agave. "It's perfectly suited for a flavorful margarita," he says. "This cocktail can be enjoyed season-round and is very easy to make."
Serves 10
Accounting for one drink/guest
Ingredients
20 oz Gran Centenario Plata
10 z orange liqueur
10 oz fresh lime juice
1.25 oz agave nectar
8.25 oz filtered water*
Instructions
Mix the tequila, lime juice, orange liqueur, agave nectar, and water in a large pitcher and set aside in the fridge until ready to serve.
Prep your garnishes: Cut enough notched lime wedges for guests' cocktails and have them displayed in a nice vessel (preferably insulated) with garnish tongs. Have a plate with lime juice/lime wedges and a plate with chili-lime salt for guests to rim their cocktail glasses.
Set your drink station in order of build: First, a selection of rocks glasses, followed by the salt rimming set up, then a cooler/ice bucket of quality ice with tongs or a scoop, your cocktail vessel, lime wedges, cocktail napkins, and agave straws if desired. Remember to sample your cocktail. Give yourself enough time to taste-test your finished recipe and adjust as needed.
*Add water to account for dilution, which is an important part of a cocktail's build and flavor profile. This cocktail has three oz of spirit/drink, so we are factoring in 20% water. (The reason for adding water is that when creating a single-serve cocktail in a shaker, you're shaking with ice, and that intentionally melts into the cocktail. When batching, since you're not shaking, there is no ice to melt, and therefore you need to add the water separately.)
Green Tea Punch
Hada suggests this simple recipe for beginner at-home mixologists. "This punch is about as easy to put together as brewing a pot of tea and is always an elegant people-pleaser and great on a hot day," she says.
Serves 10
Ingredients
6 oz brewed Sencha tea
6 oz brewed mint tea
4 oz demerara sugar
2 cups of ice
12.5 oz Banks 5 Island Rum
5 oz fresh lime juice
Freshly grated nutmeg for garnish
Instructions
Stir the demerara into the hot tea to dissolve, then add the ice and stir until it melts. Next, add the rum and the lime. Chill in the refrigerator for one hour before serving and ladle into Old Fashioned glasses with fresh nutmeg.
Maestro Dobel Ace Paloma
According to Salas, "This recipe is also great for temperate environments and has proven to be very popular with big groups. Additionally, the ingredient composition allows one to easily adjust quantities to their desired taste preferences, and refresh the batch as needed. Just be mindful of the carbonated element of the drink and batch it in a timely manner to not lose effervescence."
Serves 10
15 oz Maestro Dobel Diamante Cristalino
30 oz Owen's Rio Red Grapefruit Mixer
2.5 oz fresh lime juice
7.5 oz filtered water
Instructions
Mix the tequila, lime juice, and water in your vessel with the grapefruit mixer off to the side. The mixer should be added last as each cocktail is served — if it is batched you will lose carbonation over time and hinder the effervescence of the cocktail. Be mindful of buying small (250 mL) versus large (750 mL) formats of the mixer: If your guests will be enjoying their cocktails slowly throughout the event, go smaller so they are opened and enjoyed to order without risking the loss of carbonation; if the cocktails will all be enjoyed immediately, go larger to eliminate waste and be more cost-effective.
Prep your garnishes: Cut enough notched grapefruit segments for guests' cocktails and have them displayed in a nice vessel (preferably insulated) with garnish tongs; have a plate with lime juice/lime wedges and a plate with black lava salt for guests to rim their cocktail glasses. Set your drink station in order of build: First, a selection of Collins glasses, followed by the salt rimming set up, then a cooler/ice bucket of quality ice with tongs or a scoop, your cocktail vessel, mixers, grapefruit garnishes, cocktail napkins, and agave straws if desired.
BACARDI Reserva Ocho Rum Negroni
"For a more spirit-forward option, I love batching a BACARDI Reserva Ocho Rum Negron," Hada recommends.
Serves 12
Ingredients
12 oz Bacardi Reserva Ocho Rum
12 oz Martini & Rossi Sweet Vermouth or Riserva Speciale Rubino
12 oz Campari
8 oz water
Orange zest or half wheel as garnish
Instructions
A negroni with a dark-aged rum is a great twist on the classic and is the easiest recipe to remember. All equal parts! Add water to pre-dilute so that when you take this out of the refrigerator (or freezer for a pro tip) it doesn't need to be stirred. You can just pour it over a nice large ice cube and add an orange zest or wheel.