Liqueurs Are Making A Comeback In 2023
Or maybe they never left?
Shutterstock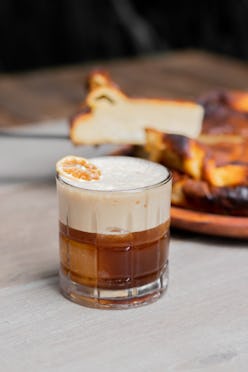 Forget the stereotype that liqueurs are only used to fill chocolate or for dessert drinks, as they're so much more. The specific spirits category — which typically consists of alcohol with added sugar and flavoring derived from fruits, herbs, or nuts — has been on a steady rise in popularity for some three or four years. Part of that spike might be because liqueurs are a low-ABV beverage, which in itself has become a major cocktail trend. (Low-ABV stands for low alcohol by volume. Beverages that are considered low-ABV contain less than 0.5% alcohol.) Needless to say, it's time to learn more about liqueurs and the delicious cocktails that can be created with them.
Earlecia Richelle Gibb is the perfect guide for those beginning their liqueur journey. She's the North American Ambassador for liqueur brand St-Germain and works to increase awareness of the brand and the elusive category in general. To start, Gibb breaks down how liqueurs differ from traditional spirits. "The main distinction between a distilled spirit and liqueur is that liqueurs are a combination of sugar, a spirit, and an agricultural product." She continues, using St-Germain as an example. "It is a mixture of a fresh elderflower tea concentrate that's been blended with beet sugar and then we use a neutral grain spirit to bring the alcohol content to the mixture."
Like other alcohol categories (beer, wine, whiskey), liqueurs come in a variety of formulations. "You can have liqueurs that are made in different kinds of styles," explains Gibb. "We use an infusion style. We're infusing those fresh elderflowers into a liquid that we then blend to create our liqueur. But you have some liqueurs that use different methods as well, from distilling to compounding, which is basically taking a flavor and creating an additive and then you add that into a mixture." (Macerating is another popular method for creating liqueurs.)
While some liqueurs can be enjoyed being sipped on their own, Gibb is adamant about their necessity as a component in mixed drinks. "[They're] an integral part of creating a balanced cocktail," she says. "You need bitter, you need acidity, and you need some kind of sugar to create a balanced cocktail." The sugar content the liqueur provides serves multiple purposes, she adds. "Sugar isn't just for sweetness, it's also for mouth feel, for density," she adds. "It creates a body that makes a cocktail more delicious."
Liqueur Cocktails: Rules of Thumb
So, what should a novice look for when picking out a bottle of liqueur at the store? Josh Morton, the founder of Barrow's Intense Ginger Liqueur, has a simple tip. "It comes down to the ingredients," he says. "Is it made with fresh ingredients or extracts and 'natural flavorings?' Do they use pure cane sugar as a sweetener or corn syrup, for example? You want to look for liqueurs that use fresh ingredients and pure cane sugar."
Gibb also shares thoughts on how to choose a liqueur and suggests a more hands-on approach. Her advice is to "engage" with the spirit. "I think the best way that you're going to be able to identify the quality of a liqueur, of any spirit honestly, is going to be actually interacting with it. Tasting it, looking at it, seeing how it's flowing in a glass if you have the opportunity," she says. "If you see something that you know is really attaching to the glass quite aggressively, it's an indication that it has a really high sugar content and may give you more of a syrupy, aftertaste, or syrupy quality to your cocktail." She emphasizes looking for something that has, "a little bit of pull to the size of the glass, but also is not too syrupy. You don't want it to be the consistency of honey."
In terms of what liqueurs should be used in specific drinks, and which ones can be sipped on their own, Gibb's go-to rule is to look at classic cocktail recipes and experiment from there. "I think that gives you a great map in terms of trying out different liqueurs on their own because not all liqueurs are made to drink on their own," she explains. "There are some that are made to really enhance cocktails like St-Germain for example. Are you looking for like a sipping spirit or are you looking for something to enhance a cocktail?"
Another resource Gibb encourages people to use is their local bartender. "Bartenders are such incredible educators," she says. She hopes people will look at the liqueurs on the back bar and ask for a taste of it or ask for a cocktail to be made with it. "That really gives you a little bit more knowledge and a little bit more courage to go to your liquor store and make something of your own."
The biggest message Gibb wants to get across is that people shouldn't be afraid of liqueurs. "I think when people think of liqueur, they think of syrup, sticky, sweet, sugar and liqueurs are so much more." She continues, "There's a beautiful process in making liqueurs. They usually have different kinds of herbs and flowers and roots that you just can't taste unless it was made into something. You have access to this beautiful range of flavors that would be difficult to taste in any other kind of application."
Ready to fall in love with liqueurs? Ahead, expert picks and popular liqueur recipes will make this low-ABV beverage the new MVP at home or the bar.
St-Germain Margarita
Gibb loves to put a new twist on classic cocktails. "St-Germain elevates any cocktail and gives such a new fresh facelift to those old standards that we all know and love," she says. Here, the orange liqueur is swapped for St-Germain. She's particularly fond of the floral essence the St-Germain brings to the beloved drink.
Ingredients
1 oz St-Germain
1 ½ oz Patrón Silver Tequila
¾ oz Fresh Lime Juice
Lime Wedge for Garnish
Instructions
Combine the St-Germain, tequila, and fresh lime juice in a shaker. Add ice into the shaker and shake vigorously until it is nicely chilled. Strain over ice in a rocks glass. Garnish with a lime wedge
The Chicago Mistake
One of Josh Morton's personal favorites, this bitter cocktail has a hint of sweetness and makes the perfect nightcap.
Ingredients
2 oz Barrow's Intense Ginger Liqueur
1 oz Punt e Mes (Can be substituted with 0.5 oz Cynar and 0.5 oz Dolan White)
5 dashes angostura bitters
5 dashes of orange bitters
Instructions
Stir all ingredients together. Pour over ice or one big cube. Rub the glass with orange peel. Garnish with a Luxardo cherry and orange peel.
Sipsmith's Bramble Cocktail
Born in London, this modern classic mingles gin with ripe blackberry liqueur and zesty lemon.
Ingredients
2 parts Sipsmith® London Dry Gin
1/2 part simple syrup
1 part fresh lemon juice
1 part crème de mûre liqueur, to float
Instructions
Build the first three ingredients in a glass with ice cubes and stir. Top with crushed ice. Drizzle over Crème de mûre for the float. Garnish with a blackberry and a slice of fresh lemon.
Cordusio Tonic
The red berry liqueur brings a twist to the classic G&T. The berry adds a burst of freshness and newness that's welcomed.
Ingredients
1 part Cordusio
3 parts tonic
Garnish with 1-2 raspberries
Instructions
Pour Cordusio into a large premium highball glass and fill it with ice. Add tonic and stir gently. Garnish with 1-2 raspberries