If You're Obsessed With Aperol, Add These Cocktails To Your Rotation
It's always aperitivo hour somewhere.
Yulia Petrova/Moment/Getty Images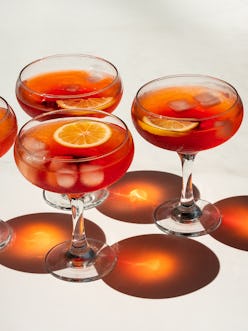 With the exception of a rosé, you'd be hard-pressed to find a drink that's as synonymous with summer as the Aperol Spritz. Thanks to this icon status, it's hard to imagine using the cocktail's base — Aperol — for anything else. But if you want to expand your tastebuds to a whole new world of spirits, you should definitely try to work the Italian aperitivo into other concoctions. And while nothing will ever replace the spritz, if you're a hardcore fan of the formula (*raises hand*), it's worth trying it out in some alternative Aperol cocktails as well.
For those unfamiliar with Aperol, here's a crash course: It's a bright orange liquid that's often seen being sipped from a wine glass adorned with an orange. If we're getting technical, Anthony Caporale, Director of Spirits Education at the Institute of Culinary Education, tells TZR it's an Italian bitter liqueur produced by the Campari Group. "It's less bitter than Campari and has about half the alcohol," he explains in an email.
As for how it tastes, Warrilow notes that it features an infusion of botanicals and citrus, making it "floral, herbaceous, and highly citrus-driven on the nose and the palate." That's undoubtedly what lends it so well to the Aperol Spritz recipe: The cocktail is made with equal parts Prosecco and Aperol, and finished with soda, a slice of orange, and plenty of ice, so it's light, bright, and unfailingly refreshing.
Clearly, the spritz is a beloved concoction — it's been around since the 1950s after all (and Aperol itself since 1919). But while there's absolutely nothing wrong with sticking to the usual, Aperol's qualities also make it a delicious addition (or substitution) for countless other drinks. As Caporale reiterates, one of the best ways to use it is as by replacing Campari with Aperol to lower the alcohol content or decrease the bitterness of drinks. Some of his favorite ways to do that, ahead.
The Hollywood Reporter
Anna Mains, Brand Ambassador for Monkey Shoulder Whisky loves this whiskey-infused Aperol sip for summer. Simply combine 1 ½ parts Monkey Shoulder, ½ part Aperol, ½ part honey syrup, and ¾ parts fresh grapefruit juice, shake, and strain over ice in Collins glass. Top with soda (Topo Chico if available). Garnish with a grapefruit twist and drink up.
Joan Collins
Aubrey Slater, chief brand queen and head mixologist at moonshine brand Saint Luna is particular to her one-of-a-kind cocktail dubbed the Joan Collins. To make, mix 1 1.2 ounces Saint Luna, 1/2 ounce Aperol, 1/2 ounce simple syrup, and 3/4 ounce lemon juice in a shaker with ice. Strain into a collins glass filled with fresh ice and top with seltzer. Garnish with a lemon wheel.
Bourbon Thyme
At Prohibition bar in Charleston, the Bourbon Thyme is a staple. To make it at home, add 1 1/2 ounces Granny Smith-infused Bourbon, 3/4 ounce Aperol, 3/4 ounce lemon, 3/4 ounce thyme honey, and two dashes orange bitters in a cocktail shaker with ice. Shake and pour into a double Old Fashioned glass filled with ice. Garnish with apple slices.
G.O Paloma
Speakeasy J.Bespoke, located in Manhattan's NoMad neighborhood, created a spin on the classic paloma. To create, simply shake 1 ounce ghost tequila, 1/2 ounce hibiscus infused milagro silver tequila, 3/4 ounce Aperol, 1/4 ounce ginger syrup, 1/2 ounce fresh lime juice, and 1 ounce fresh grapefruit juice with ice. Strain into a highball glass with fresh ice, top with soda water, and garnish with grapefruit wheel.
Naked & Famous
Kitty Bernardo, bar manager at Donna in NYC loves this cocktail as it's a super easy equal-parts drink to introduce folks to Mezcal and chartreuse while also exploring the world of the famous aperitivo through a different lens. To make, shake 3/4 ounce lime, 3/4 ounce yellow chartreuse, 3/4 ounce Aperol, and 3/4 ounce Mezcal vigorously. Fine strain into a coupe and enjoy.
Turpial
Timmy Ortega, bartender/mixologist at Ron del Barrilito loves this tropical, fruity take on an Aperol cocktail. To make, mix 1 ½ ounces RdB 2 Stars rum, 1 ½ ounces passion fruit juice, ¾ ounce Aperol, ½ ounce lime juice, and ¼ ounce Morlacco Luxardo cherry liquor and serve over ice.
Aperol Negroni
If you're looking for a pre-dinner cocktail that's not the classic spritz, Caporale says this is a great option. Start by combining one ounce of Aperol, one ounce of gin, and one ounce of sweet vermouth in a mixing glass with ice; stir it to chill and dilute. Strain the mixture into a rocks glass over more ice, and garnish with a grapefruit peel.
Aperol Boulevardier
After eating, Caporale recommends following up your pre-dinner Negroni with this "richer after-dinner twist." To make it, grab a mixing glass filled halfway with ice and stir in one ounce of Aperol, one ounce of bourbon, and one ounce of sweet vermouth. Strain this into a rocks glass with ice, and add an orange peel for garnish.
Aperol Manhattan
Feeling the need to switch things up from your usual? Caporale says this Aperol Manhattan recipe adds "some international flair to the quintessential NYC cocktail." Start by filling a mixing glass halfway full of ice — then stir in half an ounce of Aperol and two ounces of rye. Strain into a martini glass with fresh ice, drop in two dashes of Angostura bitters, and garnish with an orange slice.
Spritz With A Twist
If you're craving something *slightly* different from the traditional Aperol Spritz recipe, Caporale suggests one of his go-to additions "to balance the sweetness a bit and expand the character." To create it, mix equal parts Aperol and Prosecco in a glass full of ice. Add a splash of soda and Caporale's twist — a splash of grappa — and garnish with a slice of orange.
This article was originally published on