It's A New Era For All-Inclusive Resorts
Bad buffets? A thing of the past.
@nayarabocasdeltoro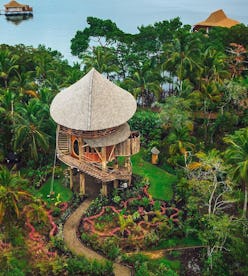 The term 'all-inclusive' tends to conjure up images of tacky beach resorts with bad food, overcrowded pools, and lackluster design. But that's simply not the case anymore, as a new wave of all-inclusive properties (and pioneering resorts getting a second wind) are reclaiming the category, breathing new life into luxury travel planning. "We are absolutely seeing more and more travelers seeking all-inclusives beyond the 'buffet' style of [other properties in the category]," Joe Maiurano general manager at The Point in the Adirondacks, tells TZR. Rather than tacking subpar cuisine and nonalcoholic drinks onto the rate, properties have gotten hip to the fact that guests appreciate a high caliber vacation without a looming bill at the end.
Of course, this kind of resort tends to command a higher price point, but with investing more money comes the freedom to truly relax in a beautiful setting. "As a luxury experience, it is best described as 'all-encompassing' rather than 'all-inclusive'," Black Tomato Senior Product Manager Jessica Wells says. This kind of trip — one that includes amenities like meals, drinks, and activities — is also great if you've got little ones in tow. "All-inclusives are definitely the easiest way to vacation with a family because the contained nature of the properties removes the stress of planning excursions and tours," Wells adds.
'Cowboy Breakfast' at The Ranch at Rock Creek in Montana.Courtesy of The Ranch at Rock Creek
Snorkeling on Lizard Island in the Great Barrier Reef.Courtesy of Lizard Island
But how to choose? Naturally, not every all-inclusive will include absolutely every amenity. There are those on the more affordable side of the price spectrum that offer inclusive meals and drinks, while others that have much higher rates offer everything from yacht excursions, caviar tastings, and snorkeling expeditions. The best way to begin is to set a budget, focus on your priorities, eliminate any destinations you're not interested in, and go from there. "When seeking a luxury all-inclusive, travelers should ask themselves what is important to them when seeking luxury," Maiurano says.
Travelers should also be wary about hidden costs when planning their vacation. "A red flag to look out for is someplace that claims all-inclusive but you are charged for ancillary experiences that you cannot get outside of the property (due to lack of options or choice)," Wells notes. "This often happens in remote locations, where guests are stuck paying for these activities as there is no other choice."
Ultimately, Wells suggests, the pillars of an excellent all-inclusive should be "over-the-top amenities, food and beverage, and the opportunity for guests to feel truly isolated (in a good way!), offering unfettered, off-the-grid retreats." At somewhere like The Point, this begins before you even step foot on property. "We give each guest a call ahead of their stay to better understand why they are visiting us, whether it's for a birthday, anniversary, or simply a relaxing getaway, our staff wants to tailor each guests stay," Maiurano says. Ahead, peruse a few of TZR's favorite all-inclusive stays to book for your next holiday.
The Point: Saranac Lake, NY
If your fond childhood memories include summer sojourns at a camp in the woods, book a stay at The Point in the Adirondacks. This all-inclusive property was the first Relais and Châteaux in North America and was originally built as a Great Camp for William Avery Rockefeller II from 1930 to 1933. The estate is set on a private lakefront and offers just 11 rooms housed within four original log buildings. Guests are encouraged to serve themselves from several fully-stocked bars scattered across the property and can expect to enjoy five and seven-course wine-paired meals served communally each evening. It's the kind of place where you arrive as strangers and leave as lifelong friends — in other words, it's camp for luxury-loving adults.
Standout Amenity: Exclusive caviar tastings hosted on The Point's Elco boat where an expert guides guests through how to taste, enjoy, and explore the delicacy.
What's Included: Gourmet meals, afternoon tea, wine, spirits, activities, and use of sports equipment and facilities.
Six Senses Vana: Dehradun, India
Nestled at the base of India's awe-inspiring Himalayan mountains, Six Senses Vana is a bucket list destination for wellness seekers. The property combines Six Senses' cutting-edge technology with Vana's expertise in Ayurveda, Chinese Medicine, and Sowa Rigpa (Tibetan medicine and therapies that date back to the 8th century). Echoing the spirit of the ashram, this all-inclusive will leave your mind and body replenished by the end of your retreat.
Standout Amenity: The "Sleep" program that helps to improve sleep patterns while restoring energy and establishing a sustainable bedtime routine (think: Tibetan healing therapies, sleep tracking, and Ayurvedic treatments).
What's Included: All meals provided and prepared with guided nutrition, daily retreat activities (such as yoga, meditation, workshops, and functional fitness), wellness consultation and screening, daily treatment, airport transfers, and attire to wear.
Spice Island Beach: Grand Anse Beach, Grenada
Opened in 1961 by visionary hotelier, Sir Royston Hopkin, Spice Island Beach Resort on the picturesque island of Grenada is ideal for all-inclusive experiences by the sea. There are 64 luxury suites (17 of which have private pools) and when guests aren't lounging seaside beneath swaying palms, they can head for the complimentary Nutmeg Pod activity center to set out for a day of paddle boarding or snorkeling. Enjoy regional bites such as seafood salad and ripe banana sorbet.
Standout Amenity: Beachfront yoga pavilion for a peaceful flow next to the Caribbean.
What's Included: All-day dining and premium level drinks, afternoon tea, complimentary in-room mini-bar, automatic membership at Grenada's Golf Club, floodlit tennis court, and unlimited use of water sports such as Hobie Cats, ocean kayaks, snorkeling equipment, and paddle boards.
Salmon Falls Resort: Ketchikan, Alaska
For daring travelers, an all-inclusive getaway to Alaska's iconic Salmon Falls Resort is peak adventure. The waterfront property (also a luxury fishing lodge) is situated at the the southernmost entrance to the state's Inside Passage and features 51 rooms. In 2023, Salmon Falls Resort is pivoting to a new all-inclusive rate with a totally customizable itinerary chock-full of activities to immerse you in the Alaskan wilderness.
Standout Amenity: The complimentary salmon roe and wine pairings.
What's Included: Three meals per day, round-trip airport transfers, transportation to all activities, and a totally customized itinerary with choice of Alaskan adventure activities each day including fully-guided fishing, bear viewing via floatplane, shrimping, eco-kayaking tours, zodiac adventures, zip-lining, and more.
San Ysidro Ranch: Montecito, California
Drive just an hour-and-a-half north from Los Angeles and be transported to a California respite sprawled out over 550 acres. San Ysidro Ranch, open since 1893, is surrounded by blooming gardens and features 38 bungalow-style cottages, each of which individually decorated with antiques collected around the world. The resort pivoted to all-inclusive dining recently (during the pandemic) so now guests can enjoy complimentary meals with dramatic views of the Pacific Ocean and the Channel Islands.
Standout Amenity: Caviar, lobster, wagyu, and other exceptional culinary bites all included in nightly cost.
What's Included: Complimentary dining at the Stonehouse, which has a Michelin Plate for exceptional service and dining experience.
The Ranch At Rock Creek: Philipsburg, Montana
Live out your Yellowstone fantasies at The Ranch at Rock Creek located in the rugged Montana wilderness. Here, guests immerse themselves in the rustic setting with luxury suites in authentic log cabins and historic barn accommodations. The property stretches across 6,600 acres that provide more than ample space to participate in activities like fly fishing, horseback riding, hiking, biking, and more.
Standout Amenity: Evening entertainment in the Silver Dollar Saloon, including billiards, poker table, shuffleboard, karaoke, table tennis, private movie theater, board games, four lanes of bowling, and outdoor bonfire s'mores.
What's Included: Farm-to-table dining, unlimited beverages, and a year-round outdoor activities program.
Nayara Bocas Del Toro: Bocas Del Toro, Panama
Nestled on a private island Panama, picturesque Nayara Bocas del Toro offers travelers 16 overwater villas and the world's first over-water beach. Also, just this year the adults-only property unveiled five new towering treehouses that were dreamt up by Elora Hardy (a designer based in Bali). While here, guests get to soak in the surroundings with activities like kayaking and paddle boarding, leaving directly from their own overwater villa.
Standout Amenity: Scuba dive ancient shipwrecks.
What's Included: All meals and transfers to and from the airport.
Lizard Beach: Queensland, Australia
Lizard Island is where the luxury all-inclusive hits its stride. The three-story, three-bedroom house is located on the Great Barrier Reef and offers direct beach access for guests. There are outdoor baths, a private swimming pool, an adjoining yoga deck, and a rooftop spa — everything one could possibly need to relax in complete privacy in nature. A private chef and sommelier are on-hand for all meals and guests will have a dedicated host to curate all excursions and experiences such as snorkeling on the reef, sunbathing on a private beach, hopping aboard a private boat, or simply enjoying a sunset cocktail on the roof. For Lizard Island, there's no request too extravagant.
Standout Amenity: One evening sunset cruise inclusive of drinks and canapes on "Pisces," a 56-foot Riviera motor yacht.
What's Included: Return airfares from Cairns to Lizard Island, food and premium beverages, exclusive use of "Mojo" the Searanger boat, one evening sunset cruise, snorkeling guide, walking tour of national park, one hour per guest per stay of spa treatments, and more.
Alila Ventana Big Sur: Big Sur, California
If you're in search of an all-inclusive property that feels truly tucked away in nature, Alila Ventana Big Sur located along California's rugged central coastline is just the ticket. The property overlooks the majestic Pacific Ocean and features 59 accommodations for an intimate experience. Relax in the infinity-edge hot tub that gazes out to a forest of Redwood trees or pick up a record to play in your bedroom while cozied up by the fireplace.
Standout Amenity: Yeti coolers, wine glasses and beer cozies, beach blankets, camp chairs, and card games for a well-equipped day at the beach.
What's Included: Dining in-room, poolside, or at The Sur House, Japanese baths, and access to the Excursion Outpost.
Guana Island: British Virgin Islands
Nearly all of Guana Island has been kept undeveloped, making a stay at this 850-acre private island resort in the British Virgin Islands a must. There are over 20 well-maintained walking paths that wind through dense flowering vegetation and guests can discover the organic orchard, which supplies produce for the resort's restaurant and spa. Guana Island offers sea-view rooms and villas (hosting a maximum of 35 people) that are made from native stone and coral; the interiors feature white stucco walls and vintage rattan furniture for a fresh, authentic aesthetic.
Standout Amenity: The absence of TVs and phones in the room.
What's Included: Farm-to-table cuisine with ingredients sourced from the island's organic orchard, beverages including wine and cocktails, and activities such as kayaks, stand-up paddle boards, snorkels, croquet, bocce, tennis, and more.
ÀNI Private Resorts: Phang-nga, Thailand
With all-inclusive locations in Anguilla, Dominican Republic, Sri Lanka, and Thailand, ÀNI is perfectly suited for the luxury traveler. Each private resort is designed exclusively for a single group and can accommodate up to 20 or 30 individuals across 10 to 15 suites. At ÀNI Thailand, guests are treated to views of Phang Nga Bay from on the east coast of Koh Yao Noi Island. There's a vast swimming pool plus living and dining areas, and a dedicated staff of 22 to help curate the ins and outs of your itinerary.
Standout Amenity: A visit to Phuket's Ethical Elephant Sanctuary.
What's Included: Personalized meals, spa treatments, tailored excursions, and kids' activities.
Grand Velas: Riviera Maya, Mexico
Want a getaway to Mexico with plenty of delicious food and drinks to complement? Head straight for Grand Velas Riviera Maya in Playa Del Carmen. This family-friendly resort is situated where the Caribbean Sea greets the Yucatán jungle, and is the ideal respite for those who want to slow down and indulge. Choose between oceanfront rooms or those located in a lush tropical jungle environment — both equally praiseworthy.
Standout Amenity: Private plunge pools with ocean views.
What's Included: Meals and drinks from five signature restaurants, 24-hour private concierge, daily stocked premium minibar, and supervised kids club.