These Rustic Mountain Retreats Will Help You Live Out Your 'Yellowstone' Fantasies
Eat your heart out, Kevin Costner.
@ranchlands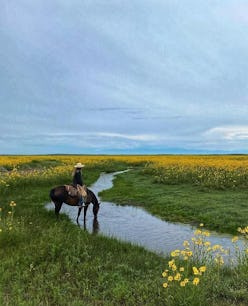 If you haven't seen the runaway hit Yellowstone (or one of its many spin-offs), then I'd advise you to stop reading, get the password to your friend's Paramount+ network subscription, and watch immediately (or at least Google it so you know what I'm talking about). The wildly popular show, which follows the trials and tribulations of the Dutton family as owners of the largest contiguous ranch in the U.S., is well known for its no-holds-barred drama. Yet, it's the show's Montana wilderness backdrop that's set hearts around the world aflame and made everyone want to book a trip to the nearest rustic mountain retreat.
Featuring endless big sky, majestic mountains, sprawling ranches, and a lot of time on horseback, it's no surprise that Yellowstone has so many pining for a trip out west. But, not just any trip. While there are plenty of outdoorsy getaways providing the usual activities of horseback riding and nature hikes, there's something to be said for those that offer real working ranch experiences. These stays promise to not only push you outside your comfort zone (if ranch life is foreign to you), but will send you home armed with new skills, which, if we're being honest, is something most vacations don't do. A stay on a working ranch doesn't mean that the accomodations will be lackluster, either. Quite the opposite. The luxury travel experts we spoke to provided recommendations for rustic mountain retreats that will not only teach you how to throw a lasso, but will also feed you a five-star dinner afterward.
For more on the Yellowstone inspired getaways we love, check out our roundup, below.
Zapata Ranch: Colorado
Just one of the things that makes Zapata Ranch special is that it's, "not only a working bison ranch, but a nature conservancy that teaches guests about the environmental and cultural traditions of farming and agriculture," says the team at luxury travel agency, Black Tomato. Bordering the Great Sand Dunes National Park and Preserve in southern Colorado, Zapata is home to both a conservation herd of bison and a herd of Angus cattle, providing ample opportunities to assist the wranglers with various ranch work during your stay. If you'd prefer a more tepid (albeit, still very adventurous) approach, additional activities include horseback rides through the bison pasture, driving tours, and white water rafting, to name a few. Back at the original 17-room ranch house (it dates back to the 1800s), guests can enjoy beautifully renovated rooms featuring Southwest decor as well as an outdoor spa bath. Finish out your day with an expertly prepared and locally-sourced meal, like wild caught trout from the Arkansas River just a stone's throw away.
Riverview Ranch: Montana
If Yellowstone has you vying for a visit to big sky country, head to the all-inclusive Riverview Ranch located on Montana's Fork River. Cody Rose, co-founder of Safara, a curated hotel booking platform that automatically carbon offsets 100% of its bookings (at no extra cost), loves it because not only is Riverview a working ranch, but it has a "farm-to-table-twist that would make Alice Waters proud." Indeed, the ranch harvests almost all of its own produce from its garden and features a menu that changes daily. It's also extremely private, with only eight rooms in the lodge as well as a family size lake house available for booking. Make sure to go in the summer if pole bending, cattle drives, trail rides, and arena lessons are what you're after. Although, the winter brings its own share of memorable activities as well, from horse drawn sleigh rides to ice skating the ranch's frozen lake.
Brush Creek Ranch: Wyoming
Brush Creek Ranch has a little bit of everything, so it's no surprise it popped up on both Rose's and the Black Tomato team's list. A luxury dude ranch located in the heart of Wyoming's Rocky Mountains, the 30,000-acre property features a bakery, creamery (with goats!), spa, greenhouse, distillery, and much, much more. Yet, despite its all-inclusiveness, "The property is designed to maintain Western traditions through authentic experiences that include horse wrangling, barrel racing and wing-shooting," Black Tomato's team says. And "for those who need a break from working the ranch, additional amenities include rock climbing, outdoor yoga, and a classic saloon, complete with a jukebox, billiards, and all-American shuffleboard." Take your pick between one of the lodge's 39 rooms or a stand-alone cabin suite complete with a king-sized bed and your own fireplace.
The Ranch at Rock Creek: Montana
"For the true Montana ranch experience, The Ranch at Rock Creek is completely removed from civilization," Black Tomato says, with the nearest town having only 930 residents. Pledging a deep commitment to eco-tourism and sustainability, the ranch has completely eliminated single-use plastics and sources 75% of its food from local farms. After a long day of horse wrangling, archery lessons, or fly-fishing, guests can choose to lay their heads in either a lodge suite, luxury cabin, glamping tent or in the converted Historic Barn, all featuring chic yet comfortable, western-inspired decor. If you've ever wanted to compete on a season of Alone, take advantage of the ranch's Frontier Skills offering, where you learn the basic tools to survive overnight in Montana's wilderness.
Siwash Lake Wilderness Resort: Canada
A blend of a working ranch, luxury dude ranch and wellness resort, Siwash Lake Wilderness Resort is an equine paradise. Family-owned and operated and spanning 10,000 acres of British Colombia's wilderness, the ranch is primarily known for its signature SiwashSynergy horsemanship program. Guests learn to groom and saddle their steeds who are personally selected for them at the outset of the stay and have access to up to two daily western-style riding lessons with a wrangler. If eco-tourism is close to your heart, Rose notes that the ranch is certified by Green Tourism Canada and is also a "recipient of the BC Tourism & Hospitality Sustainability Award for its sustainable practices and eco-adventures." It's fitting, then, that the resort's wellness program largely emphasizes the healing powers of nature as well, with offerings such as backcountry hiking and soaks in a cedar hot tub under the stars.