This Scottish Destination Is Getting Very Popular Because Of This Unusual Experience
@airbnb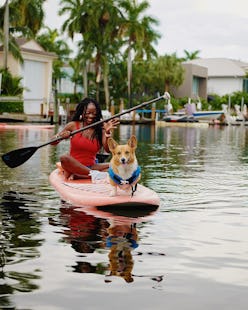 Experience-based trips have become the "it" trend in travel, meaning people are crossing the city, state, and country lines to check off bucket list activities. In the search for unique excursions, animal-related trips are inspiring vacations, and now they're easier to book than ever. Introducing Airbnb Animal Experiences, which are educational, expert-lead, and designed with an emphasis on animal welfare.
Joining the ranks of adventure travel, foodie travel, and stays at unique accommodations, wanderlusters are looking to reconnect with nature by spending time in the animal world. "Wildlife tourism brought in over $13 billion in the U.S. alone in 2018, according to the World Travel & Tourism Counsil," says Mikel Freemon, head of animals at Airbnb. "We know people travel to see animals, but what really interests us is the opportunity to reinvent this space."
And as it turns out, other pros in the industry are applauding Airbnb's new efforts. "Airbnb has made an incredibly clever move, as the world of travel is indeed changing," says Ruth Petralifi, director of Signature Twenty Two. "It has recently been noted that 67 percent more travelers chose to book more experiential travel in 2018 than 2017, and I believe this trend is rising. Animal experiences is a large part of this, and as environmental issues continue to be front and centre of the media, people are wanting to get involved and make a difference."
Galena Stavreva, CEO of sparefare.net, agrees and says she hopes welfare-based animal travel becomes a new trend. "It is great to see companies like Airbnb taking a stance against animal cruelty," she says. "TripAdvisor also has an animal welfare policy about the animal attractions sold on the platform. They even introduced a new policy that they will no longer sell tickets to venues contributing to the captivity of future generations of whales, porpoises, dolphins, and other cetaceans. It is admirable to see big companies limiting their sales in the name of doing the right thing."
Ahead, take a deep-dive into Airbnb's latest offerings and why they're so different from your typical tourist trap. From meeting the dogs of Chernobyl, to cuddling cows, to photographing Arctic foxes, these experiences are both exciting and ethical. Love animals? Get ready to start planning your next adventure.
Reinventing Animal Tourism
You've probably seen Airbnb Experiences — host-lead tours and activities that can be booked all over the world through Airbnb — and this new category is centered around animal-related excursions. But this isn't your typical trip to the zoo; Animal Experiences focus on connection, education, and welfare as participants observe or interact with animals in their natural habitat, often enjoying the opportunity to help care for them. Beyond that, the site offers over 100 Social Impact Experiences in which 100 percent of proceeds are directed toward nonprofits that support conservation efforts, animal rescue, and veterinary care.
"Living in cities, many of us are disconnected from nature," explains Freemon. "The desire to reconnect with animals and the way we've mythologized them through media make them a catalyst for travel. But a lack of industry standards has led to inadvertent suffering. This is why we are working with World Animal Protection to ensure that animal welfare comes first."
Ensuring Animal Welfare
Animal lovers, rest assured; you won't see circus-trained lions or sedated tiger cubs on this list. According to a recent press release: "Experiences are hosted by caring experts as an antidote to typical tourist attractions that are notorious for ethical concerns. You will never find an Airbnb Experience where you can kiss a dolphin or ride an elephant." Below are some highlights of the site's strict animal welfare policy:
Wild animals: "There should be no direct contact including, but not limited to, petting, feeding, or riding animals."
Working animals: "Maximum one rider and never more than 20 percent of the animal's weight, never to be overworked."
Marine mammals: "Should never be in captivity for entertainment."
Broader host business: "Should not feature elephant rides, big cat interactions, illegal wildlife trade, sporting events such as canned and trophy hunting, animals performing for entertainment."
Responsible travel: "No wild animals as selfie props or any negative training techniques."
"We worked closely with World Animal Protection to set a high standard for animal welfare," Freemon adds. "To make sure hosts comply with our guidelines, we do an initial screening, provide consumer education, and empower our community to report any discrepancies they may see. We will remove Experiences where we are made aware of guideline violations."
Top Experiences To Choose From
Now, the fun part: Browsing book-able Animal Experiences to inspire your next trip. Although the category was just unrolled, Freemon says some trends have already emerged. "Experiences with dogs are popular!" she shares. "For example, Beach Day with Rescue Dogs gained a lot of popularity. Guests get outside in a beautiful environment while the dogs get to play and get exercise. Proceeds from this Experience are 100 percent donated to Free Animal Doctor, helping pay for the dogs' veterinary care."
She continues, "We're also encouraged by the positive (paws-itive?) response toward our Social Impact Experiences. Around 20 percent of Animal Experiences' booked seats have been Social Impact — 100 percent of proceeds go to dedicated nonprofits. These experiences support great causes including animal rescue, veterinary care, and wildlife conservation."
Check out some more highlights from the new offerings:
Tea with Naughty Sheep || Loch Lomond, United Kingdom
Head to the Scottish countryside where you can enjoy traditional tea and treats in the garden. There, you'll be visited by the host's two pet sheep for snuggles and "a bit of naughtiness and trying to eat all the wrong things."
Meet the Dogs of Chernobyl || Slavutych, Ukraine
Join the experts of the Dogs of Chernobyl program as they make the rounds caring for the legendary strays living in the abandoned city. You'll tour the area, learn about the group's mission, and mingle with friendly pups as you help serve their daily meal.
New Zealand Getaway and Horseplay || Auckland, New Zealand
Hosted by a horse-friendship coach, guests will learn how to read and communicate with horses for an educational and interactive experience.
Gibbon Research Assistant Experience || Phuket, Thailand
Become an honorary researcher at the Gibbon Rehabilitation Project where you'll learn about endangered gibbon species and the efforts being made to repopulate them. You'll help prepare their special snack, and may even spot some other wildlife species within the forest.
Butterflies and Caterpillars Oh My! || Columbus, Ohio
In this family-friendly Experience, you'll be able to observe caterpillars as they transition into butterflies. Learn the important role these creatures in the ecosystem, how to protect them, and start a caterpillar garden of your own.
Wild Brooklyn Parrot Safari || Brooklyn, New York
Yes, urbanites can go birding in the city. Find out how the tropical wild monk parakeets made their way to NYC, and were able to adapt. On this hour-long tour, the host will take you to the colonial nest where you're sure to get a photo op (from a distance, of course).