34 Legitimately Amazing Things For Your Home You Won't Believe Are Under $40 On Amazon
Shutterstock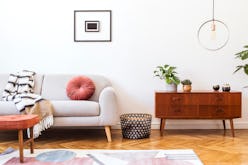 As any savvy shopper knows, you don't have to spend a ton of money to make minor (and sometimes, major) improvements to your home. It's all about smart shopping: doing the right research, asking the right questions, knowing what to buy, and where to buy it. It also takes a keen sense of wits and style to know how a seemingly small purchase can upgrade the environment around you, or make something like getting out the door in the morning or cooking dinner a more efficient, enjoyable process. And that's exactly what these 34 legitimately amazing things for your home do: Though they each cost less than $40 on Amazon, they're guaranteed to make a big impact on your day-to-day routine — whether that includes cooking, cleaning, relaxing, hosting friends, or simply making your surroundings feel more comfortable.
As if upgrading your home with these products couldn't get any easier (or more affordable), know that almost every single item on this list is eligible for free, two-day shipping for Prime members. But that doesn't mean you're sacrificing on quality or style: you'll find the same brand-name products and luxury decor pieces that you would in your favorite department store. Again — smart shopping.
Scroll on to shop 34 of the best home goods on Amazon right now, from highly efficient cooking gadgets to indulgent accessories for your bedroom and bath — plus much more.
This article was originally published on