These Famous Cities In Japan Shouldn't Be Missed On Your Next Trip
Shutterstock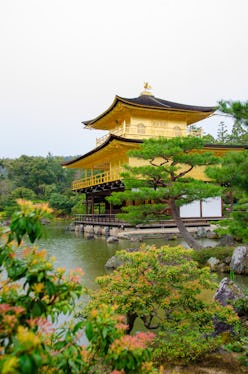 If you're like us, consistently bookmarking wanderlust travel content on your TikTok feed, you've likely seen one of the many beautiful cities of Japan. With futuristic skyscrapers, an abundance of natural beauty, and delicious food, there's no shortage of reasons why the country is on everyone's bucket list this year. And, if you're looking to experience the beloved pinky-hued cherry blossoms or some of the best fall foliage you could ever dream of, you'll want to book a flight ASAP.
Regardless of what cities you decide to visit, you'll find tons of hidden gems, ranging from intricately detailed age-old shrines to hole-in-the-wall food spots around every corner. While you could easily scroll through hundreds of videos on social media, we decided to make things a bit easier by speaking to some of our favorite travel content creators for their top recommendations in a few of Japan's most popular cities. From the history-laced Kyoto to the bevy of unique neighborhoods in Tokyo, here are some spots in Japan that should be added to your bucket list, if they aren't already.
Tokyo
It would be easy to spend an entire month in Tokyo with its quirky neighborhoods, bevy of cute shops, and cool attractions. However, with limited time, you should budget a minimum of four days in the city. During a first-time visit, make sure to visit the world's busiest junction, called Shibuya Crossing. "The sheer volume of people crossing the street every single time the light turns is mind-boggling — it's a huge rush to get in the mix with everyone shuffling their way from one side to another," says Michelle Gonzalez, a Los Angeles-based travel creator and founder of LAX to Luxury, an aspirational luxury travel social media account and blog. Some other iconic spots to visit include Shibuya Sky, Sky Tree, and The Tokyo Tower, which come highly recommended by Michelle Chu, a luxury travel content creator and founder of michutravel, a social media account with a focus on travel photography.
Fashion lovers should head to Ginza, a chic neighborhood filled with cool stores, including Itoya Stationary. "The massive 12-story store is dedicated to all things stationary — from pens that cost a down payment on a house to cute notepads, it's super interesting to wander even if you aren't a stationary aficionado," says Gonzalez. Ginza Six is another lovely spot, filled to the brim with designer stores and a bustling bottom-floor food hall with an assortment of options for souvenirs including Japanese liquors.
After a morning, afternoon, or day exploring, head to The Happy Pancake for the fluffiest pancakes you'll ever encounter. Of course, there are tons of incredible ramen spots all around the city, but some other great dining spots include Fushikino, a unique sake pairing experience, or Daigo, a famous vegetarian restaurant in the heart of the city. "It's surrounded by lush greenery and is absolutely gorgeous with Japenese style private dining room," explains Chu. And, if you're into the cocktail scene, Japan has some incredible spots, including Benfiddich, which is on the list of Asia's Top 50 Bars. " It's such an amazing no-menu concept where master bartender Hiroyasu Kayama creates unique infusions from ingredients grown on his farm, and every drink is custom-created on the spot to the flavor profiles you request," says Gonzalez.
For a bit of TLC, getting a thorough 'head spa' treatment at Takumi Spa or Olives by NeOlive in Shinjuku is a must. The treatment is an integral part of Japanese wellness and has inspired renditions of the beauty service around the world. During the treatment, Gonzalez raves about how your scalp gets scrubbed, steamed, and oiled, and dubs it 'a true indulgence.' For an Instagram-worthy activity you will want to visit the viral teamLab Planets Tokyo exhibit. "It's hard to explain how mesmerizing it is — you just have to experience it," explains Gonzalez.
During your time in Tokyo, make sure to book your stay at the Tokyo EDITION, Toranomon. "The newly opened Edition brings a more fresh, modern option to the Tokyo Hotel scene," Gonzalez remarks. It offers breathtaking views of the Tokyo Tower and surrounding skyline with comforting wood details and an abundance of greenery.
Kyoto
Those looking to experience traditional Japanese culture will appreciate Kyoto, which has a whole slew of beautiful shrines and temples amidst the historic architecture. "Kyoto is such an amazing city and a great way to experience the old culture of Japan and escape the megacities like Osaka and Tokyo," explains Giselle and Stephen, founders and creators of The Lovers Passport, a blog dedicated to outdoor adventure and travel.
They recommend visiting the Kiyomizo-dera to watch the sunset. "In addition, Fushimi Inari Shrine was another stunning area that has more gates than any other place we visited," they explain. Since it's one of the most popular sites in the city, you'll want to visit as early as you can to beat the crowds. During your visit, it's also worth adding the Arashiyama Bamboo Forest, which is surrounded by amazing food and little shops. "This is a huge forest filled solely with giant bamboo the width of my head," explains Barbara DelleMonache, a beauty and lifestyle content creator and founder of Curls Monthly. "It was such a magical place, especially since we got there at 8 a.m. before the hoard of tourists arrived."
For an experience that's not as well known, you'll want to take a ride on the Sagano Scenic Railway Trolley. The open-air train takes you 30 minutes into the dense forest surrounding Kyoto and comes highly recommended by DelleMonache. You'll also want to incorporate a traditional Geisha Tea Ceremony into your plans while in Kyoto. "It was a stunning cultural experience that we loved, but only if you want to understand more about the Geisha lifestyle," says Giselle and Stephen.
There's no lack of delicious food in Kyoto. When it comes to ramen, Giselle and Stephen recommend Ichiran Ramen, which they mention was phenomenal. On the other hand, DelleMonache preferred Kairikiya Ramen which she says is the best that she had in Japan. Some other food recommendations include Musashi Sushi, a spot with conveyor belt sushi, along with Nishiki Market, an outdoor, covered market. "Some of our favorite picks in the market included a '10 Yen Pancake' which is a pancake the shape of a giant ten yen coin filled with mozzarella cheese and a giant marinated, grilled scallop the size of my fist," explains DelleMonache. It's also worth stopping at Kichi Kichi Omurice, a small spot that serves up Omurice (fried rice covered in an omelet) that the chef makes right in front of you.
For an ultra-luxe stay, opt for your few nights in the city at the Park Hyatt Kyoto. The hillside retreat, dubbed the guesthouse, has 70 rooms and a central location near some of the most popular sites in the city. Make sure to check out the personal Japanese-style gardens attached to the rooms, alongside the luxe spa and Le Labo and Dyson amenities.
Osaka
Foodie lovers should not miss out on Osaka, a city beloved for its amazing street food. With all the available options, it's just a matter of where to start, and the obvious choice is Kuromon Market. "This long, covered marketplace is filled with the freshest seafood and meat that you can find," says DelleMonache. She and her husband spent hours trying spots all along this street and found that the sushi was the best in the country.
As for where you should head to eat, Ichiran Ramen (the aforementioned favorite of Giselle and Stephen in Kyoto) has a special location in Osaka that has a no-pork version of the chain's famous ramen. "This beef-based soup is so decadent and a great option for those with dietary restrictions who usually can't enjoy classic ramen offerings," says DelleMonache. For dessert, Rikuro's Cheesecake, a spot famous for its jiggy cheesecakes, is a necessary stop.
As for touristy attractions, Dotombori Street, a larger-than-life Times-Square-like section of Osaka is a must-visit. "This is where you can find the classic giant LED billboards and 3D signage that Japan is famous for," says DelleMonache. If you're into theme parks, Universal Studios Japan is a top attraction for the city. "All the rides were out of this world and the food throughout the theme park was top-notch, says DelleMonache. Super Nintendo World videos are all over TikTok, and you can find all the viral picks, rides, and experiences within Universal Studios. Lastly, DelleMonache also advises going to a Hanshin Tigers Baseball Game — especially if you want an authentic, non-touristy experience.
At the end of the day, make The Ritz Carlton Osaka your personal haven. The property offers panoramic city views of the entire city, along with a Michelin-starred restaurant, bar with over 100 different variations of whiskey, and rooms with Japanese and British-inspired decor.