Latin America Is The Wine Destination You're Missing Out On
Move over, France and Italy.
Carlos Mir/Moment/Getty Images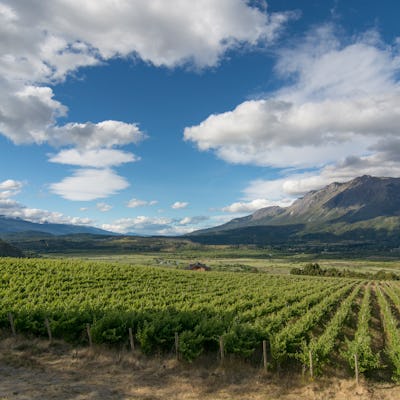 When thinking of a quintessential wine destination, it's likely your mind goes to the rolling hills of Tuscany or the picturesque vineyards of Bordeaux. And while you wouldn't be wrong in this assessment of worthy visits, to limit yourself to Europe would be a mistake. In fact, there's a long-forgotten wine destination that's been percolating in popularity over the years, positioned to fully crest in 2024: Latin America. Yes, according to Market Data Forecast, the territory's wine industry is a veritable hidden treasure for oenophiles — but not for long as its estimated net worth of 21 billion is set to increase to 26 billion by 2028.
The thing is winemaking is not a new development here. In fact, many vineyards in top producing countries like Argentina, Mexico, and Chile have been operating for centuries, some planted as early as the mid-1500s. So why has Latin America flown under the radar for so long? According to industry experts, much of this can be attributed to location, location location.
"Access is somewhat difficult," says David Parker, CEO and founder of Benchmark Wine Group, based in California's Napa Valley. "A flight into Santiago [Chile] can easily exceed 14 hours, generally with a connection through Dallas or Houston, comparable to some of the longest hauls to Europe. Mendoza is even more challenging, with 18+ hours of travel time with a connection in either São Paulo, Brazil, or Santiago." And that's just for West Coast travelers.
Also, the terrain in some of these top Latin American wine towns don't always make for the smoothest of travels. "While roads near the towns are decent, a lot of travel to the wineries in both Argentina and Chile can be regarded as 'adventure travel' with windy, steep, and often unpaved roads in often austere lands," says Parker. He explains that, because of this, the wines from these regions was certainly regarded as good value but not worth the excursion.
"That's changing, with quality improving and top celebrated wines from producers such as Seña, Almaviva, and Catena Zapata, among others, achieving collectable, almost cult status," says Parker. "And with South America working its way onto the culinary travel scene there's a lot of interest in tying a wine visit in these regions with a visit to the food mecca that Peru has become."
Ahead, Parker and a few other industry insiders offer their thoughts on the top four Latin American countries putting the region's wine scene on the map. So, for your next visit south of the border, consider a vino tour through one of the hotspots below.
Mexico
Adrian Gonzalez, general manager and wine expert at The Plaza Hotel Pioneer Park in El Paso Texas explains that, relative to the rest of the world, wine in Mexico has only recently — since the turn of the century — become popular. "Mexican wines are similar to California, Italian, and French varieties, [in that they consist of] mainly cabernet, merlot, sauvignon blanc, and chardonnay, but have their own, bold flavors that are oftentimes deemed under-the-radar gems," he says to TZR. "Because of the soil, Mexican and Latin American wines have a specific dryness which gives grapes an earthier character. Mexican wines will never be as soft and balanced as a Californian or French wine — but the flavor is unique and exceptionally delicious."
For any wine connoisseurs looking to test out some new territory, Valle de Guadalupe in Baja comes highly recommended from Parker and Gonzalez as one of the best wine regions in Mexico. "It's growing by leaps and bounds and is very accessible for those willing to take the adventurous drive over our southern border," says Parker.
Argentina
When discussing Latin America's wine offerings, by and large, Argentina will certainly be mentioned as a top producer and destination. While the country has been producing wine for more than five centuries, Michael Evans, CEO and co-founder of wine membership platform The Vines, says the country has only gained international recognition in the last 30 years. "During this time, [Argentina] has developed world-class wines by combining techniques from around the globe with lots of experimentation and creativity," he says.
Juan Pablo Murgia, winemaker for both Otronia and Argento says Argentina's wine journey is not so much an evolution as much as a revolution. "Nowadays, we are producing some of the finest world-class wines in the world, driven by Malbec but with other excellent examples such as Cabernet Franc and Chardonnay," he says. "And the Patagonia region is relatively new and driven by Otronia, a winery that has put Argentinian Pinot Noir on the world wine map."
Parker also touts Mendoza as a celebrated location in Latin America for wine travel, dubbing it "red wine heaven." The wine pro credits the picturesque Andes backdrop and cool mountain air for cradling some of the highest vineyards in the world and giving the wines a freshness and complexity that easily rival Bordeaux and California wines. "One sees 'red pepper' in the tasting notes of wines from this region alongside more common descriptors like plums, blackberries and tobacco," he says. "Chardonnay and Sauvignon Blanc are common, too. The town of Mendoza provides good infrastructure for a visit, with good hotels, restaurants and services."
Chile
Chile is a more "aspirational" locale for wine lovers, as the country is known for its roster of more unique varietals. "The climate allows for ripeness with great acid retention, making for the kind of hearty but approachable reds that one finds in the best regions," says Parker. "The 'sixth' Bordeaux varietal, Carmenere, is at its pinnacle in Chile alongside Cabernet Sauvignon, Merlot and Syrah. Since phylloxera never got a foothold here, a great many vineyards are ungrafted 'own rooted' vines, giving wine lovers a taste of almost mythical extra complexity that can come from these vines."
The wine pro recommends the Maipo and Colchagua valleys in particular for winery-hopping travelers. "Whites flourish in Chile, too," he adds. "The Cachapoal Valley, not far from Santiago, is a great destination for Chardonnay."
Brazil
While not as prominent as Argentina or Chile in terms of industry recognition (it also doesn't have their mountainous geographic advantages), Brazil should not be counted out in the wine game. "Sparkling wine is the major focus there and has attracted investments from big Champagne houses from France," says Parker. "There are the classic Bordeaux varietals, too, such as Merlot, Cabernet Sauvignon, and Cabernet Franc. Brazilian wines are a worthy addition to anyone's table."
The same can be said of all of Latin America's wine countries, which we just scratched the surface of. Perhaps 2024 can be the year you take a trip and discover some of these hot spots for yourself. If so, act fast as the region is quickly picking up steam. Take it from Evans: "It is a long flight for many, but people are discovering the secret and realize it is well worth the travel distance."