Fall Cocktails To Tee Up For Post-Labor Day Festivities
Mezcal, this is your time to shine.
Shutterstock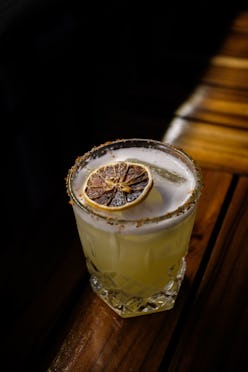 The silver lining at the end of a carefree, rosé-filled summer season is typically the hope and promise of the festive fall and winter months. Along with cooler temps, the last quarter of the year brings a wave of holidays and gatherings meant to uplift the spirit. And speaking of spirits, this new season also ushers in the a fresh crop of buzzy fall cocktails that are sure to help ease that end-of-summer anxiety.
Yes, many of autumn's delights align with traditional — and predictable — flavors like pumpkin spice, maple, and ginger. But, like fashion, the cocktail trend cycle has a way of taking seasonal staples and giving them fresh and exciting spins each year. And 2023 is no different. This season, of-the-moment liquors, drinks, and ingredients are making fall sips feel new and exciting — even they're just minor tweaks on tried-and-true classics or long forgotten heritage cocktails you haven't thought about in years (think mezcal-infused Manhattans, robust Irish coffee, and decadent white Russians).
Ahead, we tap cocktail experts on the drinks everyone will be requesting and serving this fall. So don't be sad as you take those final sips of your Aperol spritz — the best is yet to come.
Back To Basics
The revival of classic cocktails like the Old Fashioned, White Russian, Negroni (which was a summer superstar), and dirty martini will still be going strong for fall. If anything, they'll shine even brighter now that spritz and frosé season is over. These warming fuss-free drinks will be the cocktail equivalent of chicken noodle soup, and serve as a departure to complex craft concoctions featuring a laundry list of artisanal ingredients and flavors. "Gone are eight-point cocktails and smoke and mirrors," says Josh Nadel, beverage director at NoHo Hospitality. "This season we look forward to serving (and hopefully, being served) delicious cocktails which highlight their core ingredients rather than obscure them — delivered with genuine hospitality."
In fact, the aforementioned Negroni can get a nice makeover for fall if you swap traditional gin for tequila, á la 21SEEDS' go-to Frozen Negroni, which they recommend batching for larger parties. All you need to make the fun sip is 4 oz. orange juice (fresh is best), 4 oz. orange bitter aperitif, 8 oz. 21Seeds Valencia Orange infused tequila, 4 oz sweet vermouth, and 6 cups ice. Blend, garnish, and serve for a new spin on an old favorite.
Mezcal Madness
If you've noticed a wave of mezcal-infused cocktails lately, your instincts are right on the money. The smoky Mexican spirit is having a moment and will be a surprising and festive addition to your fall gatherings. "It has basically left vodka on the bench so to speak," says Hung Nguyen, general manager of Ruse restaurant in St. Michaels, MD. "Everyone wants to dip their hand in the agave game." In addition to some of your more classic mezcal drinks like the margarita, this season presents the perfect opportunity to see the spirit in more unexpected places. In fact, mezcal can easily upgrade old favorites like a Manhattan, whiskey sour, or Moscow mule.
But First, Coffee
While the espresso martini craze that ruled last year has certainly put espresso-infused drinks on the map, unique approaches to the viral sip — like affogato martinis — and other caffeinated cocktails like Irish coffees will give the trend new life. And if you're still on the espresso martini train, try upgrading with a new spirit, as suggested by Tsuru Goto, food and beverage director at Society Cafe at Walker Hotel Greenwich Village. "We have swapped out the vodka in our Espresso Martini and are replacing it with tequila, specifically Mijenta's Reposado and it is delicious," she says. "[...] It's a heaven-sent combination that will energize and excite with a slightly different flavor profile than other espresso martinis you've enjoyed recently."
Cider With A Kick
The traditional hot toddy may find itself dethroned this season by the equally autumnal and cozy cider. Particularly interesting as a cocktail, hot cider mixed with a spirit like whiskey, bourbon, or rum are great to batch for fall gatherings. "Spiked ciders usually consist of apple cider and cinnamon which are both popular ingredients when it comes to fall," says Donny Largotta, beverage director at Gansevoort Meatpacking. "At The Chester, we make our very own Cuatro Cidre which consists of Bacardi Cuatro Añejo, a four-year-aged rum that has notes of vanilla honey and oak spices. It pairs perfectly with cinnamon syrup and fresh pressed apple cider once steamed. This is the perfect cocktail for the season." (You can also swap out the traditional apple cider and opt for pear for a fresh flavor profile.)
This article was originally published on