The Buzzy Summer Cocktails You Need To Try Before Labor Day
Shutterstock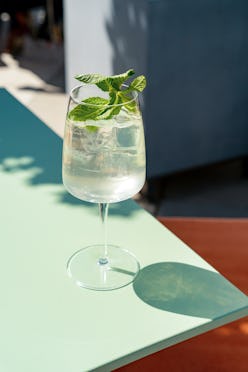 With summer synonymous with chilled or frozen cocktails, it's natural that a few rise to the surface every season as the trend du jour. Think warm-weather faves like frosé and Aperol spritzes. Summer 2023 is unique in that we're seeing some fresh breakout stars in the cocktail category that are really throwing us for a loop.
First, there's viral sensations like the Italian-born Hugo Spritz, (close cousin of the aforementioned Aperol spritz) that's all over TikTok and social media in general. Yes, the Italian obsession is still going strong thanks also to another revived classic, the Negroni, which is becoming the It-drink of 2023... step aside Dirty Shirley and espresso martini. And while we're playing in Europe, let's swing by Spain for the summer-specific, three-ingredient tinto de verano, which is as easy to make as it is tasty.
As you can see this list runs the gamut, and we're just getting started here. Yes, blended margaritas and piña coladas will always have their place on your poolside menu, but in this last half of summer, we encourage you to step outside of your comfort zone and try a few of the unique blends below that have both the spirits industry and social media in a tizzy. Cheers.
Hugo Spritz
The latest TikTok darling to hit the cocktail world is a random one. Truly no one saw the Hugo Spritz coming, likely because this under-the-radar drink has been long overshadowed by other more popular spritzes in the game. But once you sip on this refreshing aperitif, traditionally served in Italy before a meal, you'll wonder where it's been all your life. The crisp blend of elderflower liqueur, Prosecco, club soda, lime, and mint goes down like the perfect glass of sparkling water, with a kick.
Negroni
Another staple spirit, the negroni needs no introduction. Amidst the return of classic cocktails like the espresso martini and French Connection, this one is likely spurred by the Italian invasion that came courtesy of The White Lotus Season 2. However, the negroni's rise is just starting to pick up speed and will likely continue its reign through the rest of the season, according to publications like Delish, which named the drink the official one for summer.
Friesling
Move over frosé, your days might be numbered. A sweeter, cooler drink — starring riesling wine, of course — just entered the chat. While similar in its blended format, the friesling recipes flooding the interwebs show some more flexibility and experimentation. Some incorporate gin and pamplemousse into the mix, while others add more surprising liquors like yuzu sake or Chambord. This cocktail is truly a choose your own adventure, so blend away.
Tinto De Verano
This Spanish summer star is essentially a stripped down version of sangria, incorporating ice, red wine, and citrus soda in its simplest form. However, for a fruity twist or added sweetness, you are welcome to add slices of fruit like peach, orange, or even pineapple. You can also switch up your bubbles and opt in Sprite or 7-Up for some interest.
Bourbon Slush
It seems the southern states have something to say about cocktails this season, mainly that the Bourbon slush is their sip of choice. Yes, dubbed the "Most Searched Summer Cocktail In The South" by Southern Living, the blended concoction — consisting of hot brewed tea, granulated sugar, frozen lemonade concentrate, frozen orange juice concentrate, and bourbon — is almost like a tricked out take on an Arnold Palmer. Sounds tasty to us.