I'm Ditching My Tight Jeans For These Comfy Yet Stylish Pants
The outfit possibilities are endless.
Daniel Zuchnik/Getty Images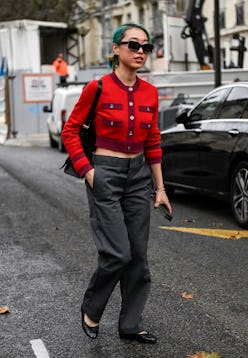 We may receive a portion of sales if you purchase a product through a link in this article.
I have a confession: What I loathe most about IRL work isn't the commute or sad desk lunches, it's having to wear "hard pants" all day. For those unfamiliar with the term, it rose to prominence on TikTok during COVID. Essentially, it describes any style made with constrictive fabric, such as denim, with the addition of buttons and/or a zipper. To sum it up: these bottoms aren't breathable and don't allow the same freedom of movement as sweats or leggings. After being accustomed to cozily writing from my couch for a few years, I've had to step it up how I dress my lower half because unfortunately, my favorite fleece joggers aren't exactly office-appropriate. However, I'm not completely sacrificing comfort. Enter, wide-leg trousers.
While yes, this classic silhouette has elements that technically exclude it from the "soft pants" category, the cut can be quite loose and forgiving. In other words, they're not painful to sit in all day. Another bonus: they're extremely versatile. You could lean into the shape's menswear origins with a black or pinstripe design, or opt for pair that's more on trend, like pleated cargo pants and vibrant red trousers. And while a style cut from leather is admittedly a little more constrictive, you can arguably move more freely in a wide-leg pair — plus, they immediately make any outfit about 10 times cooler.
Shop the loose and leggy pieces I plan on adding into my fall-winter wardrobe ahead.