Break Bridal Barriers With A Chic White Jumpsuit
Who says you have to go with a dress?
@viktorandrolfmariage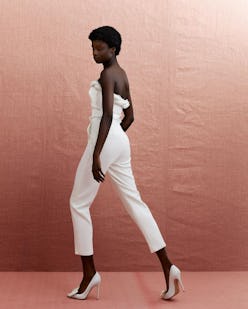 We may receive a portion of sales if you purchase a product through a link in this article.
When it comes to settling on your wedding day outfit, start by asking yourself what you will feel the most comfortable wearing. For some, that might be a voluminous, regal gown inspired by the ones you saw in the movie Bride Wars, so you look like a princess on your big day. For others, perhaps said pouffy style sounds like a nightmare because you would much prefer pants over a dress. If this latter scenario is more your speed, we suggest going for a white bridal jumpsuit. The nontraditional piece will ensure you feel like yourself — and, thankfully, there are tons of cool-girl styles on the market right now to help you execute the look.
"A bridal jumpsuit exudes confidence and speaks to the bride's individuality and unique personal style," says Sarah Swann, Chief Creative Officer at special occasion-wear brand AMSALE. And not only are one-and-done looks an excellent option for the ceremony itself, but the expert says they're a versatile choice as your after-party look or as a honeymoon outfit. Hyla Nayeri, co-founder of swim and activewear label 437 (which includes a special bridal-focused line) agrees with Swann. "There are so many events around a bride's special day, [so] they are turning to jumpsuits to mix things up," she says. "They're adding in an outfit that feels a bit more unique yet relaxed, without sacrificing style."
Interested in trying white bridal jumpsuit yourself? If so, say "I do" to one — or a few — styles ahead.