The Outfits With Tights I'm Trying Out This Winter
@alyssainthecity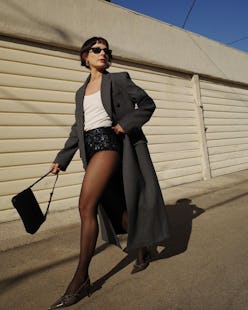 We may receive a portion of sales if you purchase a product through a link in this article.
Let's be honest, winters in Los Angeles are not the harsh seasons experienced on the East Coast and Northern America. At its worst, temperatures will dip to about 40 or 50 degrees Fahrenheit in the early mornings or evenings and about 60 or 70 degrees mid-day. Not exactly appropriate for protective, blanket-like outerwear, thick hosiery, or heavy layers, right? That said, light layering is totally a go once the chill (as minor as it may be) sets in, which is why I'm making a case for all the cool outfits with tights for fall.
While some may see the winter accessory as impractical, I just see hosiery as a natural extension of fun and inventive seasonal style, especially when you consider how it's being incorporated into ensembles these days. In addition to the classic black and nude tights paired with skirt suits and formal dresses, all manner of vibrant and printed hosiery is being embraced as an accent piece in addition to a practical one.
For instance, the no-pants trend sweeping the fashion world this year is made easy for winter with a pair of eye-catching tights in sheer or shimmering finishes. And speaking of sheer, see-through gowns — also a buzzy look for 2023 — show a fun hint of color when layered over high-octane hosiery. Also, textured tights in lace or fishnet, while not ideal for warmth, add interest to an otherwise simple or classic look.
Now that you've got the gist of where my mind is gravitating for fall and winter inspiration, here are the four outfits with tights I'm testing out this season.
Seeing Red
The clear color of the season, red is dominating the fashion scene. People are embracing the shade ad nauseum, from head-to-toe crimson looks to fiery pops of color via handbags or footwear. I'll be going the latter route, opting for scarlet tights to light up an otherwise sweet and demure look. I love the idea of layering bright red hosiery under an ethereal sheer gown for an unexpected take on a holiday party outfit.
No Pants, No Problem
After seeing countless fashion girls and celebrities ditch their pants for glittering dressy briefs (á la "fashion roadkill" Carrie Bradshaw), I've finally decided my time has come to try the trend for myself. To keep the look balanced, I'll take a page from Alyssa Coscarelli's book and wear sheer black tights with my sparkling bottoms to keep my legs warm and covered. A lightweight sweater, tailored longline coat, and sleek pointed sling-back heels lend a sophisticated edge.
Back To School
Dark academia may be the trend du jour these days, but I prefer a softer take on co-ed inspired style by way of lighter, daintier separates. Lacy tights are a great way to easily sweeten the look, especially when paired with a cozy cardigan and ivory ballet flats or loafers.
Color-Blocked
I don't like to subscribe to the traditional or expected palettes of specific seasons. I'm a girl who loves a bright, candy-colored hue year-round, so I'll be working those shades into my fall and winter wardrobe. I love the idea of combining two vibrant colors like purple and pink in a fresh way. I'll be matching bright tights with coordinating accessories — like handbags and shoes — and contrasting the pieces with a statement blazer or dress for a color-blocked effect.