These Under-$100 Summer Pieces Look So Luxurious
I'm adding every item to cart.
@anoukyve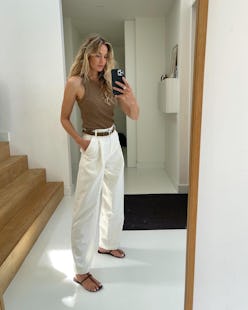 We may receive a portion of sales if you purchase a product through a link in this article.
I've had a lot of major changes in the last month: I've moved from Manhattan to Brooklyn and I'm living alone for the first time. Between that and the rising temperatures, I'm in the mood to shop as I settle into my new place with an empty closet to fill. Due to my new apartment, however, my summer wardrobe budget is a little tighter this year. But that's okay because I have a shopping hack: I'm stocking up on under-$100 summer pieces that still look luxurious — and I know just where to find them.
Retailers like Gap and J.Crew, for example, have stepped up their game in 2023. If I had a penny for every time I heard someone say, "I haven't shopped at Gap since 2010," I'd have enough to buy their viral silver jeans. On the other hand, J.Crew's recent renaissance has lead the brand to reissue beloved vintage styles, like the '90s Cotton Rollneck sweater, much to the Instagram's delight. Thanks to the internet, my interest in browsing these labels has been renewed, and luckily they're full of cute and affordable options for the season ahead.
There are several key factors I keep in mind when searching for elevated style with a wallet-friendly price. For one, I like to keep the silhouette, material, and pattern on the simpler side. I've found that more understated pieces tend to feel more polished. And while I aim for something that feel current, I'll avoid pieces that are clearly driven by fleeting trends. Retailers like & Other Stories, Mango, and Reformation almost always check off all these boxes for me.
If you, too, want to upgrade your summer wardrobe without spending a fortune, keep scrolling for the under-$100 items that look super expensive.