Milan Fashion Week Spring/Summer 2022 Is Here — And The Street Style Is Too Good To Pass Up
Jonathan Paciullo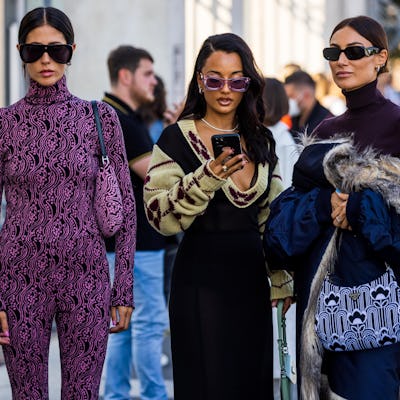 So far on the fashion month tour, you've seen the adventurous ensembles sported on editors and influencers in New York as well as the elegant-meets-punk vibe that London is known for (hello, trench coats and chunky boots). Now, things are really heating up. Milan Fashion Week Spring/Summer 2022 has begun, and outside the shows, the street style is offering eclectic, head-turning outfit inspiration.
The Italian fashion capital sets itself apart from the rest, thanks to iconic names like Prada, Fendi, and Gucci that are headquartered in the city. On top of these heavy hitters, there are also plenty of up-and-coming labels who call the city home, such as Sunnei and Arthur Arbesser. Therefore, it's no surprise that residents are known for their love of bright colors, dramatic silhouettes, and funky prints (usually effortlessly styled altogether, of course).
Day one started off strong, with designers like Fendi, Jil Sander, and Alberta Ferretti showing their collections. Attendees arrived in some of this season's biggest trends — think: cropped cardigans, platform boots, and sweater vests. But like Italian girls do best, they gave their own unique take on these buzzy styles. As for the rest of the week, labels like Missoni, Marni, and Versace are on the docket, so prepare for some exquisite ensembles at the shows.
Below, turn your attention to the Milan Fashion Week Spring/Summer outfits captured by photographer Jonathan Paciullo. As always, don't forget to keep checking back, because the shows run until September 26.
MFW Spring/Summer 2022 Street Style: 4
Looks like the beaded phone charm trend from TikTok has made its way to the streets.
This show-goer mixed prints with a Gucci logo handbag and plaid trousers.
Add on a few sparkly baubles to elevate a relaxed jumpsuit.
Barbara Palvin shined in a bright yellow turtleneck sweater.
A classic bag instantly dresses up denim.
A leather jacket makes any outfit instantly cooler.
The Cut's Lindsay Peoples Wagner wore a Proenza Schouler tie dye dress.
Actor Madelyn Cline contrasted pink and red in this cool look.
Leave a button-down undone for a summery take or workwear.
MFW Spring/Summer 2022 Street Style: Day 3
This chic off-the-shoulder dress didn't need much accessorizing.
Leonie Hanne wore a cozy Missoni sweater dress to the brand's show.
Yes, your favorite statement coat can double as a dress.
If you want to stand out, try a shimmering matching set.
White accessories work just as well for fall as they do for summer.
Tamu McPherson wore a bold outfit to the Prada show.
Bustle's Tiffany Reid chose pops of pink for her day three ensemble.
Caroline Issa shows the power of mixing prints.
This swirly sweater dress is a playful way to keep warm.
MFW Spring/Summer 2022 Street Style: Day 2
Gabriella Karefa-Johnson was all smiles in her colorful Weekend Max Mara dress, bold sneakers, and carrying a Prada bag.
This attendee made the case for a graphic dog tee with her Max Mara blazer.
Linda Tol wore a luxe turtleneck knit dress and coordinating slouchy bag to the Max Mara show.
This showgoer posed in a paisley slip dress and Coperni bag.
Leave it to Joan Smalls to appear oh-so put together in a pajama-inspired striped set and bra.
A vest is an excellent piece to have in your arsenal when it's not quite cold enough for a jacket.
Go for an unexpected bag, like a fun bandana style. The piece instantly adds a cool factor to your look.
All eyes were on this leafy statement necklace.
Even if you know little about sports, that doesn't mean you can't convince people otherwise. Try styling a jersey with your fashion-forward pieces for a fun, athletic twist.
Alice Barbier and Js Roques coordinated with their light purple ensembles.
Street style stars are giving the bra as a top trend their stamp of approval.
When in doubt, pull out a printed matching set. Throw over black leather boots and your outfit is set.
This show-goer mixed a heart-shaped top and Nike sneakers for a sweet-meets-sporty vibe.
A suiting vest gives a denim ensemble a bit of polish.
MFW Spring/Summer 2022 Street Style: Day 1
This attendee wore a Vision Of Super flame ensemble. Talk about a fiery outfit.
This show-goer is on board with the itty bitty cardigan craze (blame it on Jacquemus).
You'll probably start matching your jewelry with your hair accessories after seeing this photo.
An all-white ensemble is always a good idea — especially when it consists of various materials like leather, silk, and fur all styled together.
Influencer Caroline Daur showed that all a cropped blouse needs is a high-waisted skirt to pair with.
A baseball cap instantly makes ladylike details like ruffles feel less fancy.
Try giving your necklace a day off and sport a cool menswear-inspired tie instead. Bonus points if you finish off with an oversized blazer.
Gala Gonzalez wore a tan Fendi ensemble to the brand's show on day one.
Fuzzy fall staples were out to play in Milan.
Give a mini skirt an edgy feel with a leather jacket and cool platform boots.
Leonie Hanne arrived at Alberta Ferretti in a navy sheer dress and an eye-catching silver clutch.
Still loving the tie-dye trend? So are Italian girls.
You heard it here first: Pajamas are now street-style-approved. This show-goer wore Sleeper's feathery set with comfy sandals.
If bright colors aren't your vibe, pair together rich hues like deep purple and dark turquoise.
Sweater vests were out and about in Milan. This show-goer wore hers with a color palette that feels very '70s.
Try adding a splash of color to a black and white outfit with a statement bag.
Lisa Aiken made her way from London to Milan, wearing her go-to zebra pumps from Bottega Veneta, of course.