These Strathberry x Tara Swennen Bags Are Made From Grapes
And you can't tell by just looking at them.
Courtesy of Strathberry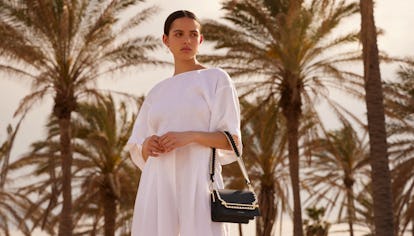 We may receive a portion of sales if you purchase a product through a link in this article.
Over the last several years, brands have been experimenting with leather alternatives made from vegetables and fruits like mushroom, apple, mango, and even pineapple. This month, grape is having its moment in the spotlight, thanks to Strathberry. The Edinburgh-based luxury handbag brand, beloved by royals like Kate Middleton and Meghan Markle, has teamed up with celebrity stylist Tara Swennen on a line of purses made from this sweet produce just in time for summer.
Swennen, who works with stars like Kristen Stewart, Ali Wong, and Idina Menzel, is seemingly the perfect person to collaborate with. Swennen is not only an industry insider, but also a sustainability advocate and a vegan for about seven years. "I'm sort of one of those interesting people who works in Hollywood, yet has pet pigs," she tells TZR, sharing a glimpse into her perhaps unorthodox life as a power house stylist.
Strathberry's first non-leather accessories consist of several styles, including its iconic East/West and Box Crescent designs. The smooth grape leather bags, crafted using waste materials from the wine-making industry in Italy, come in black, although several are also adorned with crochet details. "I gave a little nod to my hometown, Los Angeles, by adding in this handcrafted detail, explains Swennen. "It makes the bag look a little more boho chic and gives it a little texture, a little duality."
Prices for the luxe pieces range from $495 to $775 (for the Baguette and Box Crescent, respectively), so there's something for everyone. "I [personally] love the Box Crescent with the crochet stitching," says Swennen. "I like to incorporate that white accent into what I am wearing too, so I'll do a monochromatic white or black outfit with the bag."
The stylist notes that her bags are meant for everyday wear, and they're designs she can see her friends/clients loving too. So, are we going to see Stewart toting the Strathberry grape leather Baguette or the Nano anytime soon? While Swennen can't divulge such hush-hush Hollywood info to the public, you can keep an eye out for those product placements the next time these stars are snapped by the paparrizi.
In the meantime, pick up your favorite bag from the collab for your own wardrobe, below. To coincide with this launch, Strathberry will donate 10% of its profits from the sale of the collection in the first week to One Tree Planted, a nonprofit that plants trees in countries around the world. The organization will then plant a tree for every $1 the brand donates — sounds like a good reason for shopping, for us.