Sophie Nélisse On Her Personal Style & The Pieces In Her Digital Cart Now
The Yellowjackets actor keeps things comfortable and chic.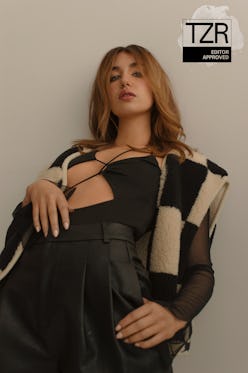 We may receive a portion of sales if you purchase a product through a link in this article.
The life of a Hollywood actor is strange and paradoxical at times. They walk the red carpet in their fanciest designer gown one week — and the next, they're miles away from the hustle and bustle of the LA circuit, perhaps at home in a pair of sweats. Sophie Nélisse, who stars as the younger version of Melanie Lynskey's Shauna in the hit Showtime series Yellowjackets, can relate to this dichotomy. The actor recently participated in press junkets to celebrate Season 2 of her hit show, which is streaming now, but in between her work travels to LA, she calls Montreal, Canada her home.
Nélisse says when she's away from the glitzy shine of Hollywood, she re-centers herself. "I've just been spending time with my family, working around the house, and getting back into my natural everyday life at home," she tells TZR. "I've debated moving to LA [permanently]. I am still debating, but there's just something about it that scares me. All my friends and family [are in Montreal]. I also feel like my self-esteem would drop a little if I were to move to LA. It's just a different world out here."
Being a tad bit removed from the City of Angels has its perks. Montreal is picturesque and makes Nélisse feel grounded — it's where she can let her hair down, shop at her favorite thrift stores in her neighborhood, and catch up with friends. Speaking of fashion, the French-Canadian assures me that only a very small sliver of her time is spent wearing designer gowns. "I'm very much comfort over style in my daily life and [the style in] Montreal is versatile," the 23-year-old shares. "You can walk around super cozy or be a bit dressed up, but I basically live in sweats. I would have a hard time living in Paris, for example, where everyone is so fashionable every time you go out."
Still, when Nélisse needs to be glammed up for a television premiere or an award show, she doesn't hesitate to dial up the wow factor. That's when she calls on her stylist Chris Horan for assistance. The two have worked together for years, dating back to when Nélisse starred in the 2013 film The Book Thief."I knew nothing about fashion back then. I was a gymnast and all I wore was sports attire," she says candidly. "It's been cute to see the evolution of our relationship and I fully trust him, his expertise, and his vision."
Now, when the occasion calls for it, you'll see Nélisse in ethereal gowns from Monique Lhuillier or a sultry pantsuit from Givenchy — all with Horan's help. "I'm a fashion chameleon [on the red carpet]," she says. "I don't like to stick with one style of dressing."
Ahead, the Yellowjackets star dives deeper into her personal style and her shopping habits.
Where do you shop? Do you like to browse online or in stores?
I hate online shopping because I have to pay duty taxes [since I live in Canada]. I prefer to go to the nearest thrift store to shop. All my friends know this about me, but I'm a big thrifter — I would say 80% of my wardrobe is secondhand. It's the perfect way to fuel my shopping addiction and do it on a budget — plus thrifting is also good for the environment.
What are your best tips for thrifting?
I would say go to the men's section first. It is usually smaller and [therefore less overwhelming]. Plus, the smaller mens' sizes will fit women. I always find my oversized jeans and cool leather jackets from there. Also, it's good to have something specific in mind that you want to buy and go look at racks with this style first. The more you browse, the more tired you'll become.
Where do you get your fashion inspiration from?
I would say Pinterest and outfit of the day videos on TikTok. Right now, I follow a lot of girls [like Matilda Djerf, Tania Sarin Araradian, and Rita Montezuma de Carvalho] who have a Northern European style because I like that vibe.
Your top three wardrobe basics?
A white sneaker like Air Force 1s or platform Converses — which will never go out of style — black or dark blue baggy jeans, and a versatile top. Something you can throw on at the beach, but also wear out to dinner with friends.
Are you a jewelry gal?
I wear a lot of jewelry, especially rings, and gravitate towards meaningful pieces. I always wear the same exact ones, too, as I sleep with them on and shower with them on. [Some of my favorites are] a signet ring that my ex made me, my dad's wedding ring, and a necklace with the initials of my family engraved on it. I'm very sentimental in that way. I love the brand Melanie Auld, they do engraved pieces, and they carry the chicest jewelry. I would shop there all the time while shooting Yellowjackets.
What are three timeless items you want to buy?
An oversized button-down shirt you can wear as a dress/beach cover-up or to dinner, a silky dress that's super sexy and light, and Birkenstock Boston Clogs. I do think they're a trend right now, but it's a style that will also always remain classic.
Can you describe your red carpet style?
I think I gravitate towards the very girly, elegant princess-like looks, like what I wore to the 27th Annual Critics Choice Awards. My stylist also loves to put me in a suit with a deep frontal cut. I actually get very self-conscious on red carpets, though, so I usually try to be more covered up and have a hard time not criticizing myself. However, [this is something I am working on] and now I'm more open to go out of my comfort zone because I trust Chris.
Steve Granitz/Getty Images
Axelle/Bauer-Griffin/FilmMagic
Can talk about that amazing suit moment at the premiere of Yellowjackets Season 2?
At the fitting, I didn't like anything but Chris was like, 'Trust me, this pantsuit will look amazing [on you].' I initially didn't like the color, I really couldn't picture the vision he was seeing for myself but he was like 'trust the process,' so I just went with it. I ended up loving what he put me in and I received so many compliments on the [Givenchy outfit].
What's your favorite piece of fashion advice?
I think it's dress for yourself, dress according to what makes you feel comfortable and what you feel the best in.