This Easy Summer Shoe Has Been My Go-to Style For Years
Can you tell I'm in love?
@reformation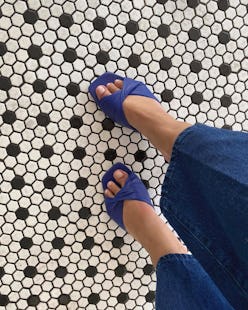 We may receive a portion of sales if you purchase a product through a link in this article.
I'm a fall baby, born in October — so by nature, I love cold-weather fashion: heavy wool coats, fuzzy blanket scarfs, and leather knee boots. In short, I prefer layers. But come summer, that kind of look is just not doable unless I want to be sweaty and hot (spoiler alert, I don't). When the temperatures do rise, however, the one thing I can look forward to is the return of my favorite shoe style: mule sandals. Timeless and transitional, the slip-on footwear is the MVP of my warm weather wardrobe thanks to its polished look and supreme comfort.
I prefer my mule sandals to have a little heel (as opposed to completely flat styles), which I find ideal for strolling my way around New York City. And because my calendar is packed this time of year, it helps that the silhouette is incredibly versatile — there's a version out there for every occasion, be it a fancy cocktail hour or a casual catch-up with friends.
The designs I'm looking to stock up on? Minimalist slides that feel timeless, and, of course, a few options that nod to this season's trends. Right now I'm leaning into fashion's cute bow moment, inspired to the plethora worn by guests at this year's Met Gala
Whether you have a multitude of mule sandals as I do and are looking for your first pair, start your search here with my favorites right now.