Rachel Zoe Uses This Celebrity-Approved Service To House Her Most Precious Clothes
@rachelzoe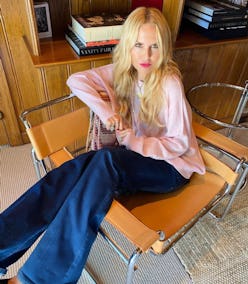 To properly store all your clothing is no easy feat and keeping your treasured items at home sometimes isn't the best solution, especially when moths are munching away at your luxe cashmere sweaters or there's not enough closet space for your voluminous wedding dress. So, where does one go when you want to put your items in safekeeping? Enter The Wardrobe, a service every fashion lover is using, including Rachel Zoe, who just partnered with the company. Located in Los Angeles, the fashion archival facility stores pieces for Hollywood A-listers, designers, and private collectors in its museum-like facilities.
As it turns out, Zoe has been searching for a place to house her most valuable pieces for years. Thus, when the opportunity came to work with The Wardrobe, she couldn't say no. "From our first meeting, I knew that my items would be safe and handled with the utmost care and attention," Zoe tells TZR over email. She worked closely with The Wardrobe's founder and fashion archivist, Julie Ann Clauss, on the process, which Zoe says is incredibly easy from start to finish.
Are you curious about what the archiving experience entails? Fortunately, the global fashion authority and entrepreneur shared a behind-the-scenes look into her partnership with The Wardrobe on IG. In the video below, she explains, "I've been collecting vintage clothes, designer, [and] non-designer, just vintage treasures my entire adult life, and quite honestly, I've struggled for so many years with the best way to store my collection. And what I've realized is that over time, I've really been storing a lot of my clothes incorrectly, and finally, I am so excited because I have discovered [The] Wardrobe."
When it came to choosing the looks from her closet to send to the facility, Zoe went with those that require specific storage climate, care, and attention, which The Wardrobe provides at its West Coast location. "Almost all of my Halstons, vintage Oscar De La Renta, Chanel, Saint Laurent, Givenchy, to name a few [went into storage]," she says in the IG video, pointing to the exact prized possessions she's preserving.
Moreover, Zoe says these styles are all super meaningful to her for various reasons. "I have so many past gowns from incredible events and also from my travels," Zoe notes. "I started with some of my most treasured and fragile pieces that I fear will be damaged if not stored properly and are of very high value. It's very important to me that they stay in good care, and that is clearly with The Wardrobe, and I intend to keep putting more [in storage]!"
And should Zoe want to take a peek at the looks she stored at The Wardrobe, she can simply use the company's online software, The Digital Archivist, to browse, search, and request styles from her collection. "If I'm going to a few big events and I say, 'Oh, I want to wear my vintage gold Halston,' or the tie-dye caftan I want to use for a shoot, which is now stored beautifully, I can pull all of it up on my computer and look at where it is and how I can get it," she explains in her IG video about the process.
Are you contemplating using this archival service, too? Zoe offers some encouraging words for those on the fence. "The Wardrobe location is highly safe and maintains the proper environment for your pieces to be stored," she says. "It gives me peace of mind that my most treasured items are in a safe place and in the best hands possible."
If you reside in Los Angeles and feel like your closet is bursting at the seams, consider storing some of your pieces with The Wardrobe. Because if a fashion guru like Zoe uses the service, you know it's good.