Carly Mark Built Puppets & Puppets By Embracing The Strange & Surreal
Fashion girls can't get enough of the brand's cookie bags and fried egg bras.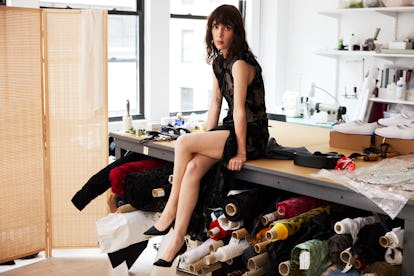 One of the first things you'll notice in a conversation with Carly Mark is that she radiates an easy sort of confidence. It's not the kind of swagger-filled bravado of someone looking to prove themselves or the pushy, overly bright put-ons that belie impostor syndrome. Rather, she knows where her strengths lie and has no interest in pretending she doesn't — a skill that has served her well from taking her Puppets & Puppets label from a kernel of an idea to the toast of the New York fashion scene.
In the short four and half years since launching, the designer has landed her striking and surrealist styles within a global array of retailers (including Browns and Selfridges), and won the 2022 Fashion Trust U.S. Google Creativity Award. Buzzy painter and sculptor-cum-model Jane Moseley is a house muse, and quirky girl-about-town Ella Emhoff is a fan.
"When I was putting together my first collection, I remember I had some friends who had gone to school for fashion come into my studio, and all of them kind of looked at me sideways," says Mark, who created her brand with her former studio assistant (the two have since parted ways) after more than a decade of working as a fine artist. Despite finding relative success in the gallery world, the designer felt like like she was working in a vacuum, and she wanted to bring her eclectic, underground sensibilities to something better rooted in everyday life. "They were just like, 'This doesn't make sense. What are you doing?' And I just kind of knew they were wrong. I was like, 'Thank you for your input. I've got this. I know what I'm doing, I think.'"
Clearly, she did. The brand's debut Fall 2019 collection was a brilliant mash-up of the playfully practical (leopard print chubbies and patchwork jackets) and the delightfully weird (a teddy bear print waistcoat); the full effect hit that hard to reach space on the Venn diagram of style between full-on high fashion and clothes that are ineffably wearable. Sure, you could picture these pieces in a glossy indie mag editorial, but they also wouldn't be out of place at a purposely grungy dive bar on the Lower East Side. And so, unlike so many industry darling lines that burn bright and fall apart a few seasons later, Puppets & Puppets was teed up for commercial success. And by the time Mark had pulled together enough money and momentum to begin production for Fall 2021, the pieces immediately began appearing everywhere.
Perhaps you spotted Tessa Thompson dressed in a snake print Puppets & Puppets gown with an outsize iridescent bow on her way to Jimmy Kimmel Live last fall? Or saw Lena Dunham chatting on Kelly Clarkson's talk show in a dramatically tiered dress, complete with a long flouncy train? And if not, you've certainly spotted some impossibly cool girl out and about — you know the one, wearing the perfectly slouchy low-rise jeans and smudged eyeliner you can only dream of achieving — with the label's signature cookie bag effortlessly dangling from her arm. Introduced in 2021 as cheeky commentary of sorts on overly logo'd handbags, the accessory has become an insider status symbol within a certain subset of in-the-know creatives. Ziwe Fumudoh, Rosalia, and Tove Lo all carry the purse, and that's just scratching the surface of its devoted fan base.
Lena Dunham on the "Kelly Clarkson Show."NBCUniversal/Getty Images
Tessa Thompson outside Jimmy Kimmel Live.RB/Bauer-Griffin/GC Images/Getty Images
A guest outside the Puppets & Puppets Fall 2023 show carrying a leopard and crystal version of the cookie bag.Christian Vierig/Getty Images
"People really like black handbags and people really like chocolate chip cookies — so I thought I'd put the two together and see what happens," Mark tells me when I ask her about the omnipresent arm candy; my query comes almost a bit sheepishly, really, as I'm positive she's had to field the same topic from fashion journalists countless times. But the idea of putting everyone's most favorite comforting snack (in later seasons, bedecked with crystal chocolate chips, no less!) on a boxy '90s-like bag is so devilishly genius that I need to hear the thought process from the mastermind behind it. Turns out, the delicious accent was originally intended as an unexpected belt buckle for the brand's Spring 2021 show. But after she saw the beautifully rendered resin cookie, Mark decided it would work even better atop a simple black carryall. Cut to several months later and an exclusive sold out drop with Ssense and the future was clear: "That's when we confirmed I had a hit on my hands."
Everyday objects as wearable art have become something of a Carly Mark special. Her handbag range has expanded to encompass options with vintage phone and banana handles; her Fall 2023 collection featured tops with sculptural roses and fried eggs strategically placed over each breast. They're the kind of clothes that are sure to spark a conversation — or even resuscitate one over awkward small talk.
This is likely no accident: Spontaneous discourse, in many respects, is the reason Mark pivoted her career toward fashion. "I went to art school; I worked in art; I had my own studio. I was showing; I was selling work," she recalls, noting that she felt a palpable mental shift around her professional life around the time she turned 30. "I wasn't loving the terrain [of the art world] because it didn't have any structure … and you often work alone for hours and hours. And I didn't like feeling like an island." She explains that the drive to discussion with others was too strong to ignore. "I needed to interact with other people, and I wanted the things that I was making to interact with people in a way where I was also privy to it, not just hanging on a wall in someone's house."
Mark is certainly at ease amongst the crew during her TZR shoot, where she comfortably slips into every look the stylist suggests and completely makes it her own. At one point, the team gasps in delight at the way the designer's leg perfectly slides out from under a long sheer black dress with a Jessica Rabbit-high slit. She smiles knowingly at the compliments and points out that she did conceptualize the piece, after all. "So I know how it's supposed to look," she says, before changing into a relaxed suit set with a sheer paneled jacket. The way the silhouettes fit Mark's frame like a second skin speaks to how closely her identity is tied up in the label's singular aesthetic: These are clearly looks she would seek out for her closet even if she wasn't the one to create them.
"The Puppets person is me," says Mark. "It's someone who spends a lot of time in a city and thinks about things a little differently; they're interested in things that are a little bit left of center and pretty unafraid in general." She explains even the name Puppets & Puppets speaks to her love of both the esoteric and tongue-in-cheek. Named for her pet Chihuahua, Puppet, the moniker references both how she and her former co-founder felt a strong claim on the dog (puppets and puppets because saying it once couldn't fully articulate their love) as well as her lifelong goal of opening a workshop dedicated to the making of Jim Henson-esque creatures — oh, and she also happens to have a "puppet master" tattoo from years ago. Feeling confused yet? This is all part of Mark's kooky and quick-witted charm, and likely what keeps her customers coming back for more. "There's a strangeness to Puppets that I think is its through line, and I think there's a strangeness to myself as well."
If certain off-kilter appeal is a constant for Puppets & Puppets, little else is. "I have a friend that recently said to me, 'One of the best things about Puppets is you never know what a season's going to be,'" muses Mark, when I ask her what might come next. Of course, there are already more celebrity placements to land and retailers to sell at — but for the most part she's checked off several big milestones in a short amount of time. For now, it seems she's going to keep riding the wave wherever it takes her, and not overthink her way to the next step. "I don't follow any set of rules, and I love change," she says. "I don't think about things the same way that other fashion designers do, because I don't know what I'm doing — and if I don't know what I'm doing, I can't do anything wrong."
Top image credits: Puppets & Puppets clothing worn throughout
Photographs by Cody Lidtke
Makeup by Akiko Owada
Photo Director: Alex Pollack
Editor in Chief: Kathy Lee
SVP Fashion: Tiffany Reid
SVP Creative: Karen Hibbert