Printed Puffer Jackets Never Fail To Lift My Spirits
Even in single-digit temps.
@farmrio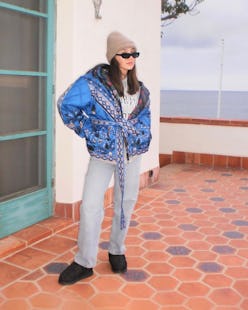 We may receive a portion of sales if you purchase a product through a link in this article.
Hot take: I could go the rest of my life without winter. In fact, my mom loves to remind me how I acted during the season as a child. On a snowy Saturday afternoon, you'd find my older sister and younger brother in our backyard having frivolous fun, jumping off the swings into the powder to see who could land the furthest (my parents were never a fan of this slightly dangerous game). And then there was me, whining to come back inside after just two minutes. Even now, as an adult living in New York, not much has changed (besides the fact I don't cry in public, I swear!). The one thing that gets me through the winter? A fun, mood-boosting coat. And this year, I'm looking to expand my collection by incorporating a printed puffer jacket into the mix.
Though I don't partake in any snow sports or activities (I tore my ACL skiing in 2016, so it's now a hard no for me), the Big Apple, of course, warrants a heavy-duty, high-quality coat. Over the past few years, I've relied on my joy-sparking bright green Aritzia Super Puff to help conquer the cold — and yes, you'll catch me wearing the in-your-face look this season, too. But because I'm a sucker for a quirky print, I have a few patterned looks on my radar right now. For starters, at a Hill House preview in September, the brand's new floral Elara style sparked my interest. I also have my eye on one of FARM Rio's outlandish motifs, like its ultra-colorful, eye-grabbing Adidas style.
As for everything else making my list this season? Scroll ahead to see it all.