Natalie Morales & Her Stylist Kimmy Erin Kertes Are On A Fashion Journey Together
Jason Sean Weiss/BFA.com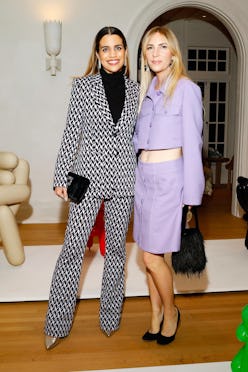 Hollywood isn't known for being the friendliest of spaces, so it's important to find industry friends who just get you — and stick with them. For Natalie Morales, one of those grounding people in her life is her confidante and longtime stylist Kimmy Erin Kertes. The two met through Morales' manager about eight years ago and since then, they've been creating magic together on the red carpet while supporting each other's rising careers. Most recently, fans saw that alchemy in action via Morales' crystal top and pantsuit look from Stella McCartney at the No Hard Feelings premiere in New York City on June 20. The actor stars alongside Jennifer Lawrence in the rom-com as Sara, a coworker and friend of protagonist Maddie (played by Lawrence).
It was an important occasion for the entire cast as their film officially debuted in theaters on June 23, but Morales was equally as excited for the opportunity to collaborate with a designer she has long admired. "Both Kimmy and I are big fans of Stella McCartney," she says. "For me, I don't eat meat and I don't buy new leather, so I've always liked the brand because she's ahead of the game in fashion with sustainability," Morales tells me over Zoom.
"Natalie's look is the perfect blend of masculinity and femininity in a way that only Stella can [create] and only Natalie can really rock," adds Kertes, who also styled Morales' pistachio-colored suit with Melinda Maria jewelry. "This is one of those moments where [Natalie] shows she's a fashion rock star and can walk all lines of identities."
BTS of Morales getting ready for the 'No Hard Feelings' NYC premiere.Courtesy of Natalie Morales
Morales and Lawrence at the 'No Hard Feelings' NYC premiere.Michael Loccisano/WireImage
Morales' jewelry from Melinda Maria.Courtesy of Natalie Morales
For Morales, who wrote an essay about being queer in 2017, the relationship between identity and clothing has been an ever-evolving journey for her, dating all the way back to high school. The Cuban actor shares that she went to St. Agatha Catholic School for elementary and middle school in Miami, Florida where she had to wear a uniform every single day — this didn't leave room for much self -expression. When she started at a high school with a more liberal dress code, Morales was thrilled. "I was so into my clothes, and I was very proud of what I was wearing, like a lot of JNCOs and big pants," she recalls. "I liked to be very, very individual with my outfits and I didn't follow trends, I still don't [to this day]."
As Morales transitioned from school to a career as an actor, however, she admits there were times she felt pressured by the industry to change and conform. "I think being an actor in L.A., you sometimes have to get dressed in a way that's not your own for a job. You have this thought in your head where you're like: 'OK, my body has to look a certain way. I have to sell who I am to the people who I need to give me jobs," Morales says candidly. "You start to lose your individuality a bit and become very body conscious, too, because you're getting photographed all the time and [start to compare yourself to others], which is not who I am naturally."
The actor recalls how she didn't wear hoop earrings for a long time because they made her look "too Latina ... which is awful that I felt like this was A) a thing and B) a bad thing," she says. "I didn't wear red to my auditions for those same reasons. I felt that I had to be really palatable to a lot of people and not be too much of anything." The star notes ironically she did get jobs by adhering to a certain standard of beauty, but now she's in a position where she doesn't need to tamp down who she is. "If I'm not getting a job because of [how I look or what I wear], I don't care," she says. "Around 2020, I was like, 'OK, no more bullsh*t. I'm just going to live my life how I want to live it."
Nowadays, the actor shares that she's excited to rediscover and define her personal style, both on and off the red carpet. And Kertes, who has been with the actor on her fashion journey for close to a decade, is there to help her friend figure it all out. "Kimmy makes me feel very safe, seen, and understood," Morales explains. "She pushes me to try new [silhouettes] and is interested in helping me to find ways to express my own sense of style." For instance, the actor likes to test out adventurous looks — see her fish purse at the 2023 Green Carpet Fashion Awards — just as much as she likes spending time in sweats. And while she opted for the comfortable bottoms for our Zoom call, she made them look plenty chic with a polished button-down shirt and hoop earrings.
Kertes sings her friend and client's praises as well, saying Morales has been a cool, thoughtful, and caring person for as long as she's known her. The stylist also shares that together, they've taken bigger and bigger sartorial risks over the last few years. In particular, Kertes notes the 2021 Gotham Awards, for which Morales wore Rasario, as a stand-out moment. "There was just something about that red dress that was just mind-blowing," she says. "Irene Neuwirth did the earrings and the whole look was stunning."
Morales at the 2023 Green Carpet Fashion Awards.Steve Granitz/FilmMagic
The actor at the 2021 Gotham Awards.Dia Dipasupil/Getty Images
While the pair certainly love pulling from the industry's biggest designer names, they also frequently work with under-the-radar indie brands like Mantù (for the Plan B premiere in 2021) and Kate Barton (at the Green Carpet Fashion Awards). "We were one of the first to wear Staud, Redemption, and Anna Quan, too," Kertes adds. Morales is pretty much down to try any and all types of silhouettes and designs her stylist suggests, with one major caveat: Anything with volume, says Kertes, tends to get axed right away for the "physical and metaphysical" space it takes up.
As they continue working together, Morales shares that it's most important to her that she not be pigeonholed into one category or another. Of course, Kertes is the best person to be by her side to make sure this doesn't happen. "Some days I will be traditionally masculine in my sense of style, and other days I will be as feminine and as girly as you can possibly imagine," the actor says. "I like swimming between all of these preset notions of what someone should wear. And, I do think this plays into who I am and my queer identity in a lot of ways."