Natalia Bryant Is A Rising Force In Fashion
MICHAEL TRAN/AFP via Getty Images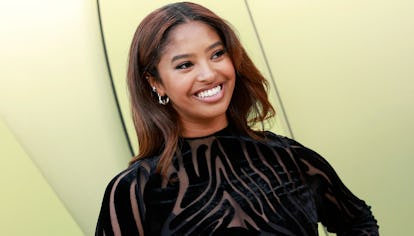 Natalia Bryant needs no major introduction. Perhaps you've seen her on the cover of Teen Vogue, or at the Met Gala smiling for the cameras, dressed in a sparkling Connor Ives gown. Now, with a modeling contract at IMG — the same agency that reps Bella Hadid and Hailey Bieber — Bryant has all the makings to become a force on the fashion scene. Just recently, on March 9, the 20-year-old was sitting front row at Donatella Versace's star-studded runway show in Los Angeles; later that weekend on March 12, she attended Vanity Fair's infamous Oscars after-party with her philanthropist and business woman mother Vanessa Bryant (the late basketball star Kobe Bryant is her father).
Hot on the heels of her busy, event-filled week in Los Angeles, Bryant hopped on a phone call with TZR to talk about the whirlwind that is her life. Thankfully, spring break has started, giving her a much-needed reprieve from her busy schedule of balancing work and studying film at the University of Southern California, where she's currently a sophomore.
Bryant notes she went to the Versace show right after a long day of classes at USC, but was happy to be booked and busy. "I was beyond honored to be there and just wear head-to-toe Versace," she says, noting that she selected the label's Zebra Velvet Midi Dress, Tempest Platform Pumps, and a Repeat Mini Hobo bag for the occasion. "The shoes were so cool, I felt amazing in them. Versace does such a great job at making women feel empowered and strong. At the show, there was this electric energy [flowing through the room] and everyone was so sweet and inspirational."
Bryant attends the Versace Fall/Winter 2023 show.Axelle/Bauer-Griffin/FilmMagic
Bryant at the Vanity Fair Oscars after-party.Axelle/Bauer-Griffin/FilmMagic
Bryant's outfit for the Vanity Fair soirée was another unforgettable moment. She walked the carpet in a figure-hugging black velvet gown with statement bow sleeves from Monsoori, a look she worked with stylist Monica Rose on. "As soon as I put it on, we just knew that this was the right dress. It was just so major," Bryant says.
As the daughter of two famous parents, Bryant has always lived in the public eye. However, her love for fashion and modeling is emboldening the rising star to step into the spotlight on her own terms. "Models embody such strength and power," she shares, noting she'd love to further explore the career path for herself. "They inspire younger generation of girls, which is really important to me being the eldest of younger sisters. I want to be able to inspire younger generations."
Bryant's earliest memories with style can be traced back to playing dress up with her mom's clothes and accessories. "I would always go into her closet and I loved her shoes. She had all these beautiful sequin and bedazzled dresses that I thought were so amazing," she remembers. "I was like, 'Wow, my mom has such a cool style. I want to be as stylish as her when I grow up." Luckily for Bryant, her mother is generous with saving pieces in her closet for her children — she's even reserved a mini Chanel backpack for her eldest child to inherit someday.
Accessories in particular are what the two bond over and share, with the sentimental pieces holding a special value in Bryant's heart. "My mom and I love jewelry, so she got me and my sisters all matching Van Cleef necklaces one year, and they're so beautiful," she says. "The piece becomes so much more meaningful because it involves the rest of our family members."
Natalia and Vanessa at the House of Gucci premiere in 2021.Amy Sussman/Getty Images
The duo attend the Baby2Baby gala in 2021.Stefanie Keenan/Getty Images for Baby2Baby
It's clear that Bryant's mother has certainly given her a great foundation with which to build her personal style on. When I inquire if the two share a similar taste for fashion, Bryant says: "[As a child] you don't want to admit that you get so much from your mom, but now that I'm older, I have realized I really am adapting so much from her. She's always emphasized the tip that less is more, which I think can apply to fashion, beauty, and even film. I've really taken to that as my style continues to evolve."
Peruse through Bryant's Instagram account and you'll get a glimpse of this less-is-more approach (when she's not glammed up for the red carpet, that is), which clearly resonates with her 2.8 million followers. She describes herself as someone who invests in the classics, and loves tailored silhouettes and cute accessories — currently, she's obsessed with mini bags. A few favorite pieces? "If I was going out for dinner, I'd I wear a nice black, long trouser with a bodysuit underneath, a cardigan, and a little low heel," she says, "I love wearing cargo trousers or even just trousers in general because they're so versatile." Another must-have item in her everyday wardrobe is jeans. "You can never go wrong with Levi's, whether it's their low-rise, high-rise, or flood [styles], which I love," she says, calling out the wide-leg design as her go-to.
Bryant at the Brandon Maxwell show in 2023.Dimitrios Kambouris/Getty Images for NYFW: The Shows
The mom and daughter duo attend a Baby2Baby holiday event in 2022.Michael Kovac/Getty Images for Baby2Baby
Like most 20-year-olds, Bryant's personal style and professional aspirations are still evolving. She's hardly limiting herself to only modeling and fashion pursuits, and counts film as another important aspect to her identity. Bryant and her dad Kobe shared a love for movies, in particular the Star Wars series. She wants to travel more, too, as school doesn't quite give her the freedom to jet off whenever she wants. When asked if perhaps her fashion journey could lead to her starting her own brand or doing a collaboration in the future, she doesn't rule this out as a possibility. "I've always thought of doing something niche and cozy because I did grow up in Orange County and that Newport Beach area, and there's something about it that feels so free," she muses. "If I were to do something, it would have to remind me of home, whatever that might be."
No matter which path or paths Bryant takes, one thing is certain: She'll do it in style.