If Louis Vuitton Says Low Rise Belts Are Back, We're Going To Listen
Shaking up the style status quo.
Estrop/Getty Images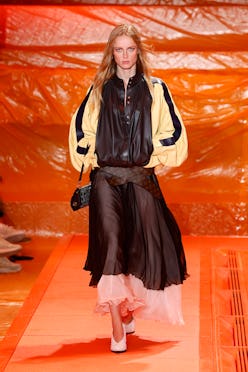 In my experience, most runway shows can be categorized in one of the same few buckets: a straight reinterpretation of the brand's signature aesthetic (which is sometimes on trend, and sometimes stale), a riff on what's currently omnipresent with the industry, and — if we're lucky — a look that feels utterly new and different. Sometimes we're not sure whether to love or hate the introduction of these new style ideas, but either way they stick in our minds, and make us think about getting dressed a little differently. It's what drives fashion forward.
Some of this questionable-in-a-good-way experimentation is what Louis Vuitton has laid out for Spring/Summer 2024. Gratuitous low-slung leather belts? Skinny suspenders? White tights?! These are wardrobe pieces that could go so wrong in a multitude of scenarios, but under the sharp eye of creative director Nicolas Ghesquière, they suddenly started to seem quite effortless and cool.
This unlikely air of ease was underscored by the silhouettes found within the rest of the collection — the amalgam of swishy, featherlight tiered skirts, elegant bustiers, and pajama-like pants felt like a bit of a departure for the designer, who is well known for his slick and futuristic-meets-regency mash-ups. And while there were still a smattering of his hallmark longline, nipped waist blazers (complete with houndstooth fabrications and ritzy embellishment) and puffy-sleeve shirting thrown in for good measure, these elements felt more like supporting players than the main event. Overall, the effect was more feminine than what we're used to seeing from the label lately, and softer around the edges.
There were also subtle echoes of the maison's decades-long legacy throughout the line-up. A series of sumptuous butter yellow satin jackets reminded me of when former creative director Marc Jacob utilized the same material for a zippy range of candy-colored dresses for the house's Spring 2003 offerings; meanwhile a theme of black and white stripe and checkered prints nodded to the catwalk of Spring 2013. Surprisingly, however, handbags played a quieter role in the proceedings for a company with such strong roots in luggage — i.e. the carryalls were beautiful but definitely there to underscore, rather than define, each look. The majority of the models carried a sweet and sensibly sized little logo purses, which included a few cute camera-shaped options.
Naturally, any catwalk that rolls out some fresh fashion propositions needs to sprinkle in a few crowd-pleasers as well — and Ghesquière offered plenty. I can already imagine seeing the slouchy bombers that opened the show paired with poplin boxer shorts around the SoHo brunch scene in Manhattan, and the pleated mini skirts front row the next time the industry gathers for another season in Paris. And as for the deep-V vamp heels? Made in scrunched up and artfully twisted leather and toe-tone color schemes, they felt like a classic office shoe on the other side of a funhouse mirror. If anything can bring the 9-to-5 pump back to full relevance, I'd say these have the strongest chance.
Scroll below for highlight looks from the show.