Everyone Needs To Hear This: A Leather Trench Coat Is A Must For Fall
It's my hero piece for the season.
Samantha Scott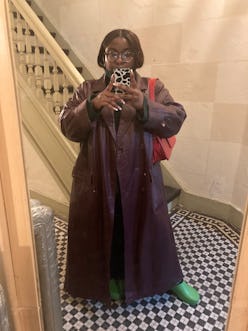 We may receive a portion of sales if you purchase a product through a link in this article.
I found my leather trench coat on a dreary November day, just after Thanksgiving last year. At the top of the month, I tweeted (X'd?) my need for what is now my go-to fall coat into the universe. I had spent most of the season already scouring Depop, Poshmark, eBay, and Etsy with no luck, so I turned to Instagram. I was wary to venture into the unpredictable world of IG vintage shops, but luckily came across folks who sold their pieces at the Brooklyn Flea in New York City. Since I live around the area, I was able to stop by one day to check out their pop-up. Unfortunately, the vendor I planned to purchase from didn't carry my size, but after trekking all the way to Dumbo in a torrential downpour, I was determined to leave with something.
So I got to work, parsing rack after rack until I found what I was looking for: an oversized, nearly floor-length coat with roomy pockets in a gorgeous oxblood shade. As I waffled about whether or not to buy it, I chatted with the seller of Animales Vintage and walked her through my odyssey in trying to find the perfect trench. After hearing my story, she was generous enough to offer a discount — at that point, I couldn't say no.
I spent the rest of the fall/winter season and even early spring wearing the coat. I let it be the star of every look by pairing it with simpler pieces like a cropped turtleneck and black pants. Now that the coat and I have survived nearly a year together, I'm ready to branch out with new ways to rock it. Ahead, see all the ideas I have in mind on how to style this hero piece in the upcoming months.
Everyday Casual
I started incorporating the color brown into my wardrobe over the summer and plan to keep this going for autumn via a chunky turtleneck and cargo pants in this hue. The combo is easy to dress up or down with the right accessories, like a pair of cow print clogs. By pairing browns with my burgundy trench coat, the look reminds me of the ones I'd seen on my favorite '90s and early aughts R&B girls — grown and sexy. The outfit below is easy enough to throw on when I walk my dog, pop by the grocery store, or spend the day with friends.
Birthday Girlie
Red has been my official birthday color since 2019 and this year will be no different! The Beaufille dress was a bit too much for the wedding rehearsal I'd originally purchased it for, but perfect for a party where all the eyes will be on me. Thong heels are a wardrobe staple in my eyes, so this colorful calf hair pair has been on my radar since a friend of a friend (hey, Antoinette!), launched 7 Monroe last month. I plan to complete the look with my favorite cherry red EDAS bag and gold jewelry.
Put-Together & Cool
I love a denim-on-denim moment and these two Ganni pieces take the look to the next level. The set certainly stands on its own, but as we head into the holiday party season, my trench will be the perfect outfit topper.