This Latinx Founder Is Bringing The Work Of Mexican Artisans To A Global Stage
The fashion industry is definitely taking notice.
Courtesy of Heirlome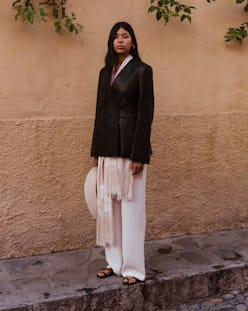 We may receive a portion of sales if you purchase a product through a link in this article.
Fashion brands and designers have a track record of looking to Mexico for creative inspiration and artisanal expertise. Dior's Cruise 2024 show, for example, took place in Mexico City, and Kasia Kulenty's namesake resort label is located and produced right in the Yucatán Peninsula. But for all those in the industry who team up with the region's talent, few are doing it quite like Stephanie Suberville, whose womenswear label Heirlome directly supports the country's most beloved family-owned shops.
"They're very respected in the community, but running a business [outside of the country] is hard because it can be very expensive," she says, noting it's very difficult for these local artisans to find a foothold in the U.S. market. The Mexican designer, who was born and raised in Monterrey (largest city of the northeastern state of Nuevo León) and now lives in New York City, wanted to incorporate nods to her heritage through her company while helping these creatives reach a larger audience.
Here's how it works: Each season Suberville and her husband and co-founder Jeffrey Axford team up with a different Mexican artist, from painters and sculptors, to translate their medium into prints, patterns, or embroidery to be within the Heirlome line. Having worked at places like Rag & Bone, La Ligne, and now Argent as its creative director (Suberville's other gig), she is more than adept at weaving the designs of locals with her design aesthetic in a way that feels natural and synergistic.
"When my husband and I were developing Heirlome, we knew we wanted to collaborate with the creatives around Mexico and make sure it didn't feel like we were stealing their work and just putting our label on it," she says, explaining that once the design process is done, the pieces are largely produced in NYC's Garment District. "That's when we came up with the idea of [doing] collaborations [with them]."
Collection ICourtesy of Heirlome
How these partnerships manifest varies. For example, Suberville's debut collection featured Jalisco-based artist Jose Pajarito, whom she's known for years; her mother used to buy plates from Pajarito's late father at his family-owned shop. Suberville explains that growing up, her parents instilled in her a sense of pride of knowing her country inside and out, so they would always travel around Mexico together as a unit and often pick up souvenirs. "My parents buy a lot of artesanía [from the people they meet]," she shares. "So we've always had these relationships with different artists — some work with clay and some work with textiles, everyone is different."
Pajarito, in particular, is known for painting floral and fauna motifs on clay pottery and plates. He worked with Suberville on coming up with an original leafy design for Collection I, which was then printed on silk fabric that would become garments. It was the perfect tangible realization of the label's founding ethos: Suberville says she believes knowledge, craft, and skill are heirlooms for a Mexican family, hence her brand's name, which combines the words "heir" and "lome," meaning "tool" together.
While Heirlome serves as a way for various artisans to showcase their talents in a different light and on an international stage, Suberville says the arrangement elevates her work as well. These projects are true partnerships in every sense of the word, as the founder stresses that she never alters the artist's original vision and is transparent about how she'll use their illustrations in her clothes. "I will tell them: 'This will be on a shirt, a dress, and a scarf,'" she explains, adding that each piece is named after its collaborator and features their signatures.
The founder tells TZR, too, that every work contract with an artisan is different, as she works with them to determine the proper accreditation and rights to using their work. "With more established artists [for instance], they will ask us to only cut a hundred pieces [featuring their art work], then after that we have to do something else with them," she says, providing an example of how she'll use their designs for her line. Each artisan has a different expectation of how they want to be properly compensated, so Suberville works closely with them to determine a comfortable number they are both happy with.
Collection IICourtesy of Heirlome
Retailers have already taken a keen interest in the emerging brand. Moda Operandi featured Heirlome's first collection in its Trunk Show; Bergdorf Goodman picked Suberville for its fashion incubator program Radar and they now have a three-season selling exclusivity with the retailer. And you'll soon be able to shop Heirlome pieces on Gwyneth Paltrow-backed brand goop and cult boutiques like Hampden and FORTY FIVE TEN; should you be in Japan, you can find Heirlome at the Barney's there (the only place in the world where the former NYC institution still has physical stores).
There's a reason the growing Mexican-owned label is resonating with customers and buyers: The garments strike a harmony between showcasing unique prints and patterns alongside Suberville's keen sense of fit and what people actually want to wear. "The brand is very New York, but it also [feels like it can] be from London or Paris while harkening back to my culture and how proud I am of where I came from," she says.
Heirlome's carefully tailored trousers, blazers, and intricately pleated tops and dresses may speak to shoppers who also love brands like Gabriela Hearst and Jil Sander — i.e., luxurious pieces that reflect a simple beauty and relaxed elegance. "I want the clothes to be timeless and easy, but not basic," she says. "[I always ask myself,] 'Can this be something you have in your closet for many, many years because it's so special, whether it was because of how the piece was made or cut in a certain way or maybe how it was handcrafted?'"
RebozosCourtesy of Heirlome
Her label's dedication to quality and craftsmanship is reflected in the time that goes into each piece, especially the ones involving an artist's original design. Some of Suberville's most beloved items are the rebozos, which are woven shawl-like garments that take approximately three months to make. The mastermind behind the item? Arturo Estrada from the Santa María del Río, San Luis Potosí region, who has been making rebozos since he was 9 years old, when he joined the "Escuela del Rebozo." He is now head of the school, teaching the next generation of students this traditional technique.
According to Suberville, artisans in this area typically create the shawls from silk, while other areas in Mexico use cotton, but due to some government restrictions in Santa María del Río, silk has not been readily available for Estrada to purchase. As part of the project, Suberville sources and sends the silk to him to use, in order to circumvent this conundrum. "This is an ongoing collaboration that we're always going to have," says the designer, adding that she's always wanted to include rebozos in her brand in order to keep the traditional craft alive.
Thus far, Suberville has worked with a handful of artisans and she says this is just the beginning of what she hopes is long-lasting growth. The founder shares that some upcoming creative alliances will spotlight experts from Oaxaca like Angelico Jimenez, who works with wood. People call his work Alebrijes, or what he says are 'fantastical creatures.' As for how his creations will appear on Suberville's ready-to-wear pieces for the next season, you'll just have to wait for the grand reveal. But one thing is certain: the garment will surely become an heirloom — or better put, heirlome — for whoever decides to buy it.