How Kasia Kulenty Is Bolstering Her Community, One Dreamy Resort Dress At A Time
Where fashion meets family.
@kasiakulenty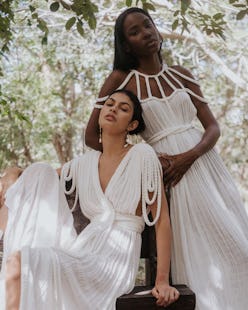 We may receive a portion of sales if you purchase a product through a link in this article.
Accessing the vibrant palette and free-flowing fits of Kasia Kulenty's self-named label, one would be unsurprised to know the clothes are produced in Mexico's Yucatán Peninsula. The line, which was launched by Kulenty and her daughter Nisia Wasilewicz five years ago, draws inspiration from the verdant location — and the clothes certainly reflects the type of looks one would want while lounging on its picturesque beaches with an ice cold agua fresca in hand. But the real heart and soul of their company extends far beyond Instagramable garments to wear in beautiful places: Rather, the company serves as a way to uplift women from the region by teaching them trade skills and helping them gain financial independence.
Kasia and Wasilewicz's mission begins with the humble braid. Plaited details are core to the company's design DNA, so the duo has trained numerous women — from 40 families, specifically — on how to incorporate this stunning detail within their clothes. "It became a symbol of our brand because every woman in the world can braid," Kulenty explains. Wasilewicz chimes in: "It's something that kind of connects all of us inter-culturally across everything." In the brand's newest Península and Alma collections, many of the pieces, like the Xena Skirt and the Simone Set, exhibit this beautiful and intricate woven work.
Hand dying, too, is key to Kasia Kulenty's DNA. Each garment is individually colored with biodegradable dyes, and the process is as hands-on as it gets. (Case in point: On our video call, Kasia flashes me a glimpse of her fingers, which are stained from the pigments.) The team, including Kulenty and Wasilewicz, colors 15 to 18 dresses daily in the studio.
While the craft of making each piece is labor intensive, the work doesn't necessarily require every team member to be in the studio all day. Many of the woman employed by Kasia Kulenty have children and other familial obligations, so they have found a set-up that allows them to create pieces at home. "The policy is that if a child gets sick, you don't have to ask us if you're taking a day off," the designer explains. Wasilewicz agrees, underscoring that they want their employees to have agency over how they choose to do their jobs. "We're trying to create a sense that they're very much in charge of how they want to work and what that looks like for them," she explains. "We're creating equity in a way that they are learning how to manage their teams with their households." Kulenty emphasizes it's important their employees don't feel like they're working for them, but rather with them.
This sense of collaboration comes from the top down, starting with Kulenty and Wasilewicz's harmonious partnership. That's not to say the duo were 100% sure about mixing business with family. "I was like, 'I don't know, we already spent so much time together, maybe it's not the best idea,'" Wasilewicz says with a laugh, recalling the moment her mother asked her to join the brand. "It took a little bit of convincing." At the time Wasilewicz, whose resume includes producing for designers like RODARTE and Thakoon, was running her own production company. Now, she serves as Kasia Kulenty's creative director, and spearheads their stunning photo shoots.
Kulenty's passion for helping her community stemmed from a deeply moving, personal experience in 2017. "I was introduced to a Mayan family that needed support." The family had lost their palapa roof, which is a part of Mayan architecture, and asked Kulenty if she could donate money to rebuild it. "I went [into their house], and there were three sewing machines in their kitchen, where three women were sewing."
Fortunately, the designer could lend a hand at the table, thanks to the dress-making skills her Polish grandmother and mother taught her as a child. Together, the women and her began selling the dresses in Tulum, earning income along the way. "When I tell the story, I always cry," she says. "The women in these families made the money to buy all of the supplies to rebuild the roof." To this day, every time she walks past the structure while heading to the studio, Kulenty thinks: That's the roof that started this whole brand.
This life-changing encounter really struck a chord with the designer, as she realized there was a need for employment within her town, and she had the power to make that happen. After she began hiring women in her area to make the looks, they sold around a dozen or so dresses per month in local stores. From there, the few pieces evolved into a full-blown company.
Today, Kulenty and Wasilewicz release two capsule collections a year, which consist of 10 items each. "Again, it's [all] tied to the handmade production," Kulenty explains why they keep the assortments small. "You cannot roll out a collection of 30 pieces and expect the whole team to learn them all at once." Moreover, the designer says she has no interest in outsourcing to factories and must ensure anything the label creates can be sourced and crafted nearby.
As they continue to grow their label, the mother and daughter duo are grateful to be able share every upcoming moment, good or bad, as a family. "To do this with my mom at this point in my life and in her life is huge," says Wasilewicz. "The time that we're spending and what we're building together is invaluable."
Shop a selection vacation-ready pieces from the brand below (and should you be lucky enough to land in Tulum, swing by Krei Concept Store and Wanderlust to see the styles IRL).