This Endearing & Cool Mother-Daughter Duo Is Taking Over TikTok
And they've captured our hearts.
@californiaistoocasual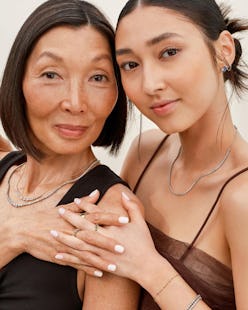 We may receive a portion of sales if you purchase a product through a link in this article.
Anyone can post an outfit video on TikTok, but few users have the relatability and genuine knowledge of the fashion industry as 62-year-old Gym Tan. This is perhaps why the former business executive — she previously worked in Asia for brands like Esprit and DKNY — has so quickly turned into a social media star in the last year. Her 215.2k TikTok followers love her easy and chic outfit videos, many of which also feature her 23-year-old daughter Mya Miller. The duo, with their glowy skin and approachable styles, instantly capture your eyes as you scroll through your feed. (At least, that's how they got my attention.)
"My style, is not very complicated because getting dressed should be as easy as 1, 2, 3, snap," Tan tells me over Zoom, repeating a phrase she always says in her videos. The Bay Area resident's outfits often take the form of a cute sweater and trousers or a nice billowy, neutral dress. Tan prides herself in getting more dressed-up than the average West Coast mama, hence her social media handle name @californiaistoocasual, but her looks never feel forced or too overly done. Meanwhile, Miller resides in New York City and works in public relations and marketing for vegan handbag brand Fréja New York. She says she adopts a more laid-back wardrobe of hoodies and sneakers... except, well, maybe when she's shooting cute twinning #OOTD content with her mom.
Aside from the endearing mom-and-daughter fashion moments, it's really Tan's overarching message — that style has no age and life only gets better — that speaks to her followers at every age. "My page is very positive and I think I show [people] that I'm not afraid of getting old. We can still be healthy, still look good, our skin is not going to just disintegrate [when we age]," Tan says on the call. Miller, who is sitting next to her mom, adds that she, too, thinks this kind of message resonates with people. "I think it really hits with my generation when someone, who is living life in her 60s, says 'everything is going to be OK, don't stress about the little things in your 20s, and don't [feel like you] have to have everything figured out," Miller says.
Ahead, Tan and Miller dive deeper into their personal styles, their social media journeys, and what it's like working together. Spoiler alert: they truly seem inseparable and are each other's biggest supporters.
What's one fashion tip or hack you've learned from each other?
Tan: What I'm learning from Mya is how to incorporate athleisure into my wardrobe and still make the outfit look elevated. I've been very against wearing leggings, but now I'm seeing that leggings with a nice coat and a great sweater, or a hoodie with a blazer, can actually look really nice.
Miller: For me, it's my mom's core message: that style doesn't have to be so complicated. I don't need to be in these elaborate dresses or miniskirts all the time, sometimes it can just be a sweater and jeans that make you feel good.
What are your three must-have wardrobe basics?
Tan: A white button-down shirt, a pair of mid-rise dark wash jeans with no rips, and a black turtleneck sweater.
Miller: A pair of white, high-top platform Converses, a branded hoodie like Madhappy, and classic blue straight jeans.
What are you shopping for this summer?
Tan: I actually need new swimsuits, so I'm looking forward to getting some. I also am looking for summer sandals and summer linen, like a great linen shirt.
Miller: I would say white dresses and black dresses — I'm not the floral type and even patterns are tricky for me since I'm more of the capsule wardrobe type. Also, a pair of sunglasses that'll help me tap into the shades trends of the season.
What are your go-to looks for the airport?
Tan: For me, that would be a T-shirt, sweater or sweatshirt, and jeans.
Miller: My travel look is either a sweat set or biker shorts with a hoodie and cute chunky sneakers.
You both have such glowy skin! What's your skincare routine?
Tan: I use products and they're all amazing and do what they were created to do. But listen, I feel that if you don't internally have that base — like sleeping well, eating healthy and exercising, being in a loving relationship, being happy and positive in general — no amount of product you put on will make you look or feel better. For me, I don't wear a lot [of products] and I've never had any cosmetic surgery, I've never even done Botox or gotten a facial in my life, because how I look I think has more to do with my daily habits, positivity, and gratitude. These are all way more important than what you use on your face.
Miller: Wow, that was so zen. I'll say the same... but I also do like using products, like the Drunk Elephant cleanser for taking off my makeup. I love ILIA's skin tint serum. I think I'm all about glowy [look] because I have really dry skin and eczema, so I look for products that are extra hydrating. I wear Summer Fridays Jet Lag Mask every night before I go to sleep, it has so much moisture and [the formula] locks everything in.
What have you both learned on this social media journey so far?
Tan: I've learned that it's important to be yourself [on social media] because if you look at 10 different people, you'll get 10 different ideas. But, there is really only one of me, so why follow what everyone else is doing?
Miller: I think social media doesn't have to be a negative comparison trap. [My mom and I] are just creating the content that actually makes us happy, so when you don't take social media too seriously and feel this need to have to create, it can be a positive space.
How do you both feel about doing this influencer journey together?
Tan: It has been amazing, I am grateful every day that Mya came up with the idea and I was able to execute it. We get along really well, so our relationship is not fake or manufactured, but obviously sometimes we can drive each other nuts. Also, I think for Mya, and for her generation, it is so natural to be in front of the phone, but for me, I've always been working behind/for a brand. Now, I am the brand and sharing things about myself in a way I never did before, so if there are any hurdles for me, it is this one.
Miller: Working with my mom has been a dream come true. My friends are always like: 'do you actually like working with your mom?' And I'm like, 'Yes. I actually really like working with my mom.' I also feel like I have a new sense of purpose because I'm working with a family member. Now we're like: 'Oh my god, we could do this, we could do that.' We can have all these things later down the line that I didn't even think would be possible.