Tastemakers Share The Best Gifts To Give Someone In Their 40s
You'll find that thoughtful present in no time.
@raissagerona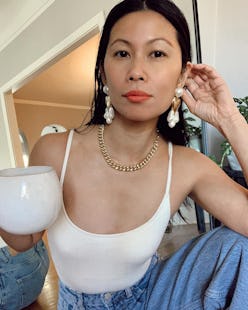 We may receive a portion of sales if you purchase a product through a link in this article.
No matter how close or how well you know someone, picking out the perfect present for them is still stressful every time their birthday or the holidays roll around. That's because people's tastes change over the years and they've likely amassed more stuff than they know what to do with. By the time your friend or sister-in-law is in their 40s, for instance, it can seem like they already have everything (no more cheese boards, please!). This begs the question: what gifts do women in their 40s actually want?
To provide a comprehensive answer (or answers) to the quandary, TZR tapped 19 women who fall into this age group to share what they would like to receive as a present. These ladies work across different industries, from media and tech to fashion and beauty, so that everyone has a unique perspective on what they would want to get. Some individuals, for example, prefer travel experiences over physical items, while others want products that make their lives and homes cozier. The variety of answers will not only provide you with unlimited shopping ideas, but they also show that there is no singular right way to buy a gift. If the item comes from the heart and has thought behind it, you've done well.
Skip ahead to see the possible presents to bestow on the 40-something in your life this holiday season and beyond. The list will save you from aimlessly clicking around on Amazon in search of a gift.
Emma Rosenblum, Chief Content Officer Of BDG
"There isn't space in our New York City apartment for any more 'stuff,' so I'd love a restful weekend away at Twin Farms, in Vermont, which I've heard amazing things about. I need to eat and sleep and drink and get a few massages. Heaven."
Sherri McMullen, Founder Of McMullen
"For the holiday season, I'm interested in receiving things for my home, like this Estelle glassware set. I'm investing more in my home to create lasting memories with friends and family and these glasses are like jewels for the table."
Carolina Castiglioni, Creative Director Of Plan C
"I moved into a new apartment a year ago and only recently I finally found the right location for my Vitra Miniatures collection. I bought the first one when I was 18 years old, on a school trip while visiting the Vitra Museum in Germany. Since then, I have added so many to the collection I cannot even count. Now that they have their own display, I would love to add new pieces to the collection. The one I've been wanting the most is the Rood Blauwe Stoel from Gerrit Rietveld, 1918."
Joanna Vargas, Founder Of Joanna Vargas Salons & Skin Care
"My favorite gifts to receive are always art related. I love a great coffee table book or something for my home. But since I was just in Miami for Art Basel, this year my wish is for a photograph by Thomas Ruff. His chromogenic prints are truly breathtaking — I love photography and the old Hollywood glam shots would look incredible in my salon!"
Sara Byworth, Founder Of Sara Byworth Communications
"With a 6-week-old baby in the lead-up to the holidays, at the top of my wish list is sleep — but that's not currently available on the Net-a-Porter new arrivals section. So, a little elegant organization is in order instead! I have been coveting Métier's mini Roma in the most perfect shade of white for some time. It is as timeless and versatile as it is functional, and in my mind it's the next best thing to a full uninterrupted eight hours a night... sort of."
Raissa Gerona, Chief Brand Officer Of REVOLVE
"I love how timeless [COMPLETEDWORKS' jewelry and home accessories] are and they're something I know I'll have (and want!) for a long time. As I get older, that's one thing I look for — items I'll use and wear over and over again.
Additionally, there's nothing better than giving back — especially during the holiday season. A donation to one of my favorite organizations like Girls Inc. of Los Angeles [would mean a lot to me. The nonprofit] provides education and extracurricular activities to help girls develop into strong, confident, and smart women. It would be an awesome gift knowing that [you're] helping young girls and women in the city I love the most."
Nadejda Savcova, Model
"I would love to receive this blazer because it is the perfect staple to add into any wardrobe. It's such a great piece to use year round and style in a few different ways, with more layering in the colder months and fun standout accessories in the spring."
Valerie Macaulay, Co-Founder & CCO Of La Ligne
"If you don't already have a Marin Sweater, it's time to ask for one, preferably with a monogram which we stitch on the cuff. I plan on putting my children's and my husband's first initials instead of mine."
Christina Tung, Founder Of SVNR & House Of
"I've been eyeing some frames from Covry, an AAPI women-owned brand that developed sunglasses and specs specifically for low-bridge noses, of which I have. I tried on their Elevated Fit (their version of what other brands have called 'Asian Fit') and it was eye-opening! No more glasses sliding down my nose, resting on my cheekbones, headaches from tensing my face to keep them on, or eyelids smushing up against the lenses — these frames are made for faces like mine!"
Jennifer Lyu, Creative Lead For Kate Spade New York Handbags & Accessories
"Having in the past few years recalibrated and clarified priorities, what serves me reliably is kinship with my dear ones. One thing I would want to receive is a local night on the town starting at Smalls Jazz Club, packing the house with my crew, and shutting down Waverly Inn with a late dinner. I could also be made quite happy with an infrared therapy blanket for my study."
Alle Fister, Founder Of Bollare Communications
"I love gifts that give back and we had the absolute pleasure of working with The Elton John AIDS Foundation and their capsule with Saks Fifth Avenue. Saks made a $1 million donation to the foundation, with $500,000 of that supported from the sales from this capsule. I would adore to add this Jo Malone fragrance that's in the capsule to my collection."
Josie Maran, Founder & CEO Of Josie Maran
"2023 is all about feelin' my best in my body and soul, so I'm dreaming of gifts that allow me to feel super sexy, radiant, and magnetic. I'm ready to bring in all the abundance and goodness I'm dreaming of in the new year. I've been eyeing these workout pieces from Live The Process and this sexy silk dress from Lily Silk."
Dee Poku, Founder & CEO Of The WIE Suite
"I've been a tea drinker all my life, but I now focus on matcha, which is the purest of pure green tea with double the amount of antioxidants. I enjoy the ritual of making my own tea and I take it quite seriously so this Matchaful premium tea set would be a treat over the holidays."
Stacy Smallwood, Founder & Owner Of Hampden Clothing
"Chain link necklaces have been a trend for a few seasons now. I love the chunky style of this Lizzie Fortunato necklace because it feels fresh, is great for layering, and yet still a little edgy with the mixing of both silver and gold."
Leland Drummond, Co-Founder Of AZIONE & LDMA
"Since moving into a new home, I'm always looking for cool artwork to go with the fresh design vibe — I just commissioned a painting from an amazing artist named Barbara Thomas in East Hampton, New York. I also always love good books for my bedside table. I've been eyeing The Goddess Effect by Sheila Marikar and In Lieu of Flowers, a Conversation for the Living by Nancy Cobb."
Aya Kanai, Head Of Editorial & Creative Of Google Shopping
"If you have the space, the exercise trampoline featured in the Google Holiday 100 is an incredible gift. My 4-year-old uses it to get out the wiggles and I use it between video call meetings when I have been sitting too long. Jumping for a couple minutes instantly gets the blood circulating. I find it also helps me literally shake off anything that's bothering me."
Kathryn Sukey, Head Of Design At Draper James
"For Christmas morning, I'm hoping that Santa fills my stocking with Jones Road Beauty — their clean beauty philosophy really appeals to me and their miracle balm is, well, a miracle!"
Kelly Helfman, President Of Informa Markets Fashion
"This holiday season I would appreciate a gift to help me wind down and take some time for myself so I can relax and recharge. I would love a pair of comfy and cozy pajamas from P.J. Salvage or a cashmere loungewear set from Michael Stars. This season they have so many different and fun prints to match my style."
Bliss Lau, Founder Of Bliss Lau Jewelry
"I always need a lightweight, easy bag that can fit more than just my phone. I've been eyeing this bag for a while as it stretches to fit your things and the style is universal. It ticks off my list of requirements, [which is that the bag has to be] comfortable, sustainable, and made by an independent woman-owned brand that cares about the planet."