Gestuz's Fall 2023 Collection Is A Masterclass In Going Out Style
All that's missing is an espresso martini.
Gestuz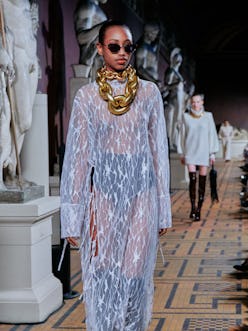 We may receive a portion of sales if you purchase a product through a link in this article.
We've all been there: It's Saturday night, and you're already running behind schedule to meet your friend group for the evening, but nothing in your closet is speaking to you. That see-through mesh top? Wore it last weekend. Maybe the cute floral midi you just bought? Ehh, not quite the vibe. After trying on what feels like nearly everything you own, you settle on a fool-proof silk tank and high-rise jeans duo. (Oh, and the room you just cleaned is, well, not so clean anymore.) If this sounds all too familiar, gather 'round, because you'll find all the going out inspiration you need in Gestuz's Fall/Winter 2023 collection.
"I had two strong focal points for this collection: extravagance and sexiness," Sanne Sehested, the Copenhagen-based label's creative director, tells TZR. To fuse these two elements together, she focused on using rich fabrics, moody hues, and skin-revealing silhouettes for a ladylike look that's also quite sultry. "I pictured such a strong, empowered woman, when we created this collection," she says.
She also, undoubtedly, thought of herself, as the pieces are definitely a reflection of the Sehested's own edgy-yet-elevated take on Scandi street style. "There is this burgundy suit in leather with flared pants and a blazer with a tight fit around the waist [I can't wait to wear]," she says. "It is the perfect combination of classic and rock and roll — definitely a statement look." She's planning on styling it with boots and chunky gold jewelry for extra extravagance. And for a more casual look? "I would wear a white tank top under it," she explains.
Below, TZR has gathered a few sleek after hours-ready outfits, all from the Gestuz's Fall/Winter 2023 runway, worth adding to your evening rotation. Even better, you needn't patiently wait until next September to shop the collection — some of the pieces are available now. So snag a style or two and paint the town red (quite literally if you go with look number 2).
Soft Suede
Need an easy, winter-approved evening look? Turn to a suede set. Cozy and chic, the texture will never go out of style. Work another material, like glossy patent leather, into the outfit for an eye-grabbing finish. And should you want to add in a touch of color, consider a lime-green bag.
Dressed-Up Denim
These days, basic blues are far from, well, basic. Case in point: The brand showcases a boxy, bell-sleeve denim jacket paired with low-slung, slouchy jeans. Shop the exact look from the runway, and wear it on your next low-key night out. An itty bitty sequin bandeau top will take your look into evening territory. And might I suggest accessorizing with Gestuz's denim flower-adorned choker? ICYMI, the accessory is having a moment.
Floor-Sweeping Maxi
When comfort is your top priority, reach for an extra-long knit maxi. Gestuz encourages you to test-drive a bold hue, such as fiery red, but you can also go the neutral route if that's more your speed. How to spice it up? According to the Scandi label, the bigger and bolder your jewelry, the better.
Sheer Genius
Sheer dresses are shaping up to be 2023's must-have trend. When it comes to styling the piece, you can go in a few different directions. Opt for a cotton bra and high-rise panties if you want to show a little skin. But if that's outside your comfort zone, not to worry — a tank and jeans look equally cool underneath. Accessory-wise, take a page from Gestuz's book and opt for an ultra-chunky chain necklace and over-the-knee boots.
So Wild
Animal prints are always a wise evening-out choice — so why not double down on something like, say, zebra? Take a walk on the wild side and team a cropped jacket (with or without a top under, that's up to you) and mini bag, as exhibited above. And if you're feeling especially adventurous, go for dangerously low-rise jeans.