Formula 1 Is Racing To Take Over Fashion
How racing became the industry's new favorite sport.
Peroni Nastro Azzurro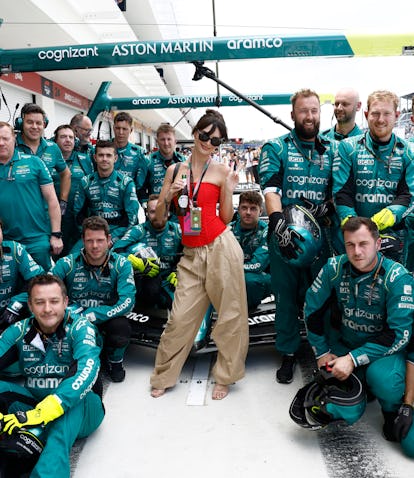 It was early May when fashion sourcer Gab Waller began getting DMs about a shirt from Chanel she had found for Parisian influencer Madeleine White. The style in question was from the Cruise 2022/2023 collection, a simple white tee emblazoned with the word Chanel and a Formula 1 car speeding through Monaco. Never mind that the price tag for the shirt started at $4,500 — Waller says that once White posted it online, the piece went viral on fashion TikTok.
Formula 1, a type of luxury car racing, has had ties to high-end fashion for decades thanks to partnerships with luxury watchmakers, like Rolex and Richard Mille, or suit brands, like Borsalino. But as interest in the motorsport has ballooned over the last half decade, a new crop of big brands are cashing in. Drive to Survive, which debuted on Netflix four years ago, has been a huge driver (no pun intended) in interest in the car racing, increasing viewership among both younger and female audiences. In turn, labels not traditionally tied to the sport have begun to pop up at grands prix around the globe. (Most controversial, perhaps, was Tarte cosmetics, whose Miami influencer trip this spring drew negative press, seemingly due to publicists simply not understanding how the scheduling of a Formula 1 weekend actually works.)
As the cycle of buzz continues to build around F1 (celebrities and influencers attend, fans take notice, brands take notice, brands invite more celebrities and influencers — and so the pattern continues), you can expect to only see a rising interest among stylish and chronically online women. Stars like Megan Thee Stallion, Emily Ratajkowski, and Bella Hadid have all made appearances at races over the last few years. And with 2023 races still to take place in Austin and Las Vegas, you can expect more U.S. stars in the mix. But fashion's foray into racing takes a few different courses: getting directly involved, making clothes inspired by fast cars, and dressing jet-setters who attend the races. Whatever form it may take, major fashion houses are overtaking the once rather niche domain, although there still remains much space to be filled.
Style Meets Sport
In 2016, brothers Adam and Ryan Goldston — who founded luxury performance sneaker label APL — first decided to get involved with Formula 1. They saw it as an arena not only aligned with their line but also an untapped market with major potential. "It has this luxury aspect to it because of where the races are — there's travel and high ticket value associated with that," says Adam Goldston. "Then obviously, the high performance [cars speak to our sneakers] because they're these super engineered machines that go faster than any other car basically on Earth." They first partnered with Renault, then Williams, and now they've announced a multi-year partnership with Oracle Red Bull, currently the top-performing team on the grid.
That's not to say other performance-focused gear hasn't been associated with Formula 1. Puma is the official supplier for races, meaning it has rights to merchandise for the sport and all 10 teams beginning in 2024. But APL's collaborative styles, which will be worn by drivers, teams, and fans, are a move to court not only those in the fashion space but women as well (more than half of its current customers are female).
Italian house Palm Angels, which draws inspiration from American skate culture, is another high-end hitter taking a direct, collaborative approach: It is joining forces with the Haas team for its 2023 season. "We share the same vision," says Francesco Ragazzi, the line's founder and creative director. "We are both powered by Italian expertise [the team uses Ferrari engines], but they are American with an American attitude and state of mind — like Palm Angels." Their partnership includes sportswear and sneakers for purchase, but Palm Angels is also featured on Haas livery, among the team's other sponsors.
This expansion of interest beyond the purview of traditional menswear and watch companies signals a notable shift. As a younger and more diverse audience comes to the sport, we can expect to see more and more elevated fashion players looking to get involved. Meanwhile, teams like AlphaTauri and Ferrari have debuted their own clothing lines, complete with a runway show (for Ferrari) and a combined car and clothing launch (for AlphaTauri) during women's fashion weeks in Milan and New York.
"In general, the F1 audience has shown a lot of interest after Netflix's Drive to Survive. It's becoming one of the fastest-growing sports in the U.S., and the crowd that pays attention to it is really young and diverse," says Ragazzi. "There's a real mix of audiences now in Formula 1, so for us this project started with the aim of differentiating Palm Angels by playing in a different ground [and exploring what] is involved in F1 as a sport but also as a real entertainment."
The Realification Of F1
The summer 2023 pop culture news cycle has been dominated by Scandoval, but the intense interest in reality personalities is nothing new to American audiences. The interpersonal dramas between F1's drivers and managers (known as principals) offer a fresh entry point for new fans to engage. And both established viewers and a collection of newly interested followers have tweeted, memed, and blogged their way through the drama.
"Drive to Survive is set up very [uniquely] in that it really follows incredibly uniform American reality TV beats," says Lily Herman, creator of F1 newsletter Engine Failure. "Every time I watch a season of Drive to Survive, I'm very aware that whether it's intentional or not, it's tailor-made for how U.S. consumers look at reality TV."
This means that for the first time, audiences are gaining new insight into the drivers, and even their wives, girlfriends, and trainers. Instagram accounts have popped up chronicling what Mercedes driver Lewis Hamilton wears (@lewishamilton_style) and what drivers' partners wear (@F1ladiescloset), and long-time F1 commentators and media have begun to more heavily cover drivers' personal style out of uniform.
Instagram has long been a way for athletic stars to share their lives off the court, pitch, or track. Yet as a new and younger generation of fans discover F1, social media has become an even more important tool. Hamilton has gained almost 10 million Instagram followers since the end of 2021, bringing him to 34 million in total. On his Instagram, he'll not only post updates on his races but photos of his off-duty outfits, along with shots of his bulldog, Roscoe. Drivers are no longer just drivers, but influencers in their own right.
Lewis Hamilton and designer Kenneth Nicholson at the 2021 Met Gala.Dimitrios Kambouris/Getty Images
At the Miami Grand Prix wearing Rick Owens. Jared C. Tilton/Getty Images Sport
Course Style
While they may wear team racing suits on grand prix day, stylish Formula 1 drivers have long existed within the paddock. (You can Google photos of Ayrton Senna or James Hunt for a little retro inspo.) But no driver, perhaps, has become quite so synonymous with style as Lewis Hamilton. Sure, in part it's because Hamilton arrives to race weekend dressed in Rick Owens jumpsuits and Valentino separates, but he has crossed over into a fashion celebrity of his own. He's partnered with image architect Law Roach and stylist Eric McNeal. He also attended the Met Gala from 2015 to 2019; most recently, in 2021, he purchased an entire table, with which he hosted emerging Black designers Theophilio, Kenneth Nicholson, and Jason Rembert. "The Met is the biggest fashion event of the year, and for this theme, I wanted to create something that was meaningful and would spark a conversation," he told Vogue at the time.
"Lewis is one of the first to really be intentional and talk about his level of fashion," Herman says. "He has made it really 'cool' to mess with the gender binary quite a bit," she adds, nodding to the way he eschews traditional menswear for unexpected shapes, colors, and silhouettes. It's something that in the larger realm of fashion may not feel like a huge shift, "but it's still a big deal for F1." Alfa Romeo driver Zhou Guanyu is another one of the sport's fashion-focused dressers. (He said in a recent interview that Rick Owens was his biggest influence.)
While not every driver has a direct interest in fashion, many of their partners have also become notable style stars in their own right. "My favorite example is Carmen Montero Mundt, who is Mercedes driver George Russell's girlfriend," says Herman. "She has been involved in their campaigns. She wears a lot of Tommy Hilfiger. They've photographed her wearing Tommy, and on the Mercedes F1 Social media, putting her with the brand. She's now integrated into the team very fully on that particular sartorial front."
The Rise Of F1 Influencers
Waller has noticed that even for those shoppers who find Chanel's tee to be out of their price ranges, there's interest in anything F1 related. She says this is the first year many of her customers have spotted their fashion idol at the races. "A lot of fashion editors and influencers are attending," she notes. "So it's all eyes on F1 — any chance to feel like they were there and they experienced it."
But Herman points out that for the sport to use fashion as the only way to attract a female audience is a misguided and reductive approach. Women, after all, are also interested in other aspects of car racing — and plenty of men care about a well-put-together outfit as well. "F1 and sort of these adjacent brands have done a little bit of pigeon-holing themselves by saying this is only for women," she says. "While F1 is doing a very shallow job of how they talk about or incorporate fashion, I do think it's starting to move the needle and other respects, like making more interesting merch for all fans."
Right now, the official F1 online store's merchandise mainly falls in the realm of standard team tees, polos, and sweatshirts, all designed with conservative fits. Herman notes that a secondary market has sprung up, offering not only more adventurous designs, but options for a wider range of shapes and identities. Ultimately, this opening in the Formula 1 market will be filled by more of these brands who understand high fashion and how the sport operates — and how to speak to a diverse audience. A press trip of influencers who may not be familiar with racing, for instance, is not a sustainable way to drum up interest. Similarly, if Formula 1's attention to female fans (and drivers) remains shallow, its growth may be stymied. "The latest injection of people who are not just dudes from Europe with the same background has been really exciting for the sport," says Herman. But in both fashion and inclusion — there's still a way to go. "[It won't be equal] until we all get used to the fact that hey, someday there could be 20 women on the grid and zero men."