Barbiecore Has Come For Chanel
The brand's Cruise 2023 show was an ode to playful L.A. glamour.
Courtesy Of Chanel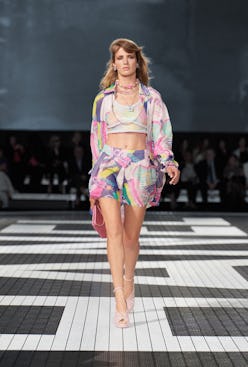 Margot Robbie, the star of the upcoming Greta Gerwig film Barbie, sat front row at the Chanel Cruise 2023/2024 show on Tuesday, May 9 dressed in a pair of flared jeans, a chain-link Chanel vest, and a bikini top. It was a hint, perhaps, that the film's culture-shaping influence had reached 31 Rue Cambon. Creative director Virginie Viard presented the collection in Los Angeles, infused with a lighthearted City Of Angels spirit, youthful energy, and — of course — plenty of pink. Post-show, guests danced to a performance from Snoop Dogg.
"Between a tribute to the glamor of great film stars and evoking the world of fun to be had with aerobics, sports and roller skating," Viard says, describing the collection in the show notes. "Between the dream on one hand and what you want to wear on the other, it's all a question of balance." Translation? In Hollywood, starlets go from an afternoon hike in Runyon to a red carpet — and Chanel is here to offer women something to wear for both.
The balance Viard is offering embodies the quintessential carefree California attitude — where a relaxed sensibility coexists with resplendent glamour. Metallic leather along with touches of bubblegum and ombré accents added to the breezy feel of the clothes, which were a bold contrast to maison's more demure Fall/Winter collection. Just a week after the Met Gala, a tribute to Chanel's long-time creative director Karl Lagerfeld, the show is one that celebrates the house's heritage but also looks ahead: "The idea is to offer a breath of fresh air, a voyage, a light-hearted and happy fantasy," states Viard.
While there were still plenty of Chanel's signature tweed jackets and gauzy gowns, they were nestled among modern streetwear staples like oversized sweatshirts, crop tops, and comfy matching sets. Prints dotted with roller skates and milkshakes added a decidedly unserious air — likely a move by Viard to court a younger audience.
Margot Robbie at the Chanel show.WWD/Getty Images
Indeed, if you've spent any time on fashion TikTok, you may know that a new generation of Chanel shoppers has hit the scene. But much of their clamoring for the brand seems to revolve around two areas: quirky accessories and vintage ready-to-wear. It's an astute choice for Viard to lean into both categories for Cruise. The hero pieces harkened back to a range of eras, including '60s jumpsuits, '80s legwarmers, '00s-inspired dress-over-pants combinations. It's a mix-and-match sensibility that Viard has seemingly perfected during her time at the house. And as for a viral accessory? It would have to be the light-up heels, a nod to '90s light-up shoes — as well as Lagerfeld himself, who sent glowing sandals down the runway in 2015.
Last summer, when the earliest images from the set of the Barbie film begin to appear, the most notable was Robbie and her costar Ryan Gosling, dressed in neon spandex outfits and rollerblades, gliding their way down Venice Beach. It's easy to imagine Chanel's hot pants, swimsuits, and skateboards scattered throughout the background. A prediction: once the film's premiere season hits full swing, expect to see a lot of Chanel.