Fashion Insiders Have These Exact Items On Their Mother's Day Wishlist
She deserves the world — and definitely a cute necklace.
@henriettarix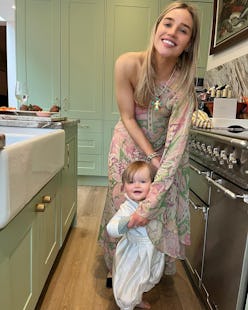 We may receive a portion of sales if you purchase a product through a link in this article.
All your mom really wants is to hear your voice over the phone and the chance to give you a big hug every time she can see you. But, that doesn't mean you can't shower her with presents on Mother's Day to show appreciation for everything she does. This year, if your gift-giving goal is to upgrade her wardrobe, you'll want to hear what fashion insiders have on their Mother's Day wishlists. Spoiler: You might be tempted to buy these luxe items for yourself, too.
To help steer you in the right direction, TZR spoke with women across the industry to see what they have their eyes on this year, from Madewell's Creative Director Joyce Lee to RIXO founder Henrietta Rix to TZR's own Deputy Fashion Editor Alison Syrett. After all, finding the latest and greatest items is part of their jobs, so rest assured you're certainly in good hands.
While you're in the midst of shopping, you'll want to think about what the mother figure in your life needs in terms of updating her closet and home. For instance, if she's eager to replace some of her old jewelry pieces with fresh ones, you might surprise her with a few personalized jewels. Or if she's been talking about sprucing up her space, you can't go wrong with home decor. Ahead, find all the pieces fashion insiders have on their wishlists, and get ready to blow your mom, sister, friend, or any other mother figure away.
Alice Casely-Hayford
When Net-a-Porter's Content Director Alice Casely-Hayford isn't taking her toddler to the park or a birthday party, she loves spending time at the museum. This year she says: "The perfect gift would be a membership to one of my favorite museums or galleries. On my birthday last month, my husband took me to the Alice Neel exhibition at the Barbican in London. However, our trip was cut short when our son ran out of snacks! I'd love the luxury to be able to return repeatedly to the same exhibition to see it with fresh eyes each time and enjoy it in a leisurely fashion. I'm very excited about the upcoming Diva exhibition at the Victoria & Albert Museum, so a membership there would be glorious as well!"
Joyce Lee
For Madewell's Creative Director, Joyce Lee, nothing beats a refreshing glass of natural wine. If your mama feels the same, you may have just found your gift! "I love this Tinto Amorio sampler — it's delicious and looks beautiful, which is a big win," Lee tells TZR. "I discovered their sampler when I was looking for a gift for a friend who equally enjoys natural wine and I had to order some for myself as well!"
Laurel Pantin
If the mom (or moms) in your life loves a sentimental touch to their gifts, opt for a jewelry piece you can personalize with names or dates. Laurel Pantin, the stylish tastemaker behind Earl Earl and Your Mom newsletters, says one of her favorite brands for this is Sherman Field. "This is definitely [me] dreaming, but I would love to receive one of the little medallions with my husband's, two kids', and my names engraved on the back," she tells TZR. "I have so many things in tribute to my kids, but other than my engagement ring, none for him — it would be nice to have something celebrating us as a complete family."
Gym Tan
Content creator and fashion expert Gym Tan notes that it's the little things that count and make all the difference on Mother's Day to her: think a well-chosen card, flowers, or sharing a delicious meal with her family. When it comes to presents, she prefers something in the same vein: items that are thoughtful, but also fun and uplifting, like a pair of socks with smiles on them or a cozy cardigan to wear while spending the day at home with the children.
Alison Syrett
When in doubt, always go for a necklace that can turn into a meaningful and lasting piece for your mama. TZR's Deputy Fashion Editor Alison Syrett says: "Cliché as it may be, I truly love getting a beautiful piece of jewelry for a special occasion because it reminds me of the loved one who gave it to me. This locket, in particular, holds extra meaning for Mother's Day as I often tell my daughters that they are my sun, moon, and all my stars."
Kai Avent-deLeon
If you're looking for a one-of-a-kind gift that is useful and has a personal backstory, look to Kai Avent-deLeon's pick. The Sincerely Tommy founder, a Brooklyn-based clothing and accessories store, says: "Alfreda's Cinema is my favorite film club and the owner screens films monthly by black directors. She also just came out with a really cute merch line. My ideal Mother's Day gift would be a night out to one their screenings or a tee. I love gifts that support the community!"
Henrietta Rix
Does your mother love nothing more than lighting a candle on a rainy day, or filling the room with an earthy and sweet incense? If yes, opt for a Diptyque candle, which doubles as a luxe coffee table decor. RIXO founder Henrietta Rix recommends the Extra Large Fig Tree option. "It's my favorite scent and the green color of the pot is a gorgeous addition for my new home," she shares. "We're currently burning this candle at our RIXO flagship store on King's Road in London, and it fills the space with such a nice smell!"
Rocky Barnes
Instead of gifting your usual bouquet from the deli or grabbing tulips from Whole Foods, try High Camp — a floral delivery service specializing in growing beautiful and delicate gardenias. "I love [this brand] because they offer a fresh take on a bouquet," says content creator Rocky Barnes. "Their flowers smell heavenly and I love to create small bouquets around the house! Mother's Day should be a whole weekend, so you can celebrate one day with your family and one day all to yourself!"
Marina Larroude
Are you still on the hunt for the right accessory to gift? Marina Larroude, founder of her footwear label Larroudé, has a great suggestion. "I adore jewelry — the limit of my jewelry box does not exist! Ricardo, my husband, has coined me the cutest little mascot of a frog, which would make this gift of the Lucky Malachite Frog Pendant, by my friend Jane Win, the most special addition to my collection."
Nicole Trunfio
For Bumpsuit founder and CEO Nicole Trunfio, nothing beats snuggles in bed with her kids on Mother's Day. However, if she were to choose some gifts to receive, she says Aesop's geranium leaf body scrub is one of her favorite beauty products as well as Foundrae's personalized pendant. (You may end up buying one for yourself too — they're that gorgeous.) Perhaps the ultimate gift though, which would make snuggle time even cozier with the kids, she says, is a beautiful statement blanket from Elder Statesman.