3 Astrologers Weigh In On The Best Wedding Band For Every Zodiac Sign
Whoa, these insights are on point.
@ceremony.us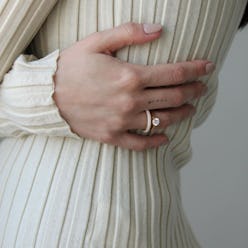 We may receive a portion of sales if you purchase a product through a link in this article.
For centuries, humans have turned to stars and superstition for guidance, be it by way of determining a couple's compatibility or settling on an auspicious date for an event. Astrology, it seems, touches something deep within our hearts, so it makes sense to consider it when making sentimental decisions — like, say, the purchase of your wedding band. It is, after all, a piece of jewelry you'll (hopefully) be wearing for an extraordinarily long period of time. Aligning your pick to your zodiac sign will make it all the more special.
If you're on board with this idea, start by digging deeper into your birth chart. "I would look at the individual's Venus placement in addition to their Sun sign," Katie Shell, resident astrologer at the Arizona Biltmore resort, tells TZR. She explains it's important to consider both sides when picking out a wedding band because while Venus is a reflection of who you are when you're with your spouse, your Sun sign represents who you are and how you shine in the world without them. Thus, choosing a bauble that showcases both aspects will offer a holistic representation of your psyche.
A few things to keep in mind? "Cancer, Pisces, Scorpio, and Taurus are going to be the most sentimental and will be drawn to jewelry that reflects their romantic side," Shell offers, for those feeling confused about where to start. Then there are a few signs, she says, that are better suited to an unconventional choice. "Aries, Sagittarius, Leo, Gemini, and Aquarius all have a tendency to do things their own way, so it's important for them to allow that unique individual expression to come through," continues Shell, who says Virgo and Capricorn are apt to make the most practical purchases. "This represents a deep desire to be responsible within their relationship."
You can, of course, get even more granular with your guidance. If you want stones on your wedding band, for instance, Grand Wailea's resident astrologer Juliet Doty has insights based on every Sun sign. Her suggestions include: hessonite for Aquarius, diamond for Taurus and Libra, pearl for Cancer, coral for Aries and Scorpio, and emerald for Gemini. "The thousands-of-years-old Sanskrit texts profess and explain the mystical power of gems and how they can influence the well-being of their possessors," she says, explaining why one might choose an auspicious gemstone related to their Star sign for a wedding band.
Whether you're fully on board with letting astrology dictate your search, or perhaps need slightly more convincing, read ahead to see which bands astrology experts recommend for every sign.
Aries: A Playful Diamond Band
According to Soulloop founder Priscila Lima de Charbonnières, people who fall under this sign are known for their spontaneous, bold, and energetic traits. Thus, she recommends these individuals look for styles with expressive shapes, preferably flashing with diamonds, that also have a creative feel. "Aries will want something that reveals their passionate and playful nature," Shell adds, noting that the fire sign's intense characteristics may manifest in their fashion choices.
Taurus: Classic Pavé Details
The steady, reliable, sensual traits of Taurus, Lima de Charbonnières explains, are a few of the ways their star sign can influence their pick for a wedding band. "Tauruses are simple and down-to-earth and can be quite conservative in their approach to all things," Shell says. "It is essential that Tauruses take their time in picking out their band and will want something comfortable and classic."
Gemini: A Conversation Starter
A Gemini would do well with a piece that catches people's eyes. In other words: go with a conversation-starting design, whether that's an artfully designed band or one with a rich backstory, like it belonged to your great, great, great grandmother, for example. A ring with mixed materials and/or colors would be wonderful for people under this sign, too, as it reflects their different sides.
Cancer: An Heirloom Piece
Because individuals with this sign are sentimental, protective, and family-oriented, Shell says "a family heirloom, or something that holds meaning for who they are, where they came from, and where they are going" is the best choice for a wedding band. Doty notes that Cancer is ruled by the moon, and calm emotions are a hallmark of the sign.
Leo: Fiery Gemstones
Thanks to the Leo's charismatic and passionate personality, Lima de Charbonnières says they need an equally fiery band to match. One gemstone that achieves this, according to Doty, is a ruby. "Ruby represents the sun and that equals Leo," Doty says. "Leos need something flashy that really shows off what and who they love," adds Shell, which explains why vibrant gemstones are a match for this sign. "Bright and bold is a must for the Leo, but [the piece] also must reflect their heart and not just a desire to be seen."
Virgo: Timeless & Detailed
People with this sign tend to be detailed, caring, and attentive, Lima de Charbonnières says, adding that a wedding band with timeless shapes and patterns is best suited for Virgos. "[They are] practical with an eye for detail," Shell says. "Virgo will appreciate a band that has intricate features without being overly complex." If they do go for a gemstone, Doty notes that emerald or jade will work, adding that emerald is said to "improve psychic powers, sharpen intellect, intuition, and memory."
Libra: Inspired By Nature
"The stylish and artistic traits of Libra ... resonate with shapes inspired by nature," Lima de Charbonnières notes, hinting that those born under this sign should opt for rings with floral or woodsy motifs. "Libra is an artist that has the unique ability to bring seemingly inharmonious elements together to create something creative, beautiful, and balanced," Shell adds.
Scorpio: Intricate Silhouettes
Scorpios tend to have an air of complexity and mystery, Shells explains. "For Scorpio, a marriage is about being with someone that they can reveal their innermost self to, as they tend to hide these parts from the rest of the world," she says. She suggests a way to express this through a wedding band is to get one that can be engraved on the inside. "The intense, magnetic, secretive traits of Scorpio resonate with intricate shapes, chained rings, diamond-studded forms, with both wavy and sharp contours," details Lima de Charbonnières.
Sagittarius: Natural Shapes
A daring sense of self is a hallmark for Sagittarius. "They take risks and follow their gut," Shell says. "Their wedding band would reflect an unwavering sense of optimism and adventurous nature." This free-spirit sensibility can manifest in many ways, Lima de Charbonnières points out, including natural, organically formed shapes.
Capricorn: A Traditional Band
"It was probably a Capricorn who invented wedding bands so that the work they are willing to put in to make a marriage success will be recognized," Shell postulates, adding that the star sign takes responsibility and commitment very seriously. A practical approach to life means a wedding band that eschews trends and sticks to classic motifs will resonate with Capricorn.
Aquarius: Unique & Original
Lima de Charbonnières reveals that people with this sign are independent and original. "Their traits resonate with imaginative and unique designs," she says. And because of their individuality, you can expect something out-of-the-box. "They do their own thing in their own way. Nothing trendy, though don't be surprised if what they chose sets off the next trend," Shell says. "Geometric patterns and unusual materials would serve them well."
Pisces: Different-Size Diamonds
The final sign of the zodiac, a Pisces is known for their compassionate, emotional point of view. "A band that is from a socially responsible source would mean a lot to them," Shell says. The water sign might also find a good connection with a vintage-inspired ring, Lima de Charbonnières suggests, like a band that "combines different-sized diamonds with white gold."